Clare was settled by the first European Settlers in 1840. If you're interested in learning more about the history of Clare, read on.
The first European to explore the district was John Hill, who in April 1839 discovered and named the Wakefield River and Hutt River. In early 1840 the first European settlers arrived in the district, led by John Horrocks. The town itself was established in 1842 by Edward Burton Gleeson, and named after his ancestral home of County Clare in Ireland although the town was first named Inchiquin after Gleeson's property.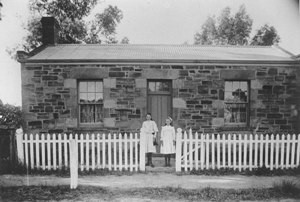 Old Homestead (not on map)
This building was in Gleeson Street, Clare but the site now has a couple of modern units on it. It was Ethel Waller's Lying In-Home where well-known ladies of Clare gave birth. Her daughter was Mrs Sally Stephenson who lived on the corner of Victoria Road and Agnes Street with her husband and son, Russell. He came to St Jo's for a short period but had a disability. He later moved into Carinya and one could often see him walking to the street with his walking aid. He died some years ago and would be close to 90 if he still lived.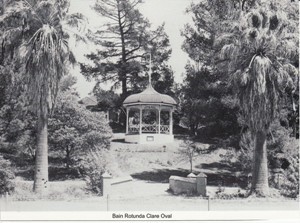 Bain Rotunda (number 46 on map)
The rotunda was built in 1904 in memory of Dr John William Deveraux Bain who had died in 1903. He was known as England's greatest gift to Clare. His house still exists in Agnes Street and he had a beautiful garden on his large block which began at Burton Street and went right through to Hope's quarry and up as far as Bleak House. There is a large magnolia tree in the garden which I remember as my in-laws lived there in the 1950s. My father-in-law had the block divided and it now included Tilbrook Avenue, named after him of course.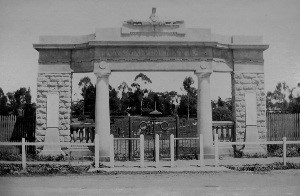 War Memorial Arch (number 41 on map)
The World War I Memorial arch is complemented by the 9th Light Horse Memorial, containing a captured Turkish Krupp field gun. Further to the South are the memorial gates which honour service in World War II. A smaller memorial recognises service in Korea, Vietnam and other recent conflicts involving Australian armed forces.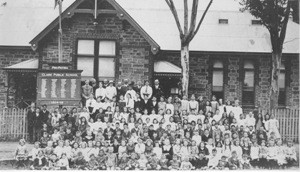 Former Clare Primary School (number 43 on the map)
This building opened as Clare Public School in 1879, with John Harry as headmaster. After the Mill Street school could no longer cope with increasing enrolments, a new site and building were sought. By 1900 the average annual enrolment was 162. In 1971, a new high school was constructed on the Blyth Road, enabling the primary school to move one block south into the former high school premises. Government offices now utilise this site.
Clare History Museum, National Trust
Sunday 27th September 2020 marked the 50th anniversary of the old Police Station and Courthouse in Clare becoming a National Trust Museum. During the COVID lockdown, volunteers have been busy re-theming, polishing and modernising its displays, so even if you have visited us before there will be new things to discover. Even the old Police Park well (permanent water supply for the visiting Mounted Police Troopers) has been restored.
The building was a Police Station for approximately 12 years but did you know it was altered and used as a Casualty Hospital from 1878 and after the Clare Hospital was built in 1924 served as an isolation block for infectious diseases until 1926! It had two rooms and a kitchen and bedroom at the back for the 'hospital keeper'.
The Museum is situated on the corner of Neagles Rock Road and Bennys Hill Road, Clare so may be visited whilst taking the Spring Gully Scenic Drive. If you would like to combine your visit with seeing other local Museums the Polish Hill River Church Museum is open on the 1st Sunday each month 11.00 am to 4.00 pm and John Horrocks' Cottage at Penwortham, 1st Sunday of each month.
The Clare History Group created a fantastic pocket-sized brochure which can be purchased for the bargain price of just $2 from the Clare and Gilbert Valleys Council Office on Gleeson Street, or the Clare Valley Wine, Food and Tourism Centre on Spring Gully Road.
The brochure has a great map of the Clare township to direct you to the 43 different points of interest. The walk will take about 1.5-2hours to complete, excluding the detours to the Clare General Cemetery and Melrose Park.
You might also be intersted in...
The Clare Branch of the National Trust SA opened its Museum in September 1970. It is housed in an attractive stone and brick building on the edge of town, which was Clare's first Police…
This article was originally published by the Clare Valley Wine, Food and Tourism Centre on the 24 September 2020. The information was sourced from our volunteers, local historian Val Tilbrook and volunteer at the Clare National Trust Museum Pauline Reid, and the Clare History Group's Clare Historic Walk Map.