Interesting Cemeteries: Clare to Penwortham
How many cemeteries do you think are located between Clare and Penwortham, a distance stretching only 16km? The answer might surprise you!
There are a total of eleven cemeteries, some are Methodist, Catholic, Anglican, and even Gaelic.
Here is a list, with addresses of each one:
Stanley Flat Methodist Chapel 1864 - Stradbrooke Road
White Hut Gaelic 1869 - Gaelic Cemetery Road
White Hut Methodist 1860 - White Hut Road
Clare General 1872 - Bennys Hill Road
St Michaels Roman Catholic 1848 - Victoria Road
St Barnabas Anglican 1848 - Farrell Flat Road
St Aloysius Roman Catholic 1872 - College Road
Penwortham Methodist 1858 - Harrold Road
Penwortham St Mark's Anglican - Bagshaw Close
Spring Farm Methodist 1852 - Spring Farm Road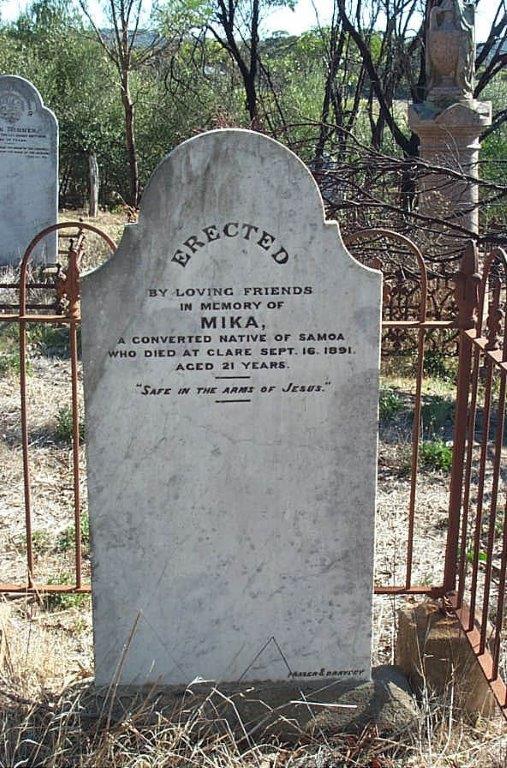 "You will find this headstone in the Spring Farm Cemetery on Spring Farm Road, just out of Clare. Mika was a converted native of Samoa. I believe he died of typhoid. He is buried with the Moyses family having resided with them in William Street, Clare.
Mika was a converted native of Samoa. Mr Solomon Williams, a photographer of Glenelg and later in Clare, was asked to photograph Mika in his coffin. In accordance with Samoan ritual, a likeness of the deceased had to be sent to Samoa for verification of his death. A duplicate of this photo was then given to William May of Clare. That name is not familiar to me and I wonder where that photo is now."
- written by Val Tilbrook, local historian
Download a map of the cemeteries here
For further information, please contact the Clare History Group or the Clare and Gilbert Valleys Council.
The first winery in the Clare Valley, Sevenhill Cellars was established by Jesuits in 1851 to produce sacramental wine. Today, the award-winning cellar door offers a diverse range of table…