Clare Valley Accommodation with Kids in Summer
Tired of battling for space at the pool, river, or beach over summer? Why not try something new and head to the Clare Valley, just an hour and a half north of Adelaide, for some family fun in the sun. And we promise you can cool off in the water!! 
Top Photo by Tourism Australia
With a swimming pool conveniently located next to the homestead, Bungaree Station is a proven favourite and that's not just with the kids. Start your morning on this beautiful, historic property by joining the owners as they make their morning rounds to collect the eggs and feed an array of animals on site, including chickens, horses, kangaroos and deer! After breakfast take yourself on a self-guided tour of the property (included in the price when you stay here) through the amazing buildings dotted throughout the property. But we think to get the full station experience, book in with the owners for a full farm tour in a 4WD vehicle. Can you get anymore Australian? Plus, they also operate a station store daily, where you can be assured of assuaging your caffeine cravings and pick up some dinner of Bungaree lamb (including hogget chops, gourmet lamb and rosemary sausages, and rolled legs and shoulders) or free-range chicken. There's honey provided by the property's two beekeepers, quince paste from the property's orchard and other seasonal produce. You'll never want to leave.

This Caravan Park is located 3kms south of the Clare township, and from here it is an easy walk (or cycle) along the Riesling Trail into town for dinner or breakfast (maybe a cheeky wine or two). The Park has a range of activities for the kids, including a pool, jumping pillow, pump track and bikes, and there is a range of accommodation options with cabins and sites, powered and un-powered, all set within a setting lined by towering gums. Within easy walking distance are Shut the Gate Wines (500m) and Greg Cooley Wines (900m); family-friendly, with great outdoor areas for an afternoon in the sunshine. Next door to the park, you will find the Clare Valley Wine, Food and Tourism Centre (Visitor Information). They are open daily for your morning barista-made coffee and in the evening can offer you wine from about anywhere within the valley. A vast range of local produce, maps and advice are also on your doorstep. Wake up to the cackle of kookaburras in this rural setting.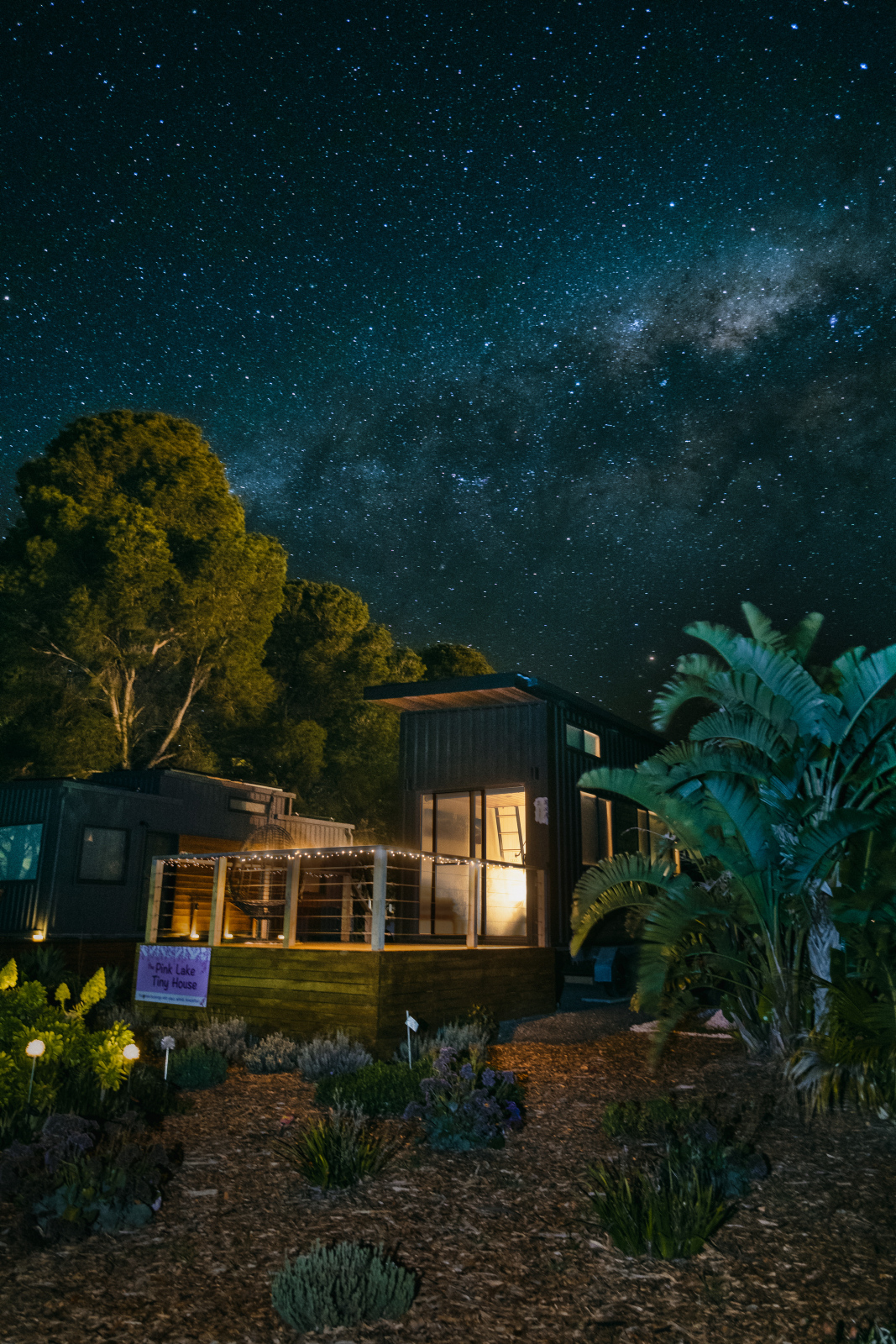 Photo: Bash_Image
We'd like to introduce you to Lochy, our resident monster in Lake Bumbunga. Have the kids ever seen a pink lake? We can probably guarantee they've never woken up next to one and there are few who get to experience the lake at sunset and sunrise. The Pink Lake Tiny Houses are cute Japanese-inspired eco-tiny homes in Lochiel, directly across the road from Lake Bumbunga. Go for a walk on the bubblegum shore; the pink tinge is due to the lakes' high salinity levels, combined with the presence of salt-loving algae and pink bacteria known as halobacteria, giving the lake its bright pink hue. The less water in the lake the more concentrated the salt and the more brilliant the colour; it's incredibly bright a few sunny days after rain. Get the most out of your stay and book the overnight experience, including a Korean BBQ dinner and a milky way tour with a hosted star talk on the deck. You'll want to remember your camera for this.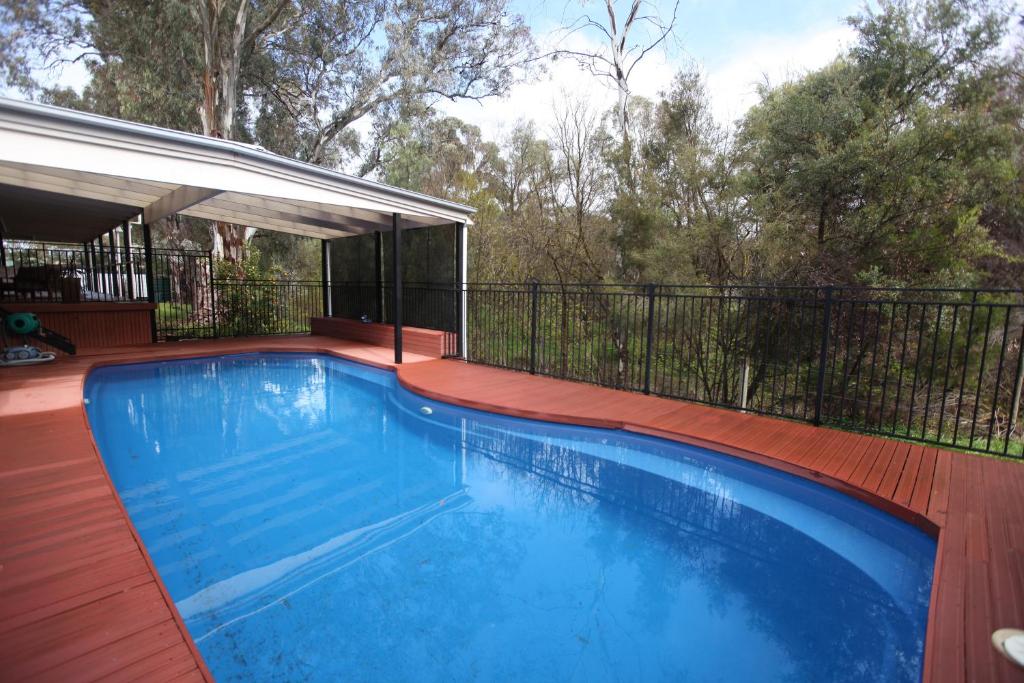 The suite at One Tree B&B is an eco-conscious, luxurious lodging set on the grounds of a lovely old-style homestead, established on half an acre of land on the banks of the Wakefield River. The property is surrounded by tall and majestic gum trees and native wildlife; you might even see a kangaroo pass by as you enjoy a morning coffee or an afternoon glass of wine in your private outdoor entertainment area. Plenty of options to cool off, with a swimming pool plus indoor and outdoor 2-person spas. The second accommodation option is The Retreat, a self-contained 2-bedroom modern country-style cottage. Enjoy the 4/5-person outdoor spa in an undercover outdoor entertainment area; the perfect place to unwind from a day out exploring. Best of all? Both the suite and the retreat are only a short stroll to the main street of Auburn, where you will find cafes, cellar doors and wonderful places to eat, like Terroir Auburn and the Rising Sun Hotel.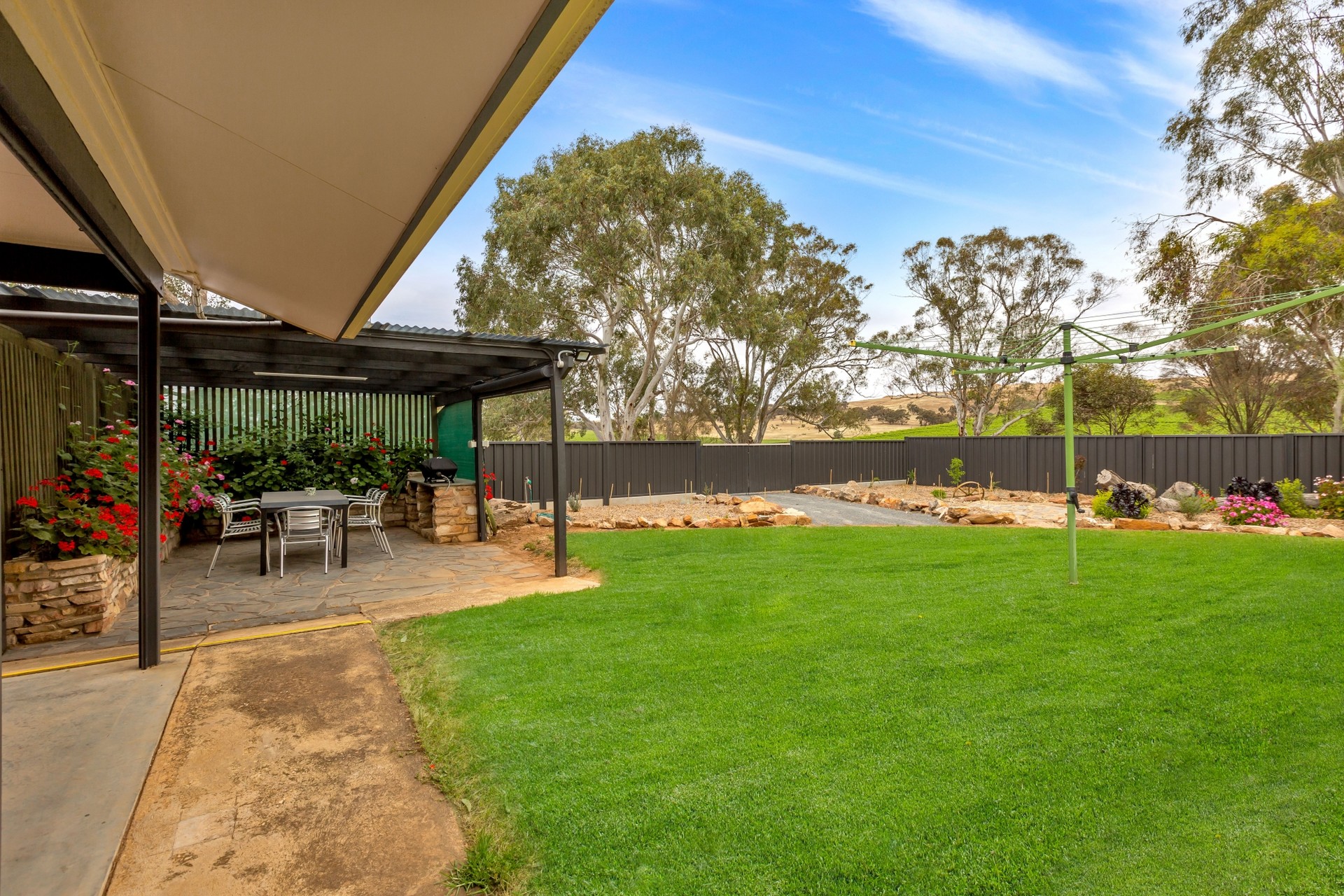 Surrounded by vineyards, only metres away from world-class wine and yet still stunningly secluded – welcome to Jaeschke's Country House. This massive 3-bedroom building is your home away from home on the Hill River Clare Estate property. The backyard is the perfect spot to enjoy a sumptuous BBQ dinner, followed by hours of games provided in-house. While mum and dad spend some time in the cellar door (there are a number of back vintage Rieslings on offer), the kids can enjoy feeding the ducks on the dam. There are several wineries within easy driving distance to explore and then don't even think about dinner when you can visit the award-winning Sevenhill Hotel. Follow this up the next day with breakfast at the Little Red Grape Bakery, that you can enjoy while the kids expend their energy at the highly rated Richardson Park Playspace.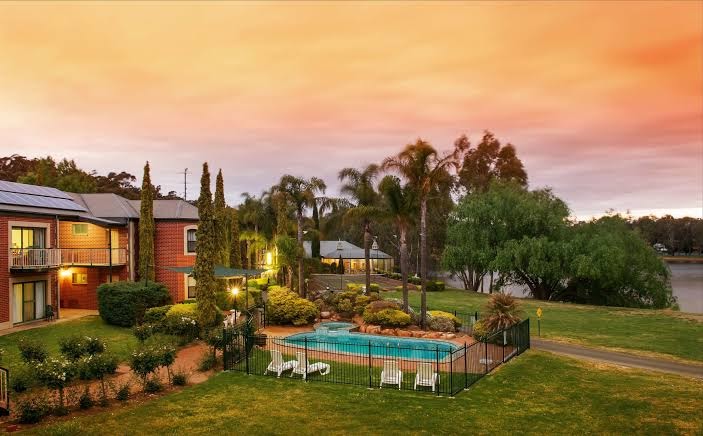 What about a mini resort break? Just on the edge of town, the Clare Country Club has everything you need for a getaway on-site including a restaurant, tennis courts, gym, spa, sauna, and an outdoor pool. It is located just next door to Lake Inchiquin, home to the Clare Valley Model Engineers who host weekend (sometimes twighlight in summer) train rides. Due to recent rains the lake is full so there's birdlife and a turtle or two to discover. With just a short stroll you will find yourself at the Gleeson Wetlands one of the more popular spots for walkers and bird watchers. Cared for by the Clare Lions Club who are always improving amenities; see how many sculptures you can spot.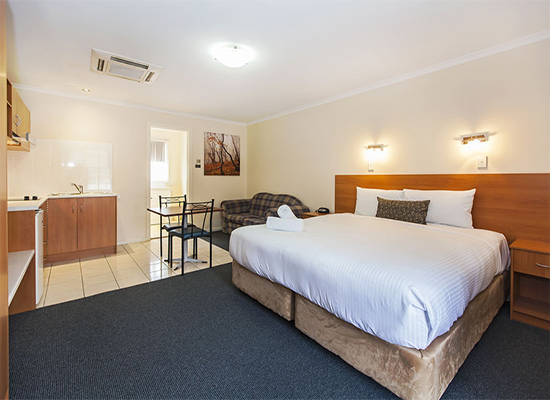 At the northern end of the Clare main street, you will find the Clare Central Motel. The motel is so well located, it's just a short walk to the restaurants, bars, and shopping area, and it is right next door to Knappstein Enterprise Cellars, where you can attest to the fact that nothing is better on a hot day than a crisp Clare Valley Riesling. There is a pool at the front of the property and just up the road you will find a shaded playground area. Everything you need to make this a memorable family holiday is readily available.
For information on what to do when you arrive, check out these itineraries:
Family holiday
Bring the whole family to the Clare Valley for a weekend of activities as well as serene relaxation. There are plenty of child-friendly attractions to make for a fun family getaway.
Three Days in the Clare Valley
Wind your way through a cluster of villages and wineries, nestled in picturesque valley.
Day Trip to the Clare Valley with the Kids
If you're short on time, there's still plenty you can do to enjoy a day trip in the Clare Valley. Here are some kid-friendly ideas for a quick trip.