Top ten things to do in Autumn
Autumn is one of the most magical times of the year in the Clare Valley, and we can't help but feel a special affinity for it.
The vineyards are bursting with activity as vintage is in full swing, and the anticipation that brings is truly second to none. It's a bustling hub of exciting events, with something on every weekend. As the leaves start to turn, the countryside is transformed into a breathtaking sheet of stunning autumnal hues of reds and yellows, creating a picture-perfect backdrop for any adventure. Mornings are a little crisp, but the days are clear and bright, with the sun gently warming us and just the hint of a gentle breeze in the air.
As a result, Autumn is a particularly popular season, and we encourage you to book your accommodation as soon as possible. With a long weekend in March and ver Easter, plus the ANZAC Day public holiday and the school holidays all falling in Autumn, take advantage of the extra days and stay longer in a range of self-contained accommodation. Our friendly staff at either the Clare Valley Wine Food & Tourism Centre or the Burra & Goyder Visitor Information Centre are experts in the range of accommodation available throughout the region. Give them a call, and they'll happily find the right options for your stay.
Once you know where you'll be resting your head at night, it's time to turn your attention towards how you'll fill your days. With the weather averaging a balmy 23 degrees, it's the perfect time to get outside and experience our fabulous outdoors. From scenic drives and nature walks to cycling and picnics in the park, there's something for everyone in the Clare Valley. So, whether you're a wine lover, a foodie, or an outdoor enthusiast, come and experience the magic of autumn in the Clare Valley.
Ride the Riesling Trail
The Riesling Trail is a stunning attraction that's worth experiencing all year round if you're looking for a wheely good time, but autumn adds an extra layer of beauty to the already breathtaking scenery. The trail offers stunning views of the countryside, and the changing colours of the leaves in autumn create a vibrant backdrop that's truly unforgettable.
Don't have your own bikes? No problem-o! The experts at Clare Valley Cycle Hire, Riesling Trail Bike Hire, or Scoot the Valley can hook you up with your dream wheels. For those who need an extra boost, electric bikes are available for rent, allowing for just as much fun with less leg power – our kind of exercise.
For families, a stop at Richardsons Park Playspace and the Little Red Grape Bakery at Sevenhill are non-negotiable. This short trip also provides easy access to Tim Adams Wines, Mr Mick Wines, Shut the Gate Wines, everyone's favourite Good Catholic Girl, and the oldest winery in the area, Sevenhill Cellars. The Riesling Trail itself is 33km long, with optional on-road loops for the more experienced cyclist and an extension along the Rattler Trail to Riverton for those with unlimited supplies of energy. For more detailed information, check out our handy guide 'How to Do the Riesling Trail.'
Get your walking shoes on…
Autumn months are perfect to fall in love with hiking, and you're spoilt for choice in the Clare Valley. No matter if you want a short and sweet stroll (1km/40mintue) or prefer a more serious hike (100km/multi-day), stunning views, delicious wines and plenty of space are all but guaranteed. Put your best foot forward and embark on the 6-stage/6-day Clare Valley Wine and Wilderness Trail, (stages 4 and 6 are set to be completed in 2023). Wander by vineyards overlooking incredible views starting at the Clare Valley Wine, Food and Tourism Centre through to Jim Barry Wines, then continuing on to Jeanneret Wines and beyond. To ensure the protection of the beautiful vineyards, we kindly ask that you refrain from walking through them without a guide and please follow biosecurity measures before and after passing through, so we can all continue to enjoy the wonderful wines they produce.
A walk to the Spring Gully Cascades never disappoints, particularly at golden hour, and the views from Neagles Rock Lookout are equally as stunning. To help you decide, we recommend checking out our article 'Walking in the Clare Valley.'
Further afield there are walks to be found around Burra, Port Wakefield, Blyth and more. Just remember that some trails may be closed during the fire ban season, so plan accordingly.
Enjoy a round of Golf
Tee-off and enjoy a round of golf at the Clare Golf Course, adjacent to the Clare Country Club and Gleeson Wetlands. A gorgeous day out in the sunshine, completion of this 18-hole course is often followed by wood-oven pizzas and a drink with the locals. If you're a serious golfer, check out the Autumn Golf Classic which is held in March each year and runs for five days. The Club welcomes visitors and is open daily. They can assist you with equipment hire so if it's a spontaneous decision or you forgot to pack your clubs (oops), you can still enjoy a tee-rrific day.
If you want to fit in as many rounds of golf as you possibly can on your travels, there are nine clubs within 50kms of Clare, including; Blyth, Balaklava, Burra, Farrell Flat, Owen, Riverton, Saddleworth, Snowtown and Yacka.
Take your tastebuds on an international trip without leaving Australia!
For a taste of Italy, Ragu & Co. serves up authentic dishes inspired by the nonnas. They focus on simple, high-quality ingredients to create delicious, home-cooked meals that transport you straight to the streets of Rome. From the hearty spaghetti bolognese to the delectable lasagna, each dish is prepared with the utmost care and precision and served with a matching glass of Clare Valley or Italian wine, just ask their in-house sommelier for a recommendation.
For an explosion of Indian flavour, head to Indii of Clare, one of the best Indian restaurants in the country. You'll be treated to traditional curries infused with homemade spices and cooked using techniques passed down through generations
.At the UPPside Restaurant & Wine Bar, you'll find a fusion of European flavors inspired by the restaurant's heritage and travels. Savor your meal on the veranda with a glass of local Clare Valley wine for the ultimate culinary experience.
Get festive at one or more of our many events!
Autumn is a fantastic time to visit the Clare Valley, with an exciting lineup of festivals and events to enjoy. The SA Autumn Garden Festival is a two-day event held in March, with workshops, talks, and garden tours led by renowned gardening experts like Sophie Thompson (workshops on Saturday, Festival on Sunday). The Clare Valley Running Festival is another highlight to be held in early April this year, offering runners of all levels the chance to compete in a half marathon, 10km, or 5km race. And for those who prefer a more leisurely pace, there are markets, workshops, live music, and tastings happening throughout the region.
If you're looking for something out of the ordinary, don't miss the Fringe shows in Auburn during March, which are sure to entertain and delight. Of course, there's always the Clare Valley SCA Gourmet Week, a week-long celebration of food and wine that brings together local producers, winemakers, and chefs. With masterclasses, private tastings, and special events, there's something for everyone to enjoy. The program will be released mid-march, check their website for details
And let's not forget the Clare Races on the March Long Weekend and on Easter Saturday, where you can enjoy live music, delicious food, and of course, horse racing. Check out our 'What's On' page for a full list of upcoming events.
Discover our region by car
Discovering the Clare Valley by car is one of the best ways to take in the beauty of the region. With a plethora of breathtaking scenic routes, there's no shortage of sights to see. To take the stress out of planning your own route, the Best Scenic Drives in the Clare Valley have been designated for you. Alternatively, if you're feeling adventurous, simply pick a road and go - the scenery can change from the ocean to the outback in just an hour's drive, passing through plains and vineyards along the way.
The Clare Valley Scenic Drive starts and ends at the Clare Valley Wine, Food and Tourism Centre taking you up and around the Clare Valley Wine Region, passing by buildings of historical significance and points of interest as you go. Of course, there are many opportunities to stop and sample our region's food & wine, lace up your hiking boots and head out on a walk or simply stop and admire the views.
If you're keen to go bush and discover the outback without travelling for hours, explore Dare's Hill Circuit Drive. This route from Burra to Terowie in the north passes by sheep stations that have become the heart of this rural district and you can see exactly where Goyder's Line crosses just out from Mount Bryan. Stop and wander through the restored Sir Hubert Wilkins homestead (keys from the Hallett General store) and admire the breathtaking views from Dare's Hill Summit. Don't forget to stop and snap a photo of the famous 'Midnight Oil House' on your way north of Burra (from behind the fence).
It's worth noting that some of the points of interest along these routes are located on private property, so be sure to obtain permission before entering.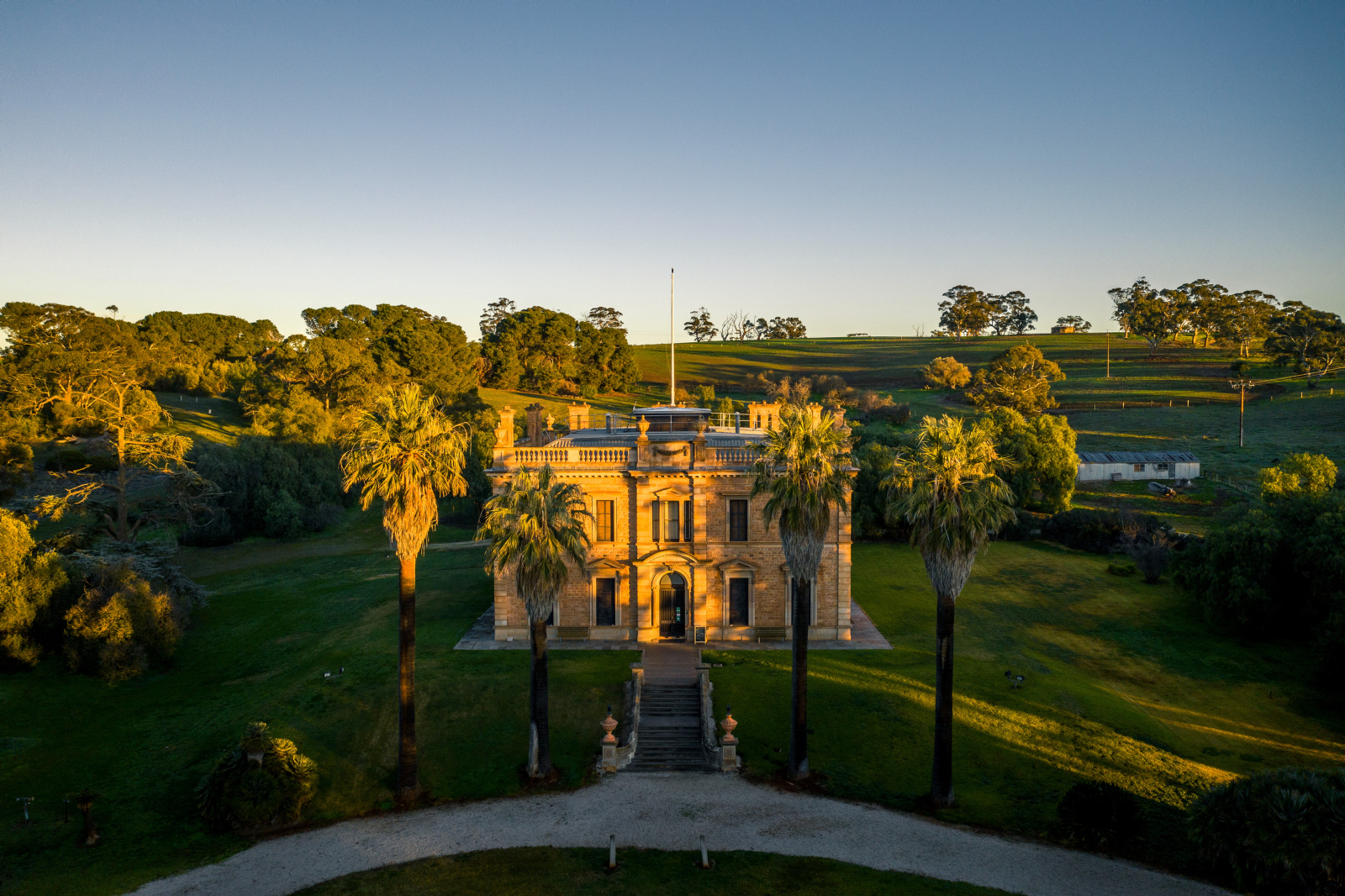 Discover every (h)edge of Mintaro
Mintaro is a charming village that boasts a rich history dating back to the 1840s. It was once an important stage post for transporting copper from the Burra Mines to Port Wakefield, and today it is a well-preserved example of a mid-19th century village. The town's slate quarry, which opened in 1854, is one of the oldest continuously producing quarries in Australia.
One of the most iconic sites in Mintaro is Martindale Hall, a Georgian-styled mansion built by Edmund Bowman in 1879-80. The mansion looks like it has been plucked straight out of the countryside in England, featuring 32 rooms and a cellar and costing a whopping 30 000 pounds. In its heyday, the Hall was surrounded by a polo ground, racecourse, boating lake, and cricket pitch once used by the English 11. Today, you can explore the halls and rooms and imagine what life was like for the wealthy pastoralists who once called it home.
For visitors who enjoy exploring on foot, a self-guided historical tour of the town is the best way to see Mintaro. While most of the surviving buildings are private residences or accommodations, it's worth admiring the stonework from the outside or you can book to stay in one, like Reillys Wines Heritage Cottages. The town has created an informative Mintaro Heritage Walk that can be picked up along the way or downloaded.
Discover your inner child and have a go at navigating Mintaro Maze right on the (h)edge of town. The maze is made up of a combination of hedges and metal screen art, can you work your way through to find the centre? As an added challenge, try completing the puzzle sheet that asks questions like "who is seated next to the Cheshire Cat?" before counting the green gnomes in the Fairy Garden (pre-warning, some of the gnomes are not PG rated). You can also challenge your companions to a game of chess or checkers or enjoy refreshments at the café and gift shop before exploring the town further.
To finish up, enjoy a delicious meal at the Magpie & Stump Hotel, a region favourite known for its scrumptious pub fare, best enjoyed basking in the warmth in the beer garden or by the fire if it's cooler. For wine-tasting and a delightful restaurant, Reilly's Wines is located just across the road and is open daily.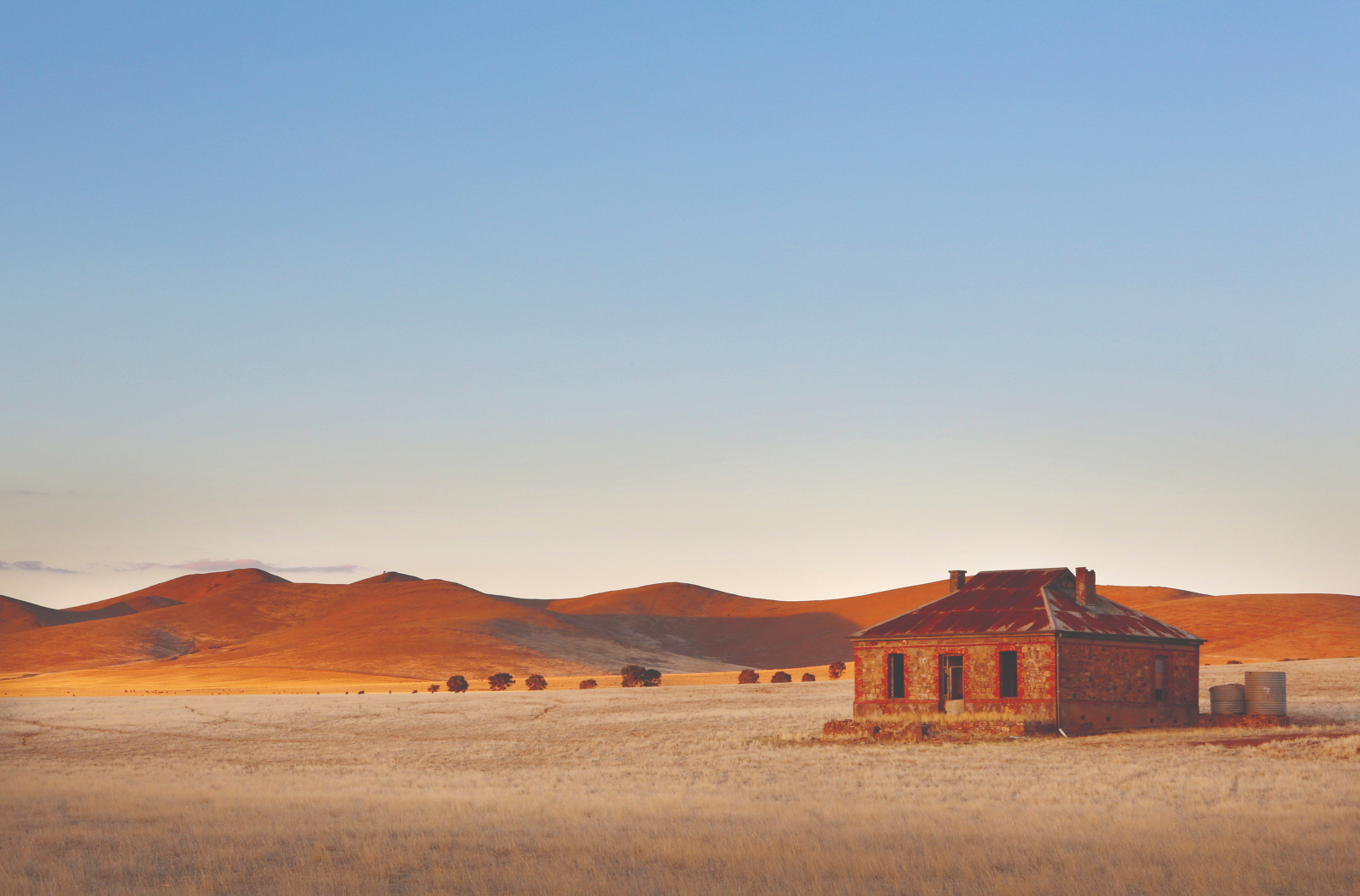 Follow a trail and discover our history.
Following on the historical trail, head north from Mintaro towards Burra. After discovering the fabulous town square grab a Burra Heritage Passport and accompanying key from the Burra and Goyder Visitor Information Centre and make your way around the 11km self-guided driving tour of this amazing township. The key allows you entrance to eight locked buildings and 50 other sites of interest. You'll visit the underground cellars of the Unicorn Brewery, and can experience the dugouts of the Burra Creek to get a feel of what it was like to be a poor miner during the copper boom of the 1800s. The view from Morphett's Enginehouse of Australia's only open cut mine are stunning and see if you can spot Peacock's Chimney as you drive in. Make time for lunch at St Just Café – the coffee is fabulous – and make sure you check out the wares in the neighbouring homewares store. On occasional Saturdays the shops spill out into the street for the Burra Market, joined by makers from around the region and beyond.
Keep exploring our region's heritage, this time our agricultural history, at Bungaree Station. Their self-guided tour is kitted out with audio posts so you can hear the stories being told to you by a member of the family and a descendant of George Hawker, who chose that plot of land on Christmas Day, 1841. Stay the night at their accommodation and in the morning, help the team feed the animals, including kangaroos and deer, and collect the eggs. The best way to view this beautiful property is to join the owners for a private farm tour - it's the only way to get the full experience.
Head east from the coast!
Who knew the Clare Valley Tourism Region includes a coastline? This region extends out to the west and the area north of Dublin, past the famous protest sculptures, up to Port Wakefield before heading inland. So, on a perfect Autumn drive why not explore this area?
Head to Port Wakefield and rather than drive straight through, turn left off the main highway and explore the town. You will be delighted by the colonial heritage, the wharf and the tidal lagoons. Grab some lunch from one of the cafés or bakeries and enjoy a picnic before exploring the mangroves and searching out the birdlife. Alternatively, head straight to the Rising Sun Hotel for some fabulous pub meals in a family-friendly environment.
Continue north to Lochiel (or further north to Snowtown, the giant blade and stunning water tower art), stop for a selfie with Lochie the resident eel at Lake Bumbunga, then turn right and take the road to Blyth. This small, but mighty town, features the Medika Art Gallery (with nursery), not one but two cinemas, the famous Blyth Breakout Rooms showcasing the Waffle Ward (try the Baconutella – mmmmmmmmmm) and a whole lot more.
If you're heading back south we strongly recommend you detour into Balaklava to sample the offerings at Wendy's Café N Cakes. There are many who make this a must-do destination whenever they are in the region.
Did somebody say wine?
And would it even be a trip to the Clare Valley Tourism Region if we didn't encourage you to stop and taste the wine? The Valley is a hive of activity with vintage well and truly underway with winemakers honing their skills to develop the next amazing offering that this region is so well known for.
It all leads up to the Clare Valley SCA Gourmet Week, this year being held from 19 – 28 May 2023, kicking off with the Festival Weekend with music, food, wine tastings and more. Then, 'Breathe it In' from Monday – Friday with masterclasses, cooking schools, tours, exhibitions and more. Finally, join us in the 'Land of the Long Lunch' where we highlight food & wine through a series of (go figure) long lunches.
There's so much to see and do and Autumn is the perfect time to discover the delights that await you in the Clare Valley.