The Best Scenic Drives around the Clare Valley
Learn how to spend a day exploring the scenic backroads of the Clare Valley.
Grab the keys. Start the car... Let's GO! There's no doubt the Clare Valley is full of phenomenal country drives, but once you leave the bitumen your adventures are only just beginning.
If you're keen to motor your way through our rolling hills, winding roads and vineyards, you'll find plenty of spots to feast, forage and stretch your legs along the way. Here's how to see the best of it from behind the driver's wheel…
Get Breakfast. Get Caffeinated.
Rise and shine, sleepyhead. You've woken to a glorious Clare Valley morning and those wide country horizons are beckoning. But a big day's drive calls for an even bigger coffee. Just add a hearty breakfast and you'll have fuel for your adventure... Let's run through a few engine-starters!
If you're swinging through Watervale, don't miss snagging a ridiculously good free-range egg and bacon roll at the Watervale General Store. Far beyond what its name suggests, this place is a little-known gem, with a colourful assortment of second-hand and retro items for sale and a menu full of local flavours. Pop a chocolate walnut brownie in your glovebox on the way out. You're welcome.
Across the road from the Sevenhill Hotel The Little Red Grape punches well above its weight for morning munchies (as does it's sister shopfront in Leasingham!), with classics like eggs benny and big breakfasts sitting alongside fresh baked artisan breads, cakes and pastries and some of the best coffee in town. Chances are you'll be waddling your way back out, so consider a light lunch!
Other local favourites before firing up the car include The Pantry at Velvet and Willow, where you'll find artisan lattes, filled pastries, muffins and more, and Daily Grind Coffee on Main, whose inspired bagel creations will more than fill the void. Just down the road, you'll also find Café 1871, where gourmet toasted sandwiches, croissants and baked treats are washed down with fresh-ground coffee, making it an easy take-away for those on-the-go.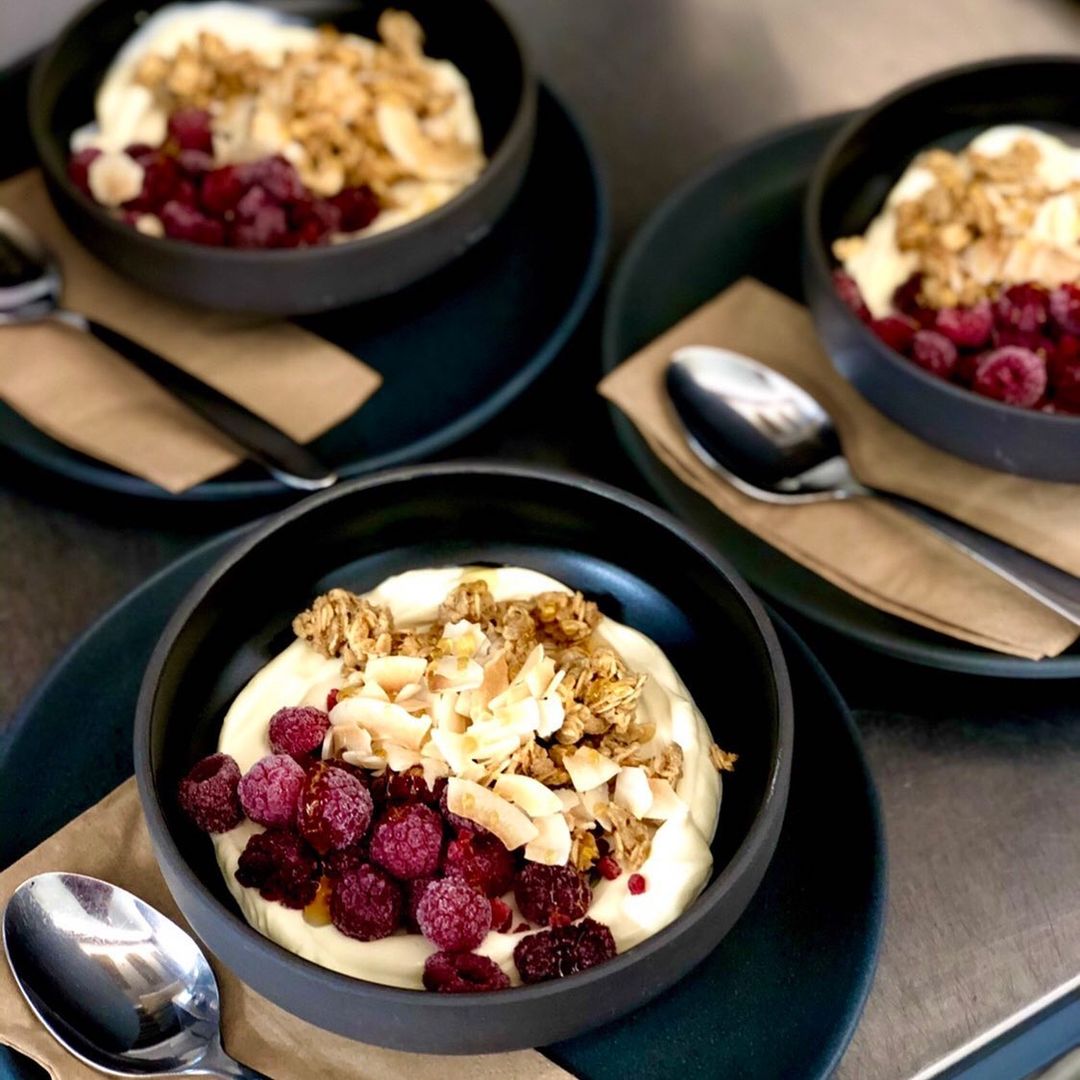 Velvet and Willow, Auburn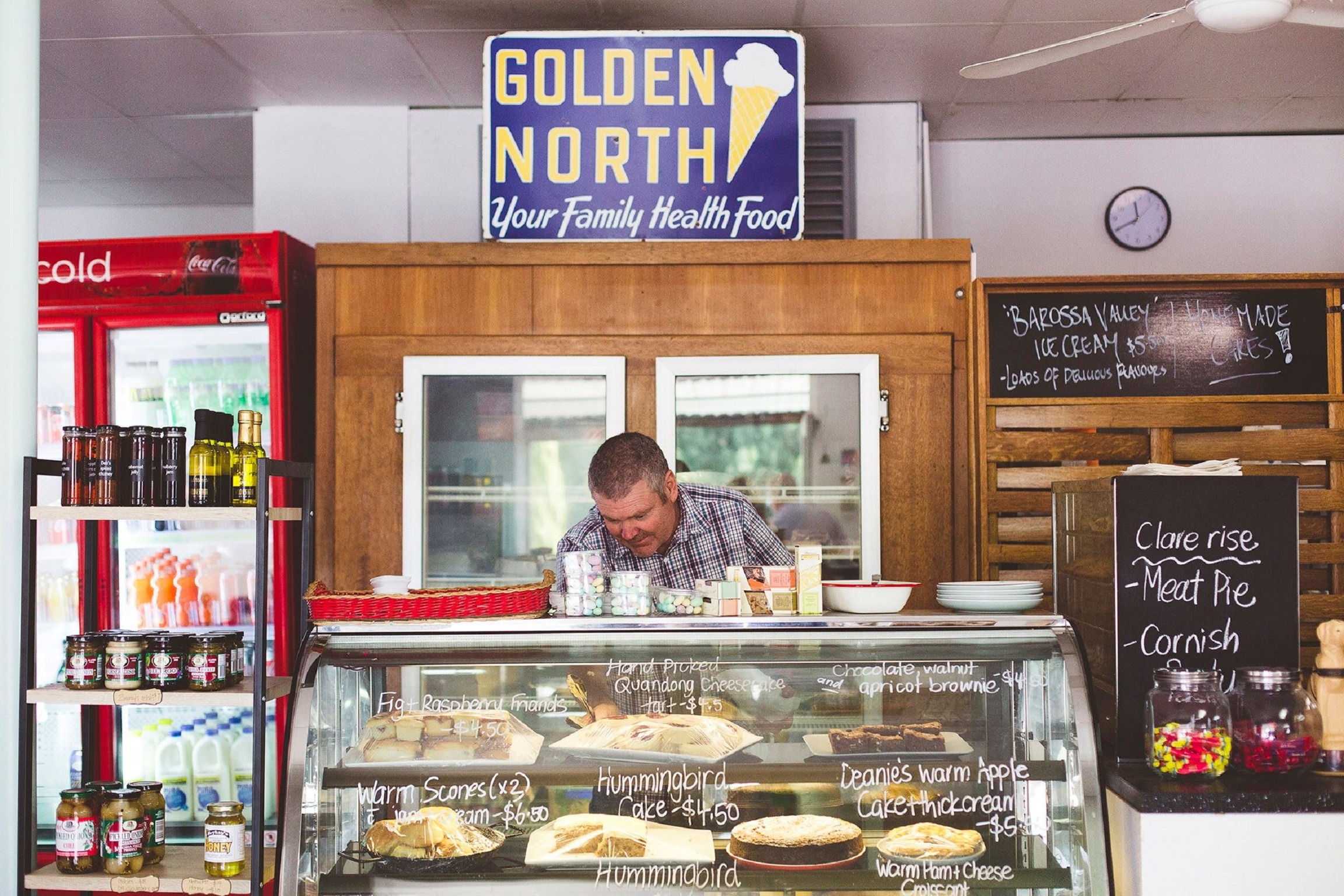 Watervale General Store
Food For Later…
If you're looking to pack in a few treats for the car (perhaps for that walk or picnic later on?), there's more than a few places to load up that day pack so you don't go hungry on the road.
Just out of town The Little Grocer at Shut the Gate Wines & Cellar Door is another great one to hit up for those 'eat later' goodies, with an on-site Provedore full of deliciousness, from artisan cheese and fresh-baked bread to pasta, meats, olives, preserves and pastes. While you're here, tuck a bottle or two of their stunning wine under your arm, and they'll happily match something to your palate!
\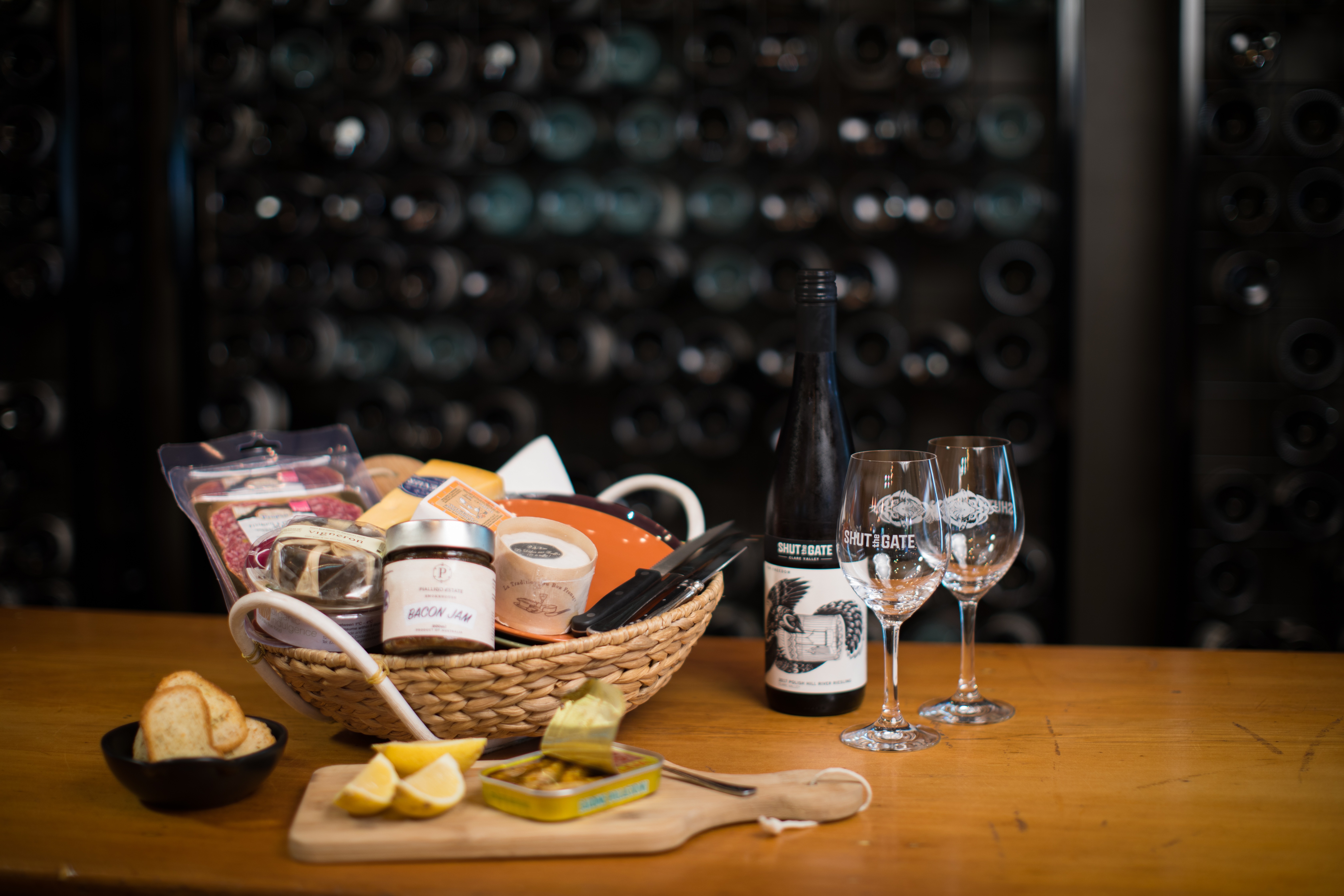 Little Grocer at Shut the Gate Wines
With Sun streaking through the trees, a scenic drive along the Spring Gully Loop is a perfect introduction to the spectacular country around Clare and Sevenhill. An off-shoot of the Riesling Trail, this little circuit will take you through corduroy rows of vineyards and eucalypts, with a great little leg stretch along the 1.3km Cascades Trail in Spring Gully Conservation Park.
Kicking off from the Clare Valley Food Wine & Tourism Centre, take Spring Gully Road west and you'll find yourself travelling along one of the sweetest little byways in the region, as this undulating loop winds it's way through the Skilly Hills to the outer reaches of Spring Gully Conservation Park. Along the way, keep your eyes peeled for kangaroos and kookaburras in between towering gums and native Sheoaks, as you pass by a potential pit-stop at Stone Bridge Wines.
Heading further up Spring Gully Road, you'll swing past Sussex Squire Wines before the bitumen turns to dirt and towering gum trees line your way to Eldredge Wines - another great little stop-off en-route.
From here, make your way south towards Blue Gum Lookout, right on the north-western tip of Spring Gully Conservation Park. From the carpark, it's well worth jumping out of the driver's seat to stretch your legs along the Cascades Walk (40-min return), that'll have you weaving your way through grassy woodlands to a seasonal waterfall that flows after rains.
After a good stretch and some time out in nature, take the drive eastward along Sawmill Road back toward Sevenhill - where friendly locals, a top-quality pub lunch and a cold beer awaits at the Sevenhill Hotel. If you're keen to keep trucking, hit the road back towards Clare via the awesome Clare Rise Bakery to load up on fresh breads, pastries, pies and cakes before your next little detour…
Heading back into the hills again, follow Neagles Rock Road north and you'll weave your way towards arguably one of the finest viewpoints in Clare Valley. This is a perfect spot to bust out those picnic supplies, with a short but rewarding little climb (45 minutes, 1-kilometre return) taking you to the stunning Neagles Rock Lookout for a breathtaking panorama across vineyards and ranges.
At any time of year – but especially in spring - it's also well worth short backtrack south along Neagles Rock and Gillentown Roads to The Heritage Garden for a wander. With a stunning rose display and a garden full of Instagrammable nooks and crannies, this place is both a photographers and a botanist's dream – just be sure to phone ahead and book in advance.
Follow the bitumen eastward from Sevenhill and you'll be rewarded with stunning views as you make your way into the Polish Hill River wine sub-region. Around here, heavy slate soils produce distinctly different flavours to their nearby Watervale cousins, while dreamy dirt roads lead through rolling hills and vistas that can make a bush artist blush.
Taking the left at Jolly Way, pass pristine patches of farmland before emerging at Paulett Wines & Bush DeVine Café, where jaw-dropping views across Polish Hill River are complimented by some of the best vino in the region. This is your opportunity to sit and soak for a bit (hey, if you're a passenger, maybe more…) on an Insta-worthy deck that's primed for a swish in the Sun. If you're feeling peckish, you're also in luck, with a stellar menu that's full of Australian bush flavours.
Picking up Jolly Way again, it's only another couple of minutes' drive until taking a left off the bitumen (conventional cars are fine). From here, make your way through stringybarks and vines along the dusty of Polish Hill Road before emerging at the intersection of Annie's Lane (yes, the real one!) at the Western edge of the valley.
Lovers of art and wine will appreciate a pit-stop at The Wilson Vineyard before heading past the historic Polish Hill River Church Museum to Pikes Wines just 400 metres down the road (book ahead for tastings). Perched on soils that produce some of Australia's (read: the World's) finest Riesling, this place delivers gob-smacking views in spades, while also being home to the effervescent Pikes Beer Company and Slate Restaurant – where a seriously decadent lunch is calling your name.
After hitting the dirt again, make your way further eastward another couple of kilometres before turning right at Mount Rufus Road, where you can expect a few bumps and corrugations (and a few kangaroos) while rattling your way - taking the left at Jolly Way – down into Mintaro.
This town's history dates back to 1849 when it became the cross-roads of a burgeoning copper mining trade before finding fame for its high-quality slate, which is still produced to this day. It's here you'll get another chance to stretch those restless legs along the Mintaro to Martindale Short Walk (2.5 hours, 9.6-kilometres return), following the sleepy back roads of the Lavender Federation Trail all the way to Martindale Hall.
This grand Georgian mansion has proudly stood at the end of the tree-lined driveway since the late 1800s, having been purpose-built as a provincial hideaway for pastoral royalty. Film buffs will also remember this beauty from the legendary Picnic At Hanging Rock in 1975, and if you bank some time to wander through, you'll learn all about the extravagance of its former tenants.
Following the trail back into town along the same route, you'll probably arrive hungry... Good thing the legendary Magpie and Stump Hotel is on hand to save the day! One of South Australia's oldest pubs, this place is full of hearty food and entertainment (especially on weekends), with a cracking wine list to boot. Oh, and just to make sure you don't go thirsty, you'll also find the award-winning Reilly's Wines across the road.
After being well fed and watered, take wander past some of the old slate buildings around town and you'll get lost in a colonial labyrinth, with chimneys, tanks, wash troughs and paving dating back to the 1880s. Oh, and nobody leaves town without a visit to the curious green wonderland that is the Mintaro Maze. A living hedge lined with over 800 conifers and loads of curious oddities strewn throughout, this place also makes a great coffee-stop before hitting the road out of town.
Emerging from the maze, take Mintaro Road south-west to motor past sweeping fields of canola and cereal crops before those classic Clare Valley vines begin guiding you back into Leasingham. If you're keen for another pit-stop, hit up Claymore Wines before heading into Watervale, where Crabtree Watervale Wines will happily top up your glass (or boot, whatever…).
For those looking to stretch their legs one last time, pick up the Watervale to Mount Horrocks Short Walk (3 hours 11.5km return) to walk off a few calories a with comfortable hike through the hills - rumoured to be Kelly gang country - to a spectacular 360-degree view at the lookout. If you're keen to cut straight to the view, perhaps opt for the shorter Spur Loop Trail (900m) along the fence line (private property, follow the way markers) to reach the precipice a little bit quicker.
Of course, a quicker walk means more time for dinner… and luckily one of South Australia's hottest dining destinations, the iconic Watervale Hotel, sits just a little further down the hill to wrap up your drive day in style.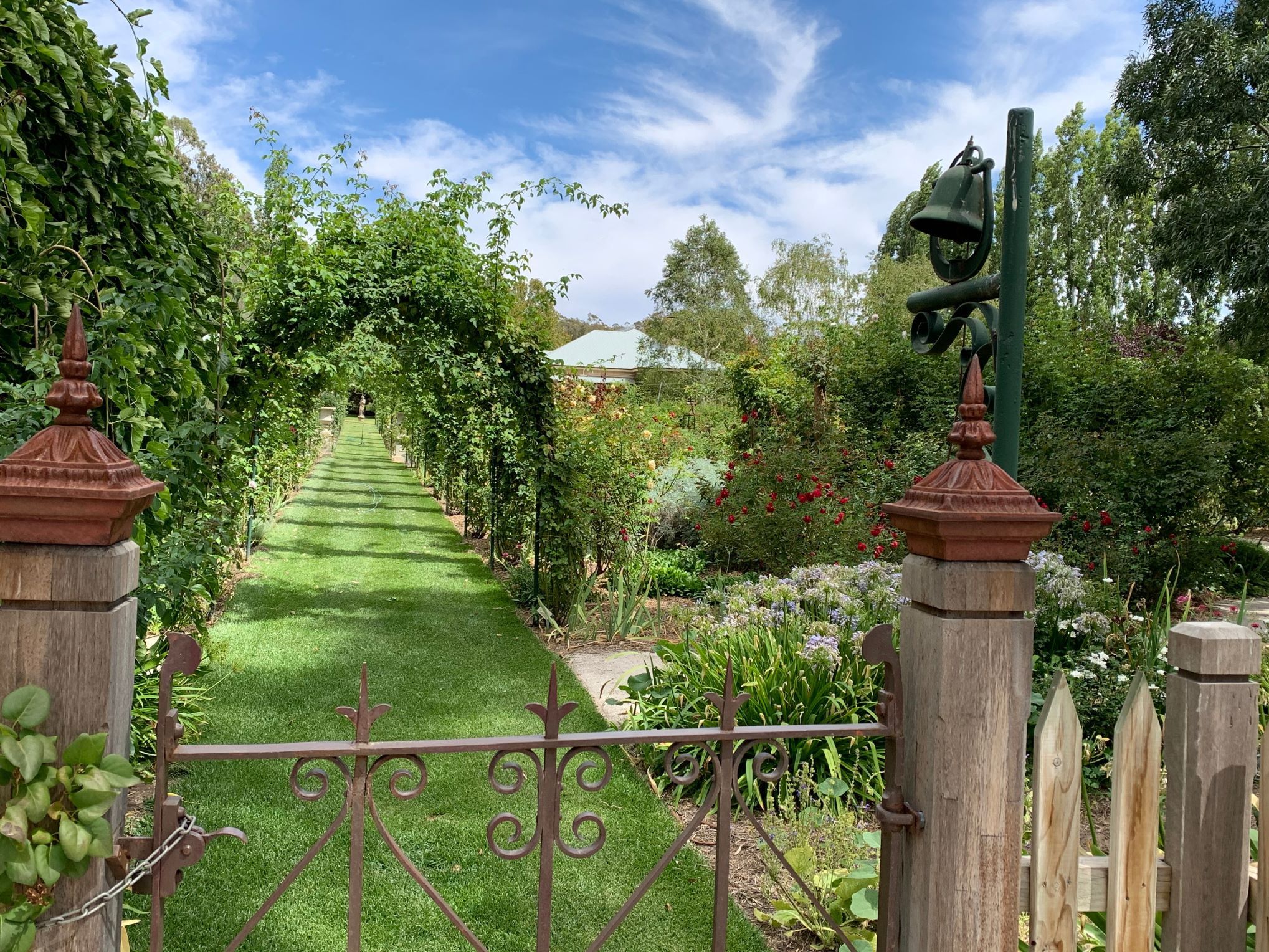 The Heritage Garden, Sevenhill (by appointment)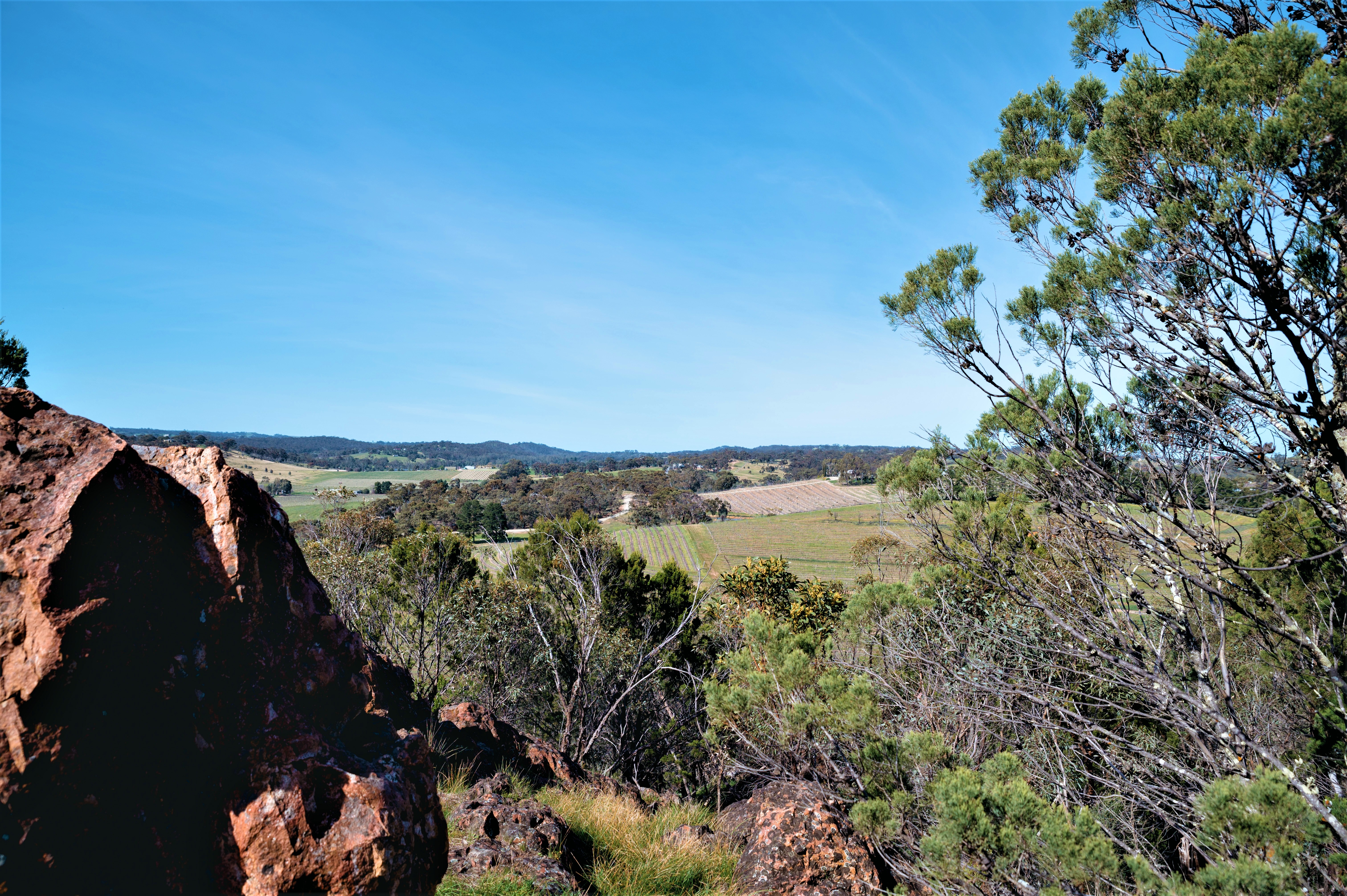 Neagles Rock Lookout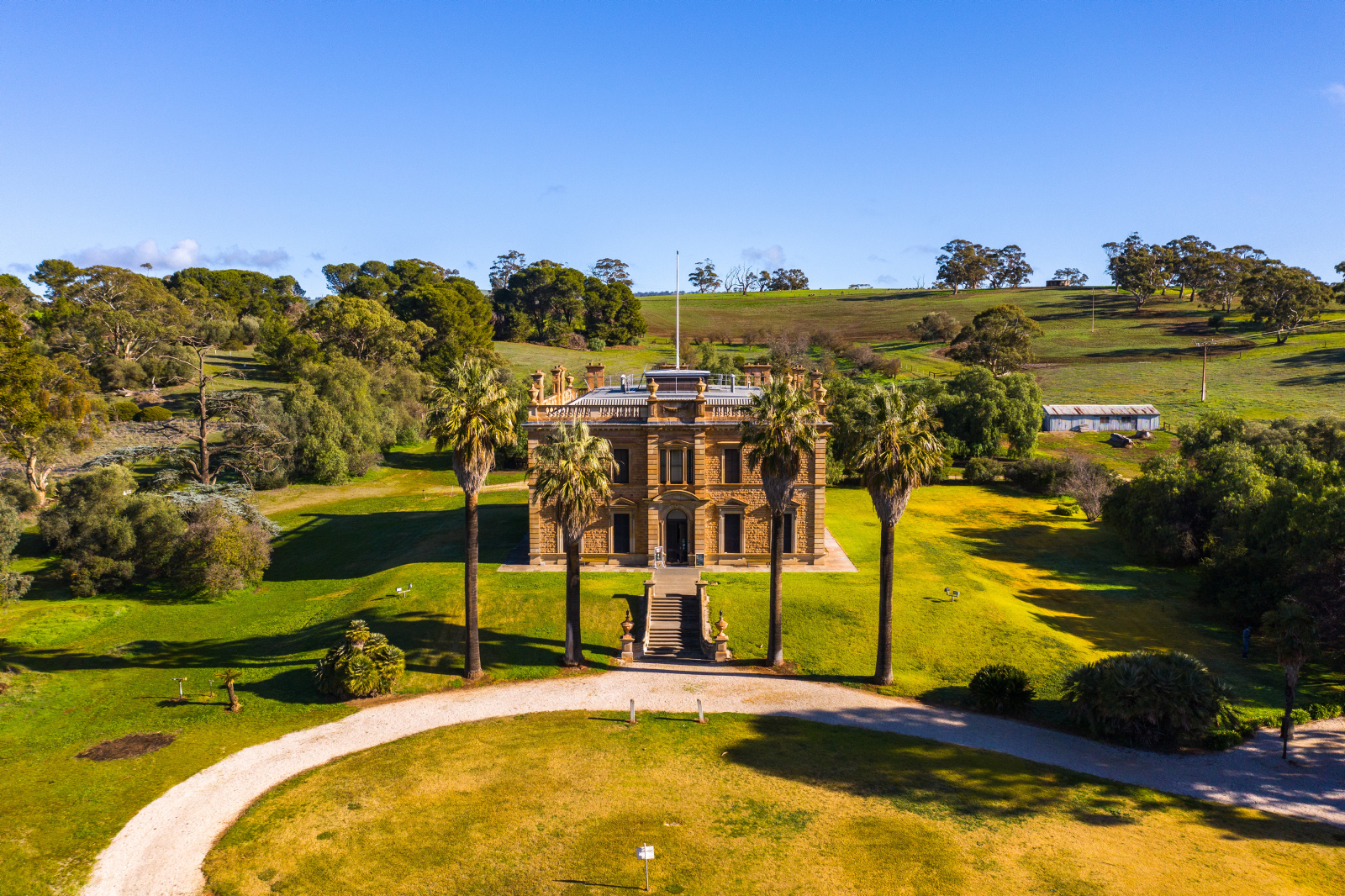 Martindale Hall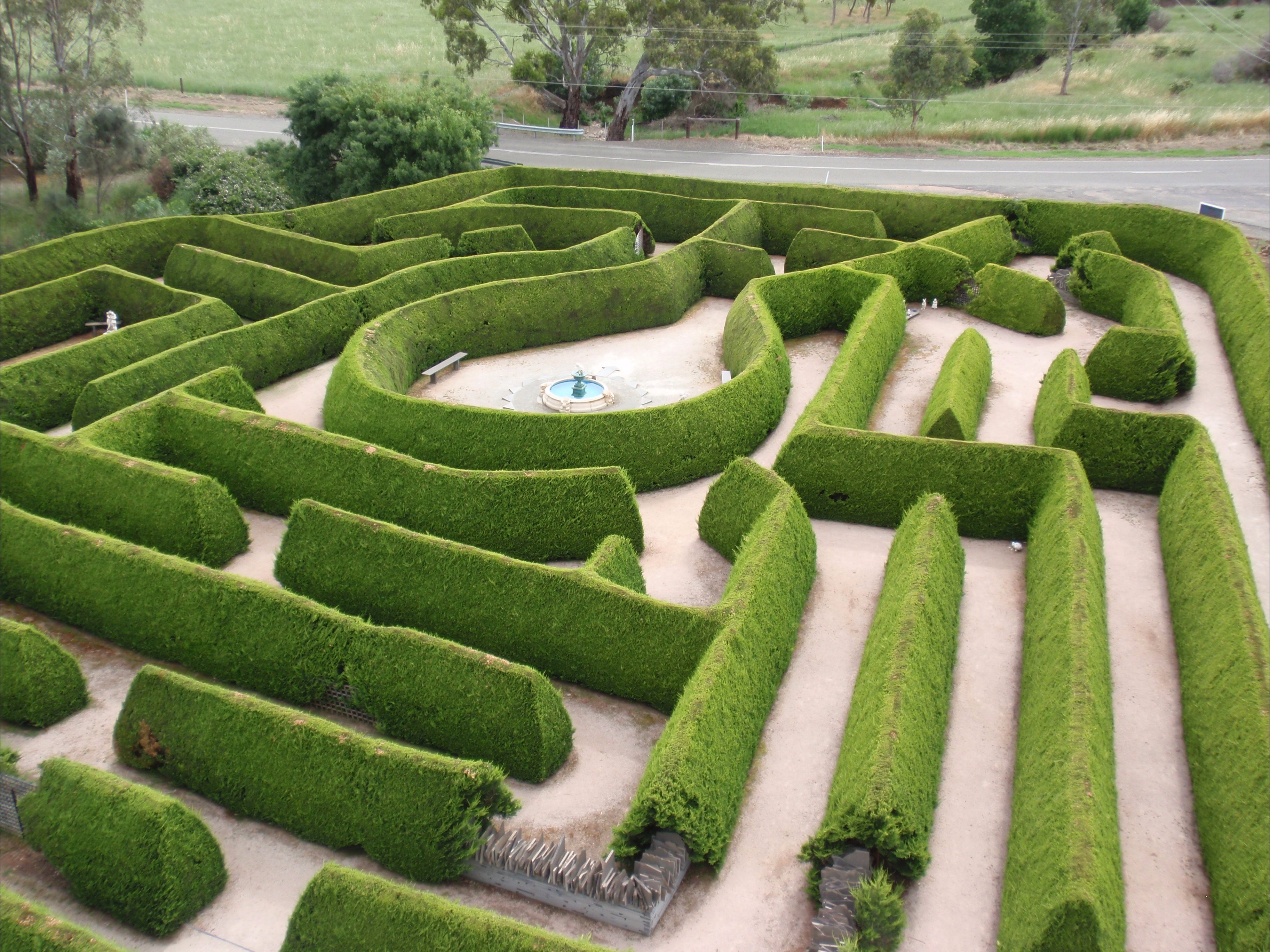 Mintaro Maze
Just remember, if you're looking for more things to see and do in and around the Clare Valley and Burra Regions, we're more than happy to help fill your diary. Check out our other blogs below on how to plan a longer stay