How to do the Riesling Trail in the Clare Valley
Okay. You're keen to taste a little fresh country air, soak in some scenery - and hey, maybe even a little vino while you're at it…
There's no doubt that our legendary Riesling Trail is the hottest ticket in town when it comes to seeing the best of our region, and if you're keen to find out what all the fuss is about, it's time to jump in the saddle. This is one super easy ride, but with a little planning you'll find it almost effortless, and we're here to get you started!
Choose Your Wheels
First things first… Obviously this is a cycling trail, so you're going to need a set of wheels!
Good news… You don't need to be a downhill daredevil, a mad mountain biker or a street racer to do this thing in style. With 33-kilometres of flat, well-maintained, fully graded gravel track between Clare and Auburn, this is one cruisy ride for just about anyone. Yep, even you...
Let's work on that trusty steed. Importantly, given the terrain you'll be riding, you'll need a bike that can eat up those kilometres (and pit-stop calories) in style. If you've got access to your own rig, that's perfect – just make sure it's the right fit!
Generally speaking, a standard mountain bike or hybrid is perfectly fine for this trail - or just about anything that can handle life off the bitumen. While there's very few loose sections of gravel, having a set of tyres that can grip onto the track can help prevent those embarrassing slide-outs!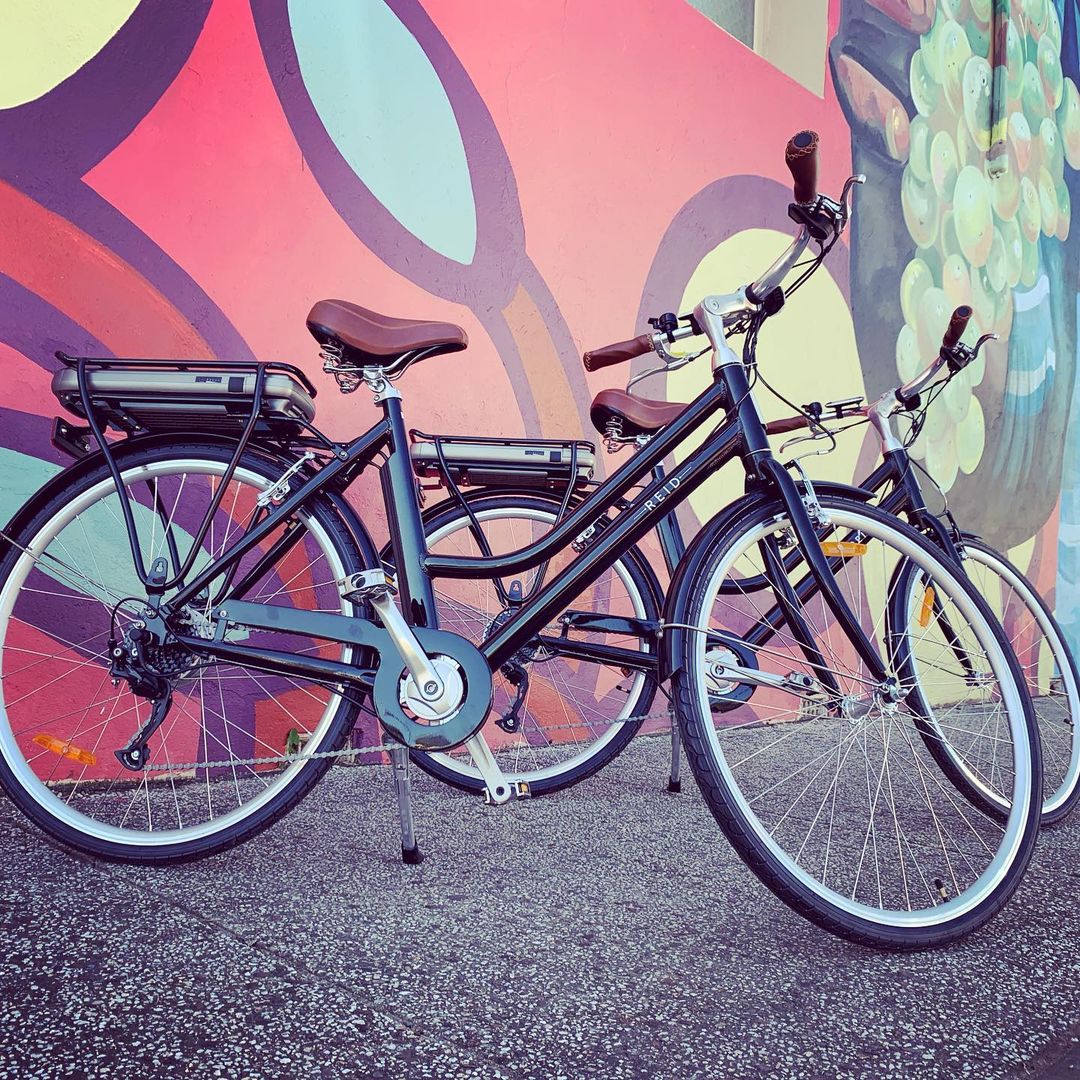 Scoot the Valley - eBike Hire
If you've arrived without a bike of your own, you'll find quite a few hire options (scroll down to see who they are) to get you onto a snazzy work horse tailored to your needs - starting with a huge assortment of Mountain and Leisure Bikes. With a wide range of options for any size, shape, age or ability these beasts will always be well-oiled and serviced, and ready to hit the trail.
But perhaps it's been years since you last hopped in the saddle – and the thought of staying upright while having to worry about exerting yourself at the same time is just all too much to bear? Sounds like you could use an eBike, right? Easily done. Afterall, some of us just want to 'pretend' we're pedalling and that's perfectly fine around here. On that note, two sets of legs are often better than one, so how about a tandem bike? (you know the drill… he rides, you navigate)!
But what about something with a little more pizzaz? Perhaps even to soothe that sore bottom you're worried about? Too easy… How about a retro Vintage Cruiser with all the romance of old? With a soft leather saddle and a wicker basket up front to stow all your stuff (think: handbag, picnic blanket, wine, cheese etc), you'll not only find plenty of Instagrammable moments en route, but loads of creature comforts. Oh, and hey… you'll also find some of these beauties are electrified too!
Naturally, if you're here with the kids there's no better way to get them out in the fresh air, and you'll find plenty of options to keep them up close and steady with a selection of kids mountain bikes, tow-behinds, kids trailers and baby seats to keep them wheeling, without the whining!
With helmets, drink bottles, bike locks and even snacks often part of your hire booking, you'll have everything you need to hit the road without the hassle. Oh, and if you're wondering, yes… bikes can often be dropped off at your accommodation if that's easier - and if you run into mechanical issues along the way you'll be supported with replacements and/or rides.
With an endless array of bike hire options to suit just about any circumstance, you'll find all of the above and more is just a phone tap or call away... In Clare, hit up Riesling Trail Bike Hire, Clare Valley Cycle Hire or Scoot the Valley to chat through their range.
Naturally, this is wine country. Things happen, and hey… perhaps you've found yourself conveniently 'stuck' after rolling into one of our many wineries? Don't stress. With access to around 30 cellar doors enroute it's pretty much 'par for the course' so you'll find many wineries and/or operators are happy to transfer your wine purchases back to your crib in time for dinner - or even arrange a one-way hire to suit your schedule. Just remember to ask them when booking!
If you're winging it just that little bit more and don't have time to book anything in advance, you can also avoid the hassle of backtracking at the end of your ride by (temporarily) farewelling your cycling mates at a pub, café or cellar door before calling the good folks at Clare Valley Taxis, who'll gladly take you back to collect the car!
Of course, we all get busy. Perhaps the last thing you want to do is talk bike logistics and maps. Afterall, there's places to see, food to devour and wine to drink... Can't someone just make it happen for you? Well, yes actually.
Drop a line to the team at Clare Valley Experiences and they'll be all too happy to take out the legwork with pickup from your accommodation and a flexible tour itinerary combining a ride along the Riesling Trail with in-vehicle touring to some of the region's best small wineries. Is there anything like having a local guide at your fingertips? Not really. Taking a tour is not only a God-send for your sanity (or perhaps that of your travel mates) but also for your diary, with inside know-how designed to maximise all the best bits, with minimal effort on your part.
Plan your ride.
Okay, you've come this far. Let's plan this out… Knowing where to go and what to do is important, and while the super keen and super fit can all too easily cover the full 33-kilometres of the Riesling Trail in a day, there's also a number of little loops and smaller sections to pinch hit as you please.
Before hitting the road, you'll want to study the Riesling Trail map to get a bit of an understanding about where the trail starts and finishes, and the general lie of the land. Those dotted lines off the main route (solid brown) are your loops – and some are more difficult than others – but they're a great way to access some of the smaller towns and cellar doors.
In general though, you'll be following an old railway corridor dating back to the 1860's, which has now been converted into the recreation trail we see today. Of course, trains don't like moving up hills (and nor do you), which means you can expect a fairly level and flat ride across all the main sections, with the only real (read: cruisy) gradient being from Clare to Penwortham at the highest point – and it's downhill to Auburn from there...
Oh, and if you're worried about the kids, don't! They've got this. In fact, if your little beasties are used to tearing up the local BMX track or doing laps of the park once in a while they'll most likely tackle this trail with gusto - dependent on fitness, skills and that other old chestnut… motivation! Bring them along at your peril. (no, seriously… bring them along for the ride!)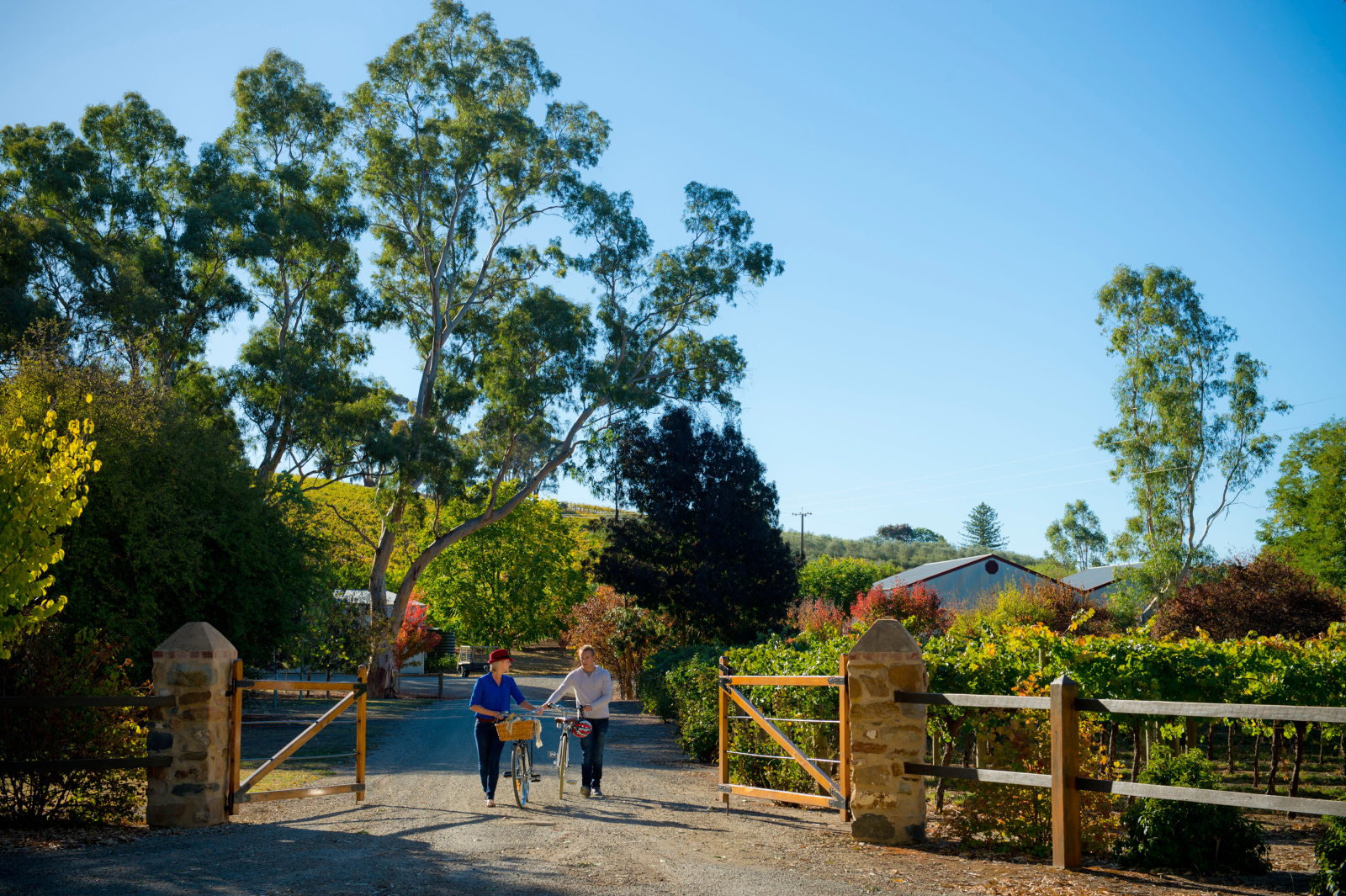 Riesling Trail Cycling (SATC/Adam Bruzzone)
Riesling Trail Loops
Alright then. That inner adventurer keeps telling you to veer off the 'official' Riesling Trail in search of more... If you're intrepid, you'll find three amazing loops starting south of Clare township and around Sevenhill that'll not only get your blood pumping, but right into the heart of our region.
Depending on your fitness levels, trails range from moderate to difficult – and if you've got a foot in each camp it's probably worth investing in an eBike to save your thighs and make the most of the experience. Here's a little rundown on what you can expect to encounter on each route.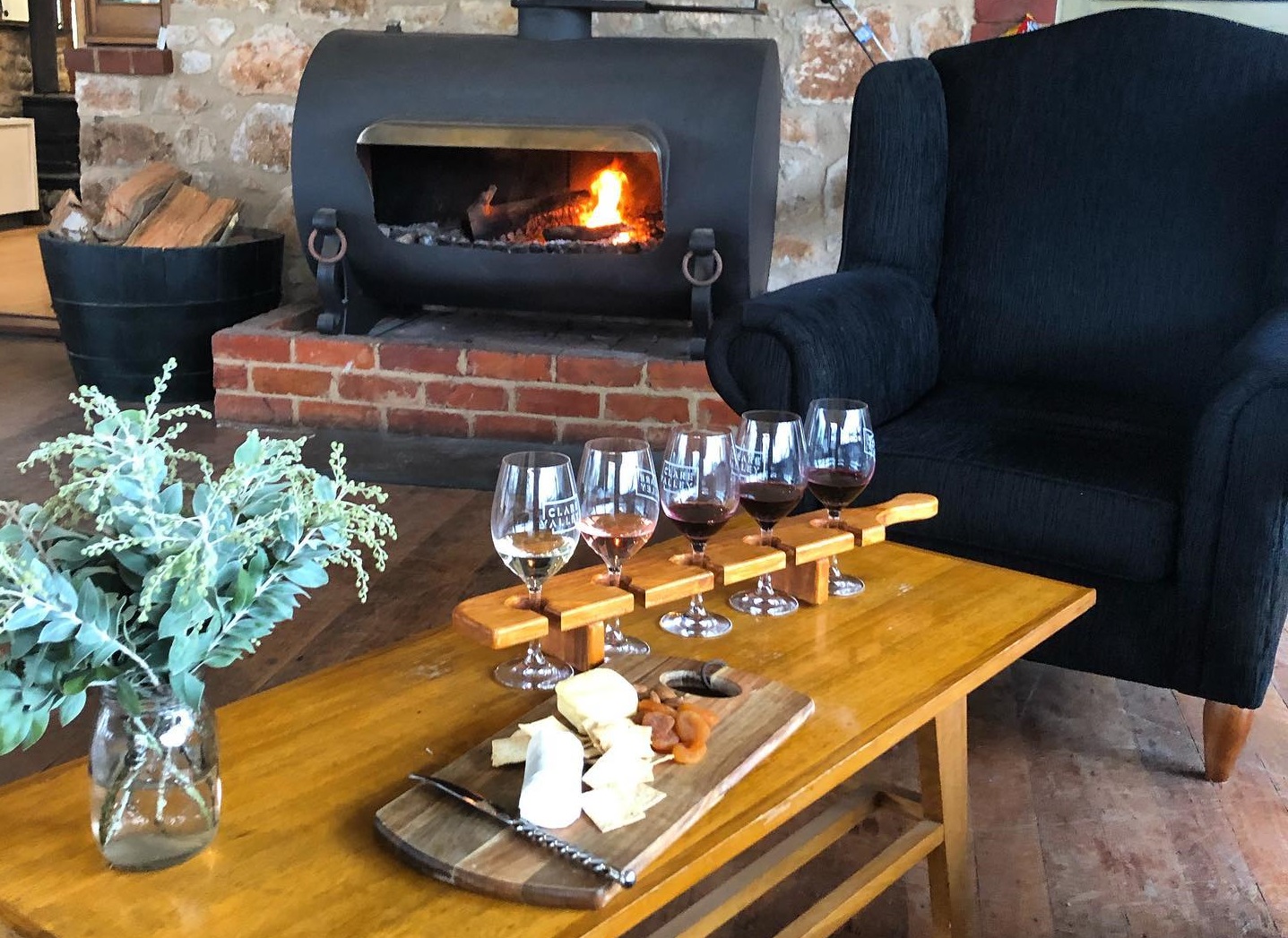 Eldredge Wines via the Spring Gully Loop
Kicking off from the Clare Valley Food Wine & Tourism Centre, take Spring Gully Road west and you'll find yourself cycling along one of the sweetest little byways in the region, as this undulating loop follows the tourist drive through the Skilly Hills to the outer reaches of Spring Gully Conservation Park. Keep your eyes peeled for kangaroos and kookaburras in between towering gums and native Sheoaks.
Your first pit stop is Shut the Gate Wines & Cellar Door on Main North Road, whose understated frontage gives way to a funky cellar door with a cosy gas fire and a garden out back that you'll settle into just nicely. This is also your chance to hit up their on-site Provedore and throw a few goodies in your basket or backpack for that picnic later on. From here, it's only another 750-metres or so up the hill (also a public road, so ride carefully) to Stone Bridge Wines.
Heading around 2km further up the bitumen, you'll swing past Sussex Squire Wines, where it's worth calling ahead for a full tasting of their top-notch whites and reds before you fall head over heels in love with Milo, the winery dog. Heading further along Spring Gully Road, the bitumen turns to dirt as you roll your way through eucalypts toward Eldredge Wines, where a perfect platter can be matched to their namesake Spring Gully Riesling.
From here, make your way south towards Blue Gum Lookout, right on the north-western tip of Spring Gully Conservation Park. From the carpark, it's worth hopping out of the saddle to stretch your legs along the Cascades Walk (40-min return), that'll have you weaving your way through grassy woodlands to a seasonal waterfall that flows after rains.
After a good stretch and some time out in nature, it's time to click into gear down Sawmill Road, which will take you eastward, around 7km back toward the historic township of Sevenhill - where a cold beer awaits like a glistening trophy at the legendary Sevenhill Hotel.
Whether you're starting this one from Sevenhill or Penwortham, you can expect a little extra legwork as you make your way along public roads (be careful of passing traffic), but it's well worth the effort for those wanting to go that little bit further in search of hidden gems.
From Sevenhill, start at Good Catholic Girl Wines before following the rows of eucalypts along Bayes Road. Heading south-west, you'll follow the bitumen for about a kilometre before turning left on Hughes Park Road towards the legendary Skillogalee Winery & Restaurant. A bona fide culinary icon of Clare Valley, this place is known for top-notch local food with vineyard views to die for, and if their stunning menu isn't enough to have you waxing on about how good it felt to ditch your diet plan, their wine certainly will.
Heading around 750-metres west, you'll arrive at Jeanneret Wines, where perching yourself on the deck and washing down a generous local platter with a stunning vino or two is almost irresistible. Oh, and if wine's not your bag, don't stress... they're also the home of Clare Valley Brewing Co, so there's plenty of local beers on tap.
From here, it's just another 600 metres or so toward Penwortham back along Hughes Park Road – and your next pit-stop at the Mitchell Wines cellar door. Housed in a stunning old stone apple shed, this place is one of the stalwarts of the Clare Valley, and whether you're in need of a wine flight, an estate tour, a lunch or a masterclass, it's a pretty good spot to park your bike (and your timekeeper) for a while.
Keep following Hughes Park Road for another kilometre or so before hanging a left at Penna Lane and you'll find more thirst-quenching goodness at Kilikanoon Wines Cellar Door, where you'll jump into a range of tasting experiences that are well worth of booking a couple of days in advance. From there, you may as well walk your way into Penna Lane Wines just next door.
Hitting the road again, it's only a couple of gear switches (around 3.5-kilometres) down to the Horrocks Highway at Penwortham, where you can either finish the whole loop by riding north back to Sevenhill or take your next escapade along the Father Rogalski (Polish Hill) Loop…
Okay. This loop is definitely not for the faint-hearted. But if you're a reasonably fit and confident pedal pusher, you'll be rewarded with stunning views across the valley as you make your way into the Polish Hill River wine sub-region, where heavy slate soils produce distinctly different flavours to their nearby Watervale cousins.
Once again, you'll mostly be making your way along public roads, so if you're a nervous rider you may want to consider your options by car or on foot. You can kick this one off from either Penwortham or Sevenhill, but for the purposes of this exercise we're starting with the latter.
From Horrocks Highway at Sevenhill, head east up College Road past Richardson's Reserve and Playground (great for the kids if they're in tow) towards the iconic Sevenhill Cellars. This place needs no further introduction – it's one of the region's historical and wine producing icons, so read a little bit further above to school up on the Jesuit mastery sitting at its core.
After a tour of the legendary St Aloysius' Church and its famous crypt (yes, all at the cellar door), make your way back down the hill to join the Riesling Trail, where you'll head around 1.5-kilometres south before taking the left at Jolly Way.
Passing by pristine patches of farmland, you'll emerge through the trees to a perfect patch of vines at Paulett Wines & Bush DeVine Café, where you'll find an Insta-worthy deck that's primed for a swish by the vines. If you're feeling peckish, you're also in luck, with their mouth-watering medley of Australian bush flavours on the menu.
Picking up Jolly Way again and heading north-east, take a left up Polish Hill Road for another 2.5-kilometres to The Wilson Vineyard to find a highly creative winery and cellar door that supports local artists just as much as wine-lovers. From here it's just another 400-metres or so to another local legend in Pikes Wines (book ahead for tastings), which is also conveniently home to the effervescent Pikes Beer Company and Slate Restaurant - where a feast of fine local fare awaits.
Keep Riding - The Rattler Trail
Legs not sore yet? Let's keep on riding… Clare Valley is basically made for cyclists, so there's no need to stop at the end of the line (a.k.a the Riesling Trail terminus). If you're keen to see as much as you can from the saddle, you can ride even further south from Auburn along the cruisy 19-kilometre, slightly downhill, Rattler Trail to Riverton.
Taking its name from the rattling trains that once rolled their way through the area, you'll soak in some pretty serene country landscapes that also happen to transform into our most Insta-famous canola fields in spring. Expect rolling fields, vineyards and even dairy lands before winding up your journey at Riverton Oval - where catching the mighty Riverton Saddleworth Marrabel United Hawks in action during football season is a cool-weather highlight.
Before setting out, get that pre-pedal caffeine hit at local favourite Velvet and Willow before making your way down south. From Auburn to Rhynie, you can expect a slightly undulating ride for around 14-kilometres before taking a slight detour towards the historic Rhynie Hotel (currently closed as of June 2021 – check their Facebook for updates).
From here it's a downhill run of around 5-kilometres into Riverton, where caffeine-infused goodness awaits at Emporium Bakehouse (load up on the baked stuff, you deserve it) – as well as a hearty pub meal at Hotel Central Riverton. If you're here on a weekend, it's also revisiting the early 1900's at Scholz Park Museum, where a blacksmiths shop, wheelwrights shop and the original Scholz family cottage (home of original pioneering Riverton legends) is a worthwhile walk through time.
Heading back to the Clare Valley? If you're like to take a different route back to Auburn, take the Mawson Trail. Jump back on the Rattler Trail towards Auburn, and watch for the signs to take the Mawson Trail, a north turn onto Garry Owen Road (where the Rattler Trail crosses the bitumen). From there, follow the dirt roads as they wind their way back north to Auburn.
Other Frequently Asked Questions...
You'll find plenty of accommodation options along the Riesling Trail and its various loops, from cosy bed and breakfasts to stunning self-contained apartments, historic cottages, caravan parks and even golf resorts.
While we have a huge range of accommodation options, there's a few cycling-centric properties that you may want to consider, particularly around Clare township, near the Riesling Trail and Loop Trail access points.
The super family-friendly Discovery Parks Clare not only offers self-contained cabins and a wide range of caravan sites and camping options, but is literally a couple of hundred metres from the main route, while Riesling Trail Cottages also happen to run Clare Valley Cycle Hire, making life pretty seamless. For something more up-market, Brice Hill Country Lodge also has their bikes on-site, via the same owners.
It's that niggling little problem, right? Where and how to stash and transport your liquid loot after hitting a million wineries - on a bike? The good news is that you'll find plenty of hire cycles (refer to hire operators above) are equipped with spacious baskets that can easily nurse a few bottles of plonk in between pitstops.
Of course, if you're looking to make some more serious purchases, you'll need other options. Luckily many wineries will happily courier your burgeoning collection of bottles and cartons back to your home, depending how thirsty you are. You'll also find some outlets and/or hire bike operators (see the list above) are happy to transfer wine purchases back to your local accommodation.
Oh, and naturally there's always that option of buying your grog first and worrying about it later… You'll find no trouble at all with leaving your purchase at the cellar door and picking it up in your car later - whenever 'later' may be (probably on your drive back home).
You'll find designated car parks at Auburn, Watervale, Sevenhill, Clare and Barinia, with public toilets at Auburn Memorial Park (St. Vincent Street), Watervale Oval (Quelltaler Rd), Sevenhill Cricket Ground (near Richardson's Reserve and Playground) and Clare Skate Park – as well as countless other food and wine outlets along the way.
Always check weather ahead of any venture along the Riesling Trail. Clare Valley is in the mid-north of South Australia, which regularly sees daytime temperatures over 30°C in summer, with an average of around 14°C during winter. Ensuring a constant water supply is essential, so be sure to stock up before heading out and remember to fill up along the way.
As well as the numerous food and wine outlets loaded with icy cold water, you'll also find public taps and fountains in all of the main towns. In particular, look for the trail shelters in Watervale, (between Sevenhill and Quarry Road) and at the Lennon Street car park in Clare.
Ride Safely and Responsibly
Sure, you're riding through a world-famous wine region. But while nature's nectar is awfully tempting (and let's face it – everywhere), you'll need to ride responsibly. First things first… don't drink and ride, okay? Beyond the booze, you'll also want to keep to the left where appropriate, alert other riders/walkers on approach (who doesn't love dinging that bell?), look out for surface damage and/or variations, and take all your rubbish with you.
If you're ever in doubt about how to stay in the clear whilst in the saddle, here's the full lowdown about cycling and the law in South Australia.
More Information
Phew! You've made your way through our ultimate go-to guide for all things Riesling Trail. You're just about ready to go! But before you hit the trail you may find we have a little more information that's specific to your needs. Check out the below articles to cycle your way through our region the best way – your way!