A family bike ride: Clare to Sevenhill on the Riesling Trail
As a grandmother, we have done the section of the Riesling Trail to Sevenhill a few times with our family, with grandchildren ranging in age from one to 5 years old. It is a short trek and enjoyable for all ages. Here is my guide, I hope you enjoy it!
Bike Hire
Hire a bike from Clare Valley Cycle Hire or Riesling Trail Bike Hire – both on Warenda Road adjacent to the Riesling Trail in Clare. All sizes of bikes available as well as trailers and bike carriers for kids.
Ride Highlights
Head south on the Trail to Sevenhill. There's a bit of an uphill push, but it's coasting downhill all the way back. Lookout on the way for the sculpture of the cyclist at Sevenhill. There are resting spots along the way for a shortstop. The beautiful bridge over Quarry Road is a photo opportunity. Read the information boards along the way which tell you about the Clare Showgrounds, Quarry Road bridge and Sevenhill.
Stop at a Cellar Door
Take a detour off the Trail to Sevenhill Cellars which is a short ride along a path. A perfect place, especially in summer, for a picnic under the shady trees at Sevenhill Cellars. Lawn area & games are also available for the kids whilst the adults enjoy a wine flight and cheese platter.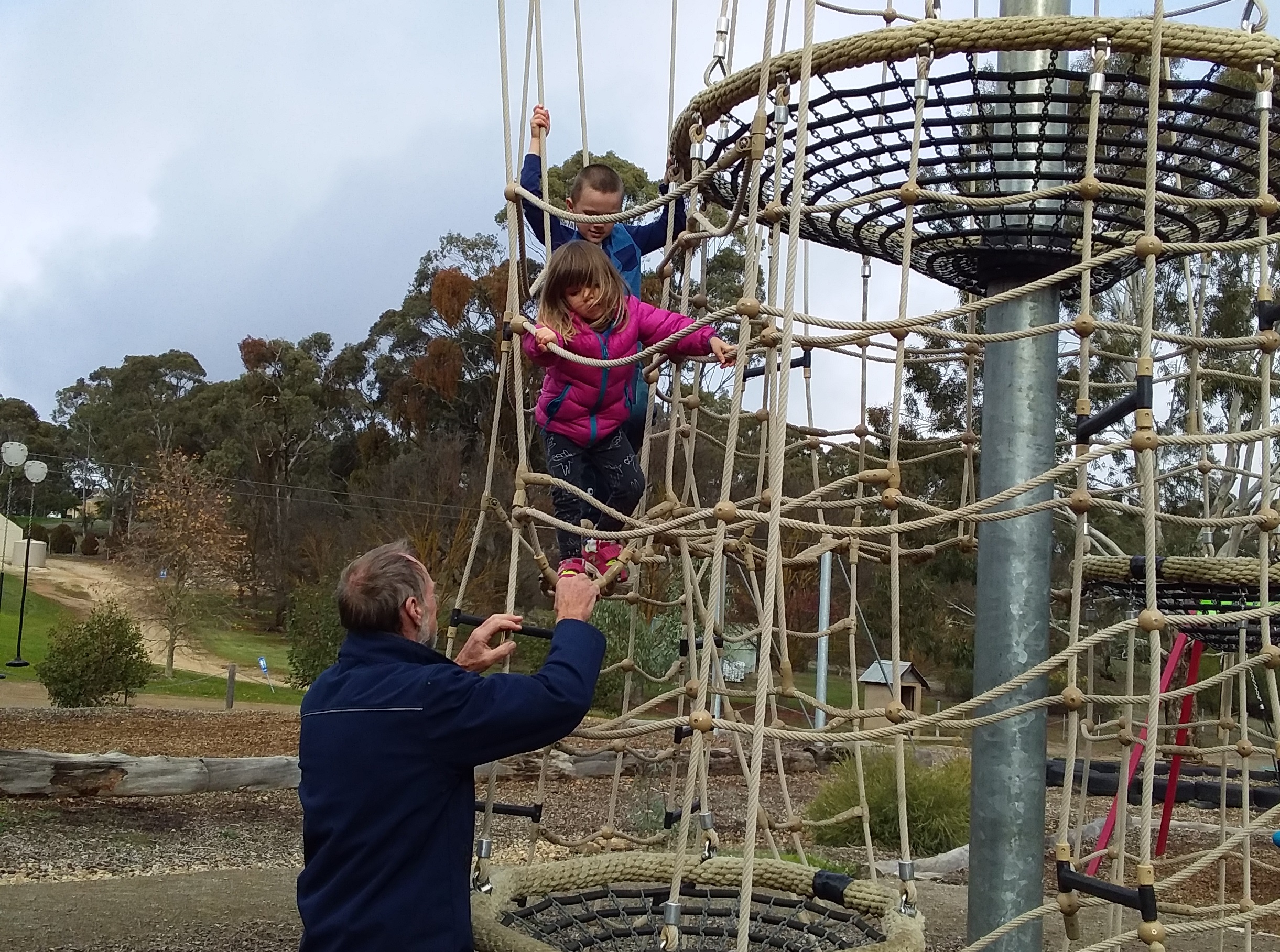 Let the kids run
Head back to the Trail and ride a couple of hundred metres to the old Sevenhill Railway Station. There are maps at the Station to show you where you are and for other attractions along the Trail. Take the pathway just at the end of the station platform to Richardson Park Playspace. There is a huge rope climbing structure, two flying foxes which are great for all ages, as well as swings, a slide and some wobble boards. There is also a shelter with table and seats available for a picnic, with toilets at the nearby oval.
Lunchtime
A short ride down College Road to The Little Red Grape for a coffee and a bun, or the Sevenhill Hotel which is a great kid-friendly pub for lunch.
Hot tip
A backup vehicle can meet the rest of the party at Sevenhill with the picnic basket and return those who don't want to ride back to the start.
Written by a local Grandma and Riesling Trial enthusiast, Sue Mayfield
Published by the Clare Valley Wine, Food and Tourism Centre.
Traversing the picturesque Clare Valley wine region, the Riesling Trail is one of the first rail-trails to be developed in South Australia. The trail runs for 35 kilometres from Auburn to…
With its wide-open spaces, quirky characters and historical charms, children and families alike will delight in the magic of the Clare Valley.