Ultimate Guide to Clare Valley Wineries with Platters
You've eaten a big breakfast and are booked into one of our exquisite restaurants for dinner so there'll be no long lunching today, how about a platter instead?
The best way to enjoy a platter? In our opinion, that'd be relaxing on the lawns at a cellar door with a bottle of wine in the sunshine. If this sounds like your idea of a good time you're in luck! Several cellar doors in the Clare Valley have a 'do it yourself' style picnic offering with an assortment of products from within the Clare Valley, South Australia and even further afield so you're sure to find a few bits that tickle your fancy.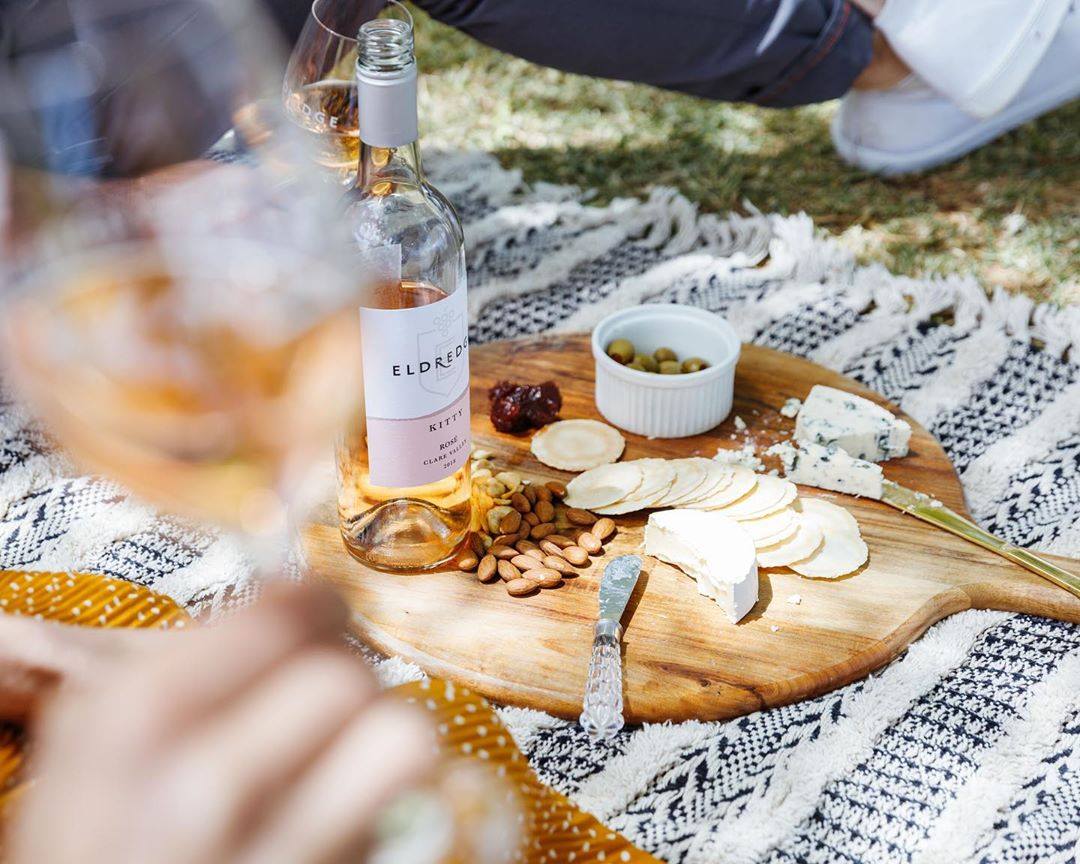 The gardens of Shut the Gate are absolute bliss, with one of the largest selections of cheese, cured meat, biscuits, olives, dips, pastes, oils dukkah and more in the region. Pop a few bits in your basket, choose a bottle and the staff will handle the rest (cutlery, boards, etc.). Then just wander outside and plonk yourself down at a table overlooking views of the vineyards.
Just a hop, skip and a jump down Quarry Road you'll stumble upon Hill River Clare Estate, and it won't take you long to fall in love. After choosing your lunch choose to sit on the grass, picnic table or on the deck all with views overlooking their dam, or take advantage of the picnic blankets and stroll a bit further away.
Another venue where you can enjoy a platter at on the deck overlooking the dam is Eldredge Wines, just down the road from Spring Gully Conservation Park. Choose your wines and your platter, then a seat outside in the sunshine. Chances are it'll be Leigh Eldredge or his daughter Skye behind the counter, but we promise you'll be as equally delighted if you're served by Chrissy. The kids will be fine
The oldest winery in the Clare Valley is Sevenhill Cellars who recently celebrated their 170th birthday and they have plenty on offer. Their huge grassed area has pretty much every lawn game you can think of, including totem tennis, footballs, Jenga and cricket. You can pack your own picnic, pick something up from the Little Red Grape Bakery on your way, or you can choose from the selection of platter items, then it's just the task of choosing which wine to have with it.
If you have a member of your party that would prefer to taste some fresh brews instead of vino, Jeanneret Wines is colocated with Clare Valley Brewing Company offer both. In summer relax on the deck surrounded by gums and in winter, cosy up by the fire.
If you're staying in Clare and don't feel like driving, walk to Knappstein Wines in Clare, just north of the main street. Their fridge is stocked with a great selection of South Australian produce for you to nibble on whilst enjoying a glass (or bottle) of wine.
If you don't feel like picking every item out that you want to eat on your platter, just order one off the menu! Both Mitchell Wines and Claymore Wines have great outdoor areas to enjoy the sunshine, plus they both have great wines. Right down the southern end of the Valley sits Koonowla Wines, where you can enjoy the grounds and enjoy a picnic on the lawns tasting through both their own range with some particulary intersting varieties, including a Primitovo, and the range from Georges Wines too.
If you're after something a bit more 'restaurant-style, O'Leary Walker and Paulett Wines have got a couple of different options, or perhaps their fine-dining restaurant might tempt you? We'd recommend booking in here as they are popular spots with fantastic views over the vineyards. Reillys Wines in Mintaro is a beautiful stone cottage in the heritage township, whose platter is sure to fill the hole in your belly, with gourmet delights like prawns on the agenda.
The Pikes Beer Garden is another funky spot to enjoy your light lunch, outside on the lawn or around a barrel, you've got their whole range of wines and beers on offer. At the other end of the Valley is Velvet and Willow, where their lush gardens will tempt you to stay awhile in the cool.

If you're after the whole shebang, how about indulging in a cheese and wine flight (or chocolate) tasting at Tim Adams Wines, O'Leary Walker Wines or Taylors Wines who also offer a wine and chocolate flight?

From farmhouse restaurants, to gourmet pub fare and romantic dining locations, the region offers a delectable range of food offerings.
The Clare Valley wine region is synonymous with quality fine wine. All good wine should be shared.