What to do in Winter in Burra and the Goyder Region
Hit the road and discover big skies, rolling green hills and the red outback in Burra and throughout our stunning Goyder region.
So, you've hit the road and made a break for the rich red soils of Burra and the Goyder region. And, as the wind whistles past your rear mirror leaving the city in your wake, a grand adventure is about to unfold… But hey, where to start?
These wide-open highways and dusty back trails lead to a treasure-trove of history, landscapes and characters. Luckily our friends at the Burra and Goyder Visitor Information Centre have helped us pull together an amazing list of must-dos to put you on the right track!

Unlock local history (and mystery!) with the Burra Heritage Passport!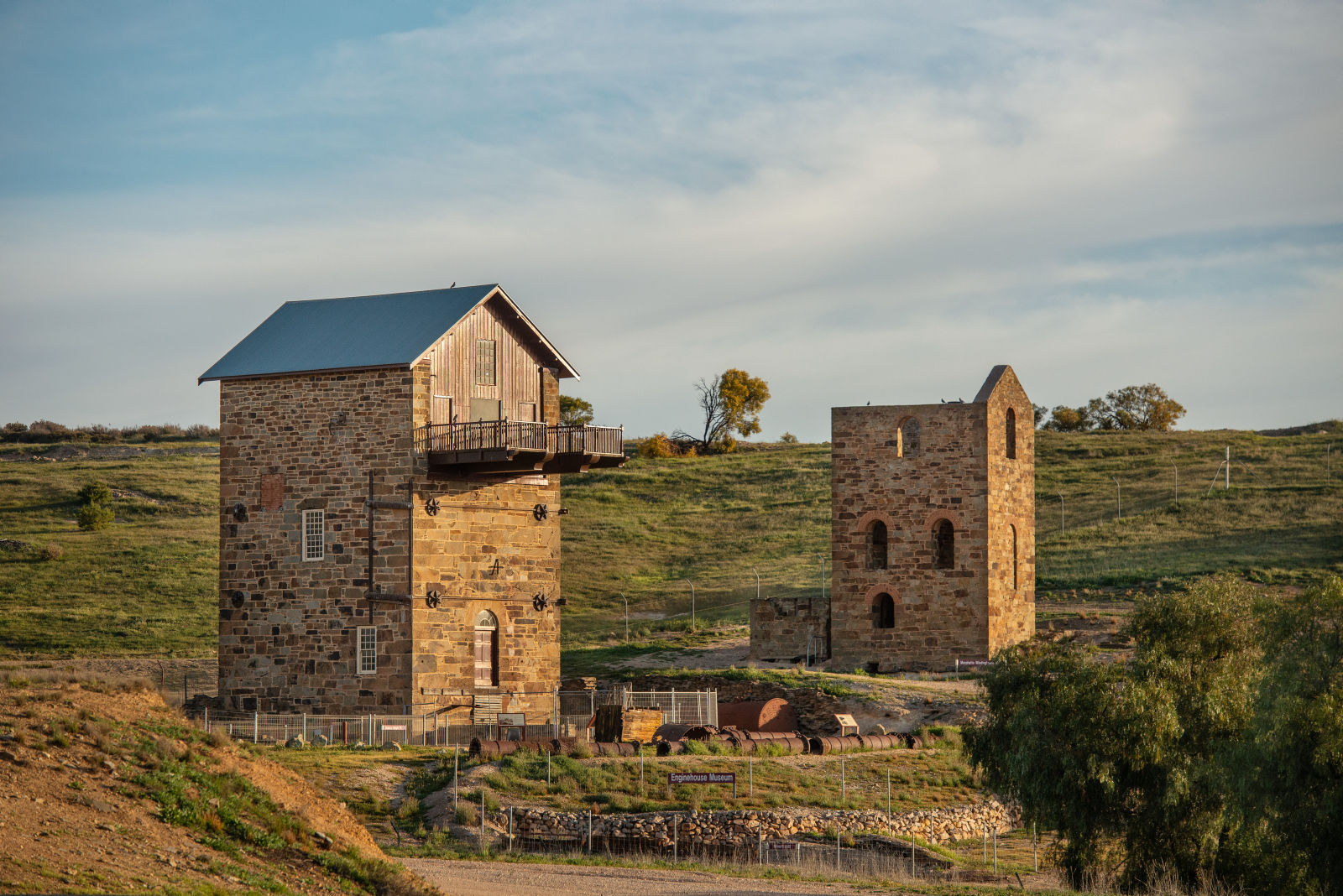 Burra Mine (heidi who photos)
Ever felt like you were a total insider when everyone else was trying to get the scoop? The Burra Heritage Passport is here to help you (literally) unlock the secrets to this town's fascinating history, one 1840's relic at a time.
On arrival in town, pop into the Burra & Goyder Visitor Information Centre to purchase your Heritage Passport key and map before loading up on caffeine at St Just Café. While sipping on your latte, you might also consider downloading the interactive 'Who was Johnny Green?' location-based adventure app from Google Play or the Apple App Store (just ask the Visitor Centre team for the Decoder map to go with it).
You'll then have everything you need to unlock some of Burra's most important sites and solve a local mystery while you're at it! With eleven locked sites to explore enroute, including the legendary Monster Mine, Redruth Gaol, the underground Unicorn Brewery Cellars and Dugouts, this passport is your inside track to seeing, hearing and touching the past - and as you steer your time-machine all over town, you'll dig deep into one of Australia's great mining legacies - with a bonus discount for the Bon Accord Mine Museum.
Unearth ancient history at Red Banks Conservation Park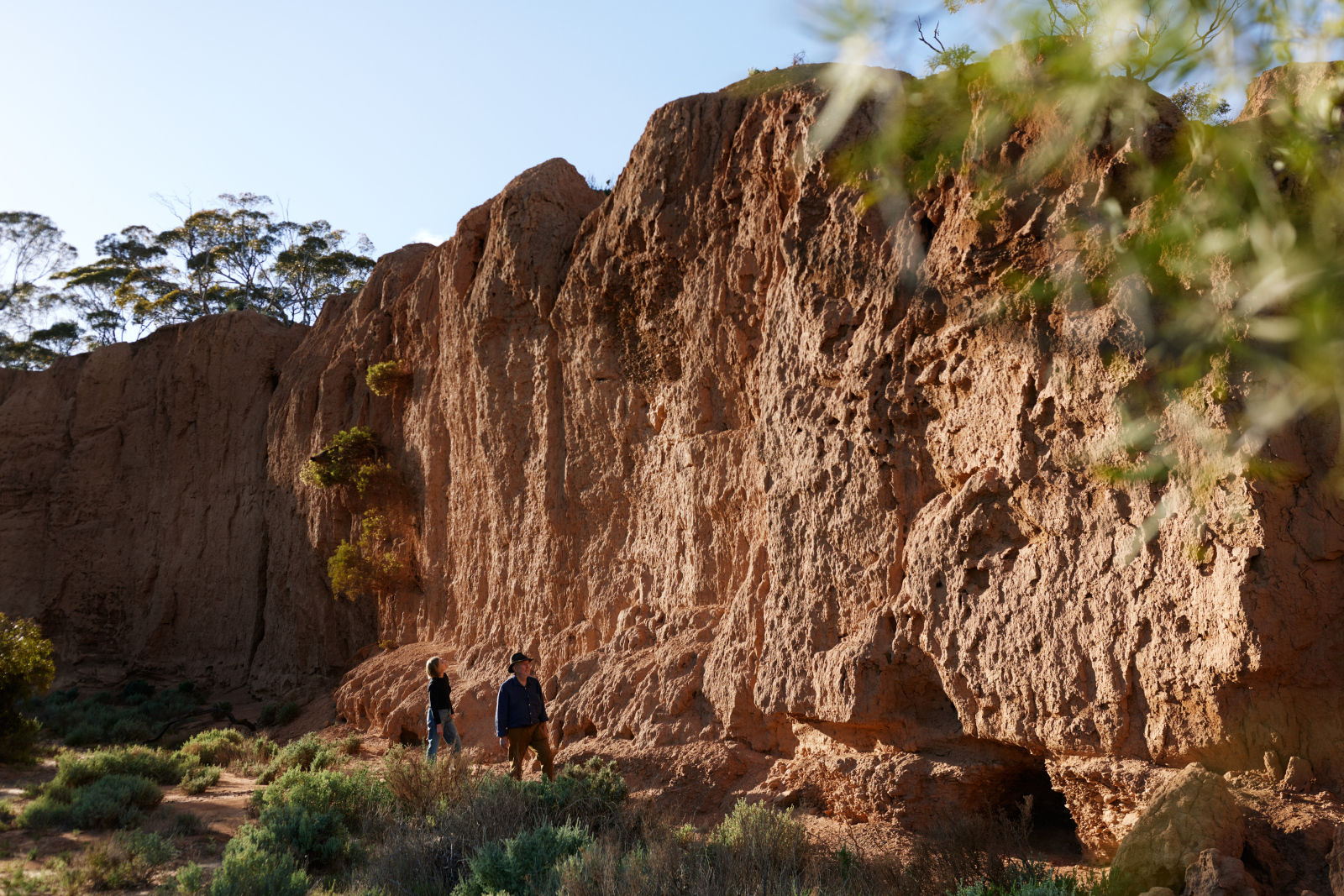 Red Banks Conservation Park (JoshGeelen)
Blanketed by millions of stars, with its craggy peaks and rusty ramparts hiding thousands of years of history, the ancient landscapes of Red Banks Conservation Park are like something out of Jurassic Park. Whether you're here to hike or pitch a tent by the waterholes and mallee trees, this is nature's playground as it should be.
Head out of Burra on the Goyder Highway toward Morgan and turn left at the unsealed Eastern Road (always check accessibility after rain). From there just follow the brown signs, to one of two park entries, first at the Landscapes of Change Walk and second the Day Visitors area, just over the hill.
Take the two-hour 'Landscapes of Change' interpretive walking trail to weave your way past permanent waterholes and deep gorges and follow in the footsteps of the Diprotodon – the largest known marsupial ever to have lived (and a local resident until around 65,000 years ago). An ecological wonderland, this place is also home to a wealth threatened flora species as well as short-beaked echidnas, southern hairy-nosed wombats, and large families of red and western grey kangaroos that emerge for drinks at dusk and dawn.
Before lacing up those hiking boots, be sure you grab an information sheet from the Burra Visitor Centre - and of course tread softly to help preserve the fragile habitat.
Enjoy a spectacular pastoral panorama at Inspiration Point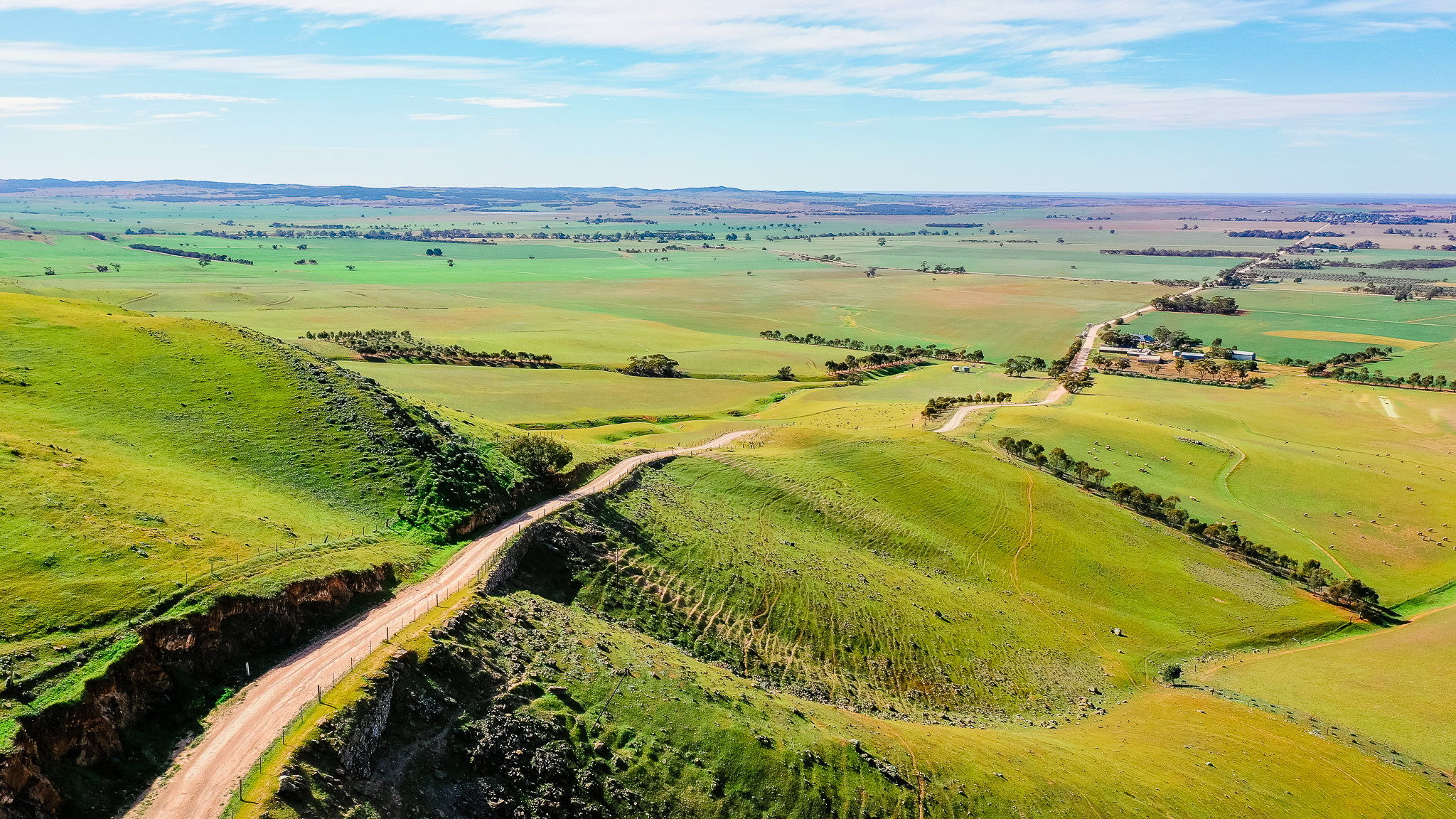 Inspiration Point near Robertstown (@micklethepickle)
Just like the artists that have called this region home for generations, you'll find a patchwork panorama sitting pretty, just south-west of Robertstown.
Take Scenic Hills Road to the very aptly named Inspiration Point for unrivalled views across sweeping pastoral lands and a horizon as big as this town's rural heart. This is a perfect spot to break out that picnic set and enjoy a cup of tea (or perhaps even a Clare Valley wine) as you watch the light dance across paddocks and hills.
A pastoral land of plenty, this place has community at its core so before heading up the hill, it's worth ducking into the legendary Lehmann's General Store to grab a few picnic essentials and have a chinwag with the locals. If you're looking for something substantial, tuck some take-away under your arm from the Robertstown Hotel, while a cuppa at the Robertstown Community Centre will also hit the spot nicely.
Perch yourself at Mount Bryan East - the top of the the Mount Lofty Ranges!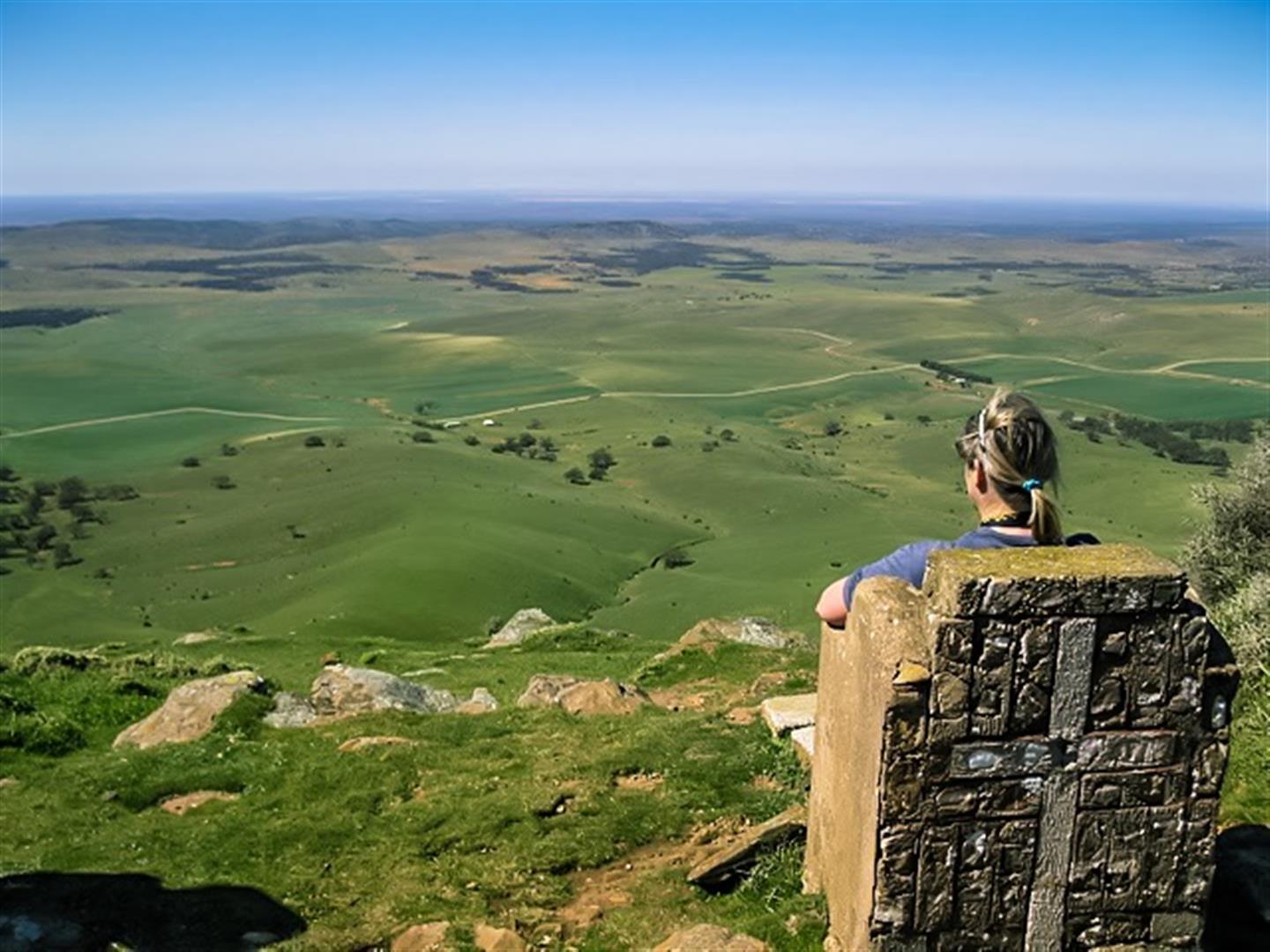 Mount Bryan Rex's Chair
High above the mid-north's prized grazing and pastoral lands sits an underrated jewel of South Australia's rich topography, and you can easily explore it on foot.
Lacing up your hiking boots to ascend the Mount Bryan Summit will not only have you following in the footsteps of pioneering explorers, but also those of one of Australia's greatest artists, with the fabled Heysen Trail winding its way to the peak.
Before legging it to the start of the trail, just remember to check the local weather forecast, as things can get pretty wild in winter (hey, it even snows here from time to time!), and when you're ready, head slightly north of Mount Bryan before taking a right turn onto the Mount Bryan East Road. From here, you'll drive 17 kilometres to the Heysen Trail stile on your left, where you can park the car and walk for around 50 minutes to reach the summit. Of course, this is all uphill, to a moderate to good degree of fitness is par for the course, and warm clothes an essential.
As eagles soar overhead and the kangaroos gather down below , this is prime time to break out that camera before signing the book and putting up your weary feet in Rex's legendary stone chair.
Travel to the edge of the outback on the Dares Hill Circuit Drive!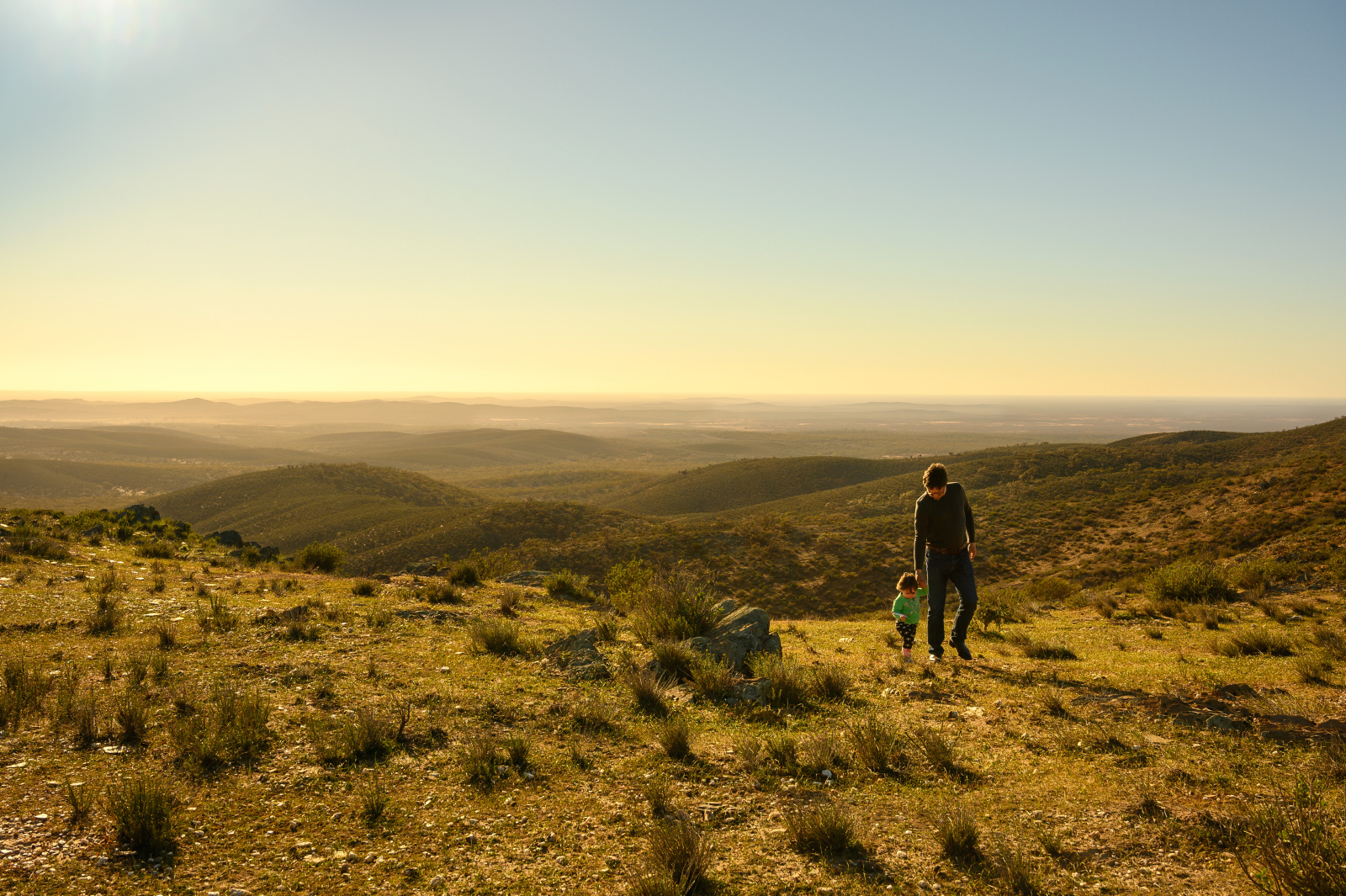 Dares Hill Summit (heidi who photos)
As they say, 'who dares wins'… and there's no better spot to test the theory than ascending the breathtaking Dares Hill Summit behind the wheel of your own 4WD.
If you're a 4WD novice, rest easy – this isn't a rough ride by any means, and the reward for getting a little dust under your wheels should come pretty easy. But just remember to pack a camera, okay?
Hitting the dirt for a full day's adventures along the Tourist Drive 21 will have you snaking your way through incredible outback and pastoral landscapes that are peppered with historic ruins, gorgeous and ever-changing flora and fauna, geological wonders some of the best views in the region.
Kick off at Hallett after dropping into the Hallett General Store for snacks and handicrafts and grabbing coffee from Hallet Coffee & Collectables to get you fueled up for the day, before turning off the Barrier Highway onto the red saltbush plains that have laid a path through time. If you're keen for something hot (or accommodation), try the Wildongoleechie Hotel for homemade meat pies and muffins and an open fire to ward off those wild southerly winds, or a counter meal on a Saturday or Sunday night.
Create your own magic on the Colin Thiele Drive

Long before the Australian film classic Storm Boy hit our screens, the low-key township of Eudunda quietly gave rise to its most famous son.
Arriving just as silently as the great author lived, pop into the legendary Eudunda Bakery to sample delicious home-baked pastries and piping hot coffee before hitting the road on the Colin Thiele Drive.
The Eudunda Family Heritage Gallery (pick up your map here Fri-Sun) and The Light Hotel (check out the old photos on the wall) are great spots to kick off, and you'll find a hot lunch or a quick snack before heading off is just the order of play.
From his bronze statue in Centenary Gardens to the backstreet stories of eccentric relatives and "Uncle Gustav's Ghosts", you'll pass old cannery factories and dairy farms before taking the Scenic Road to Thiele's childhood home, before journeying to the tiny township of Julia where this famous German immigrant not only learned to speak English, but also laid his parents to rest, but don't leave without stopping past the sky-high tribute to Theile on the Eudunda Silos.
Take an outback odyssey to Hallett, Netfield and Terowie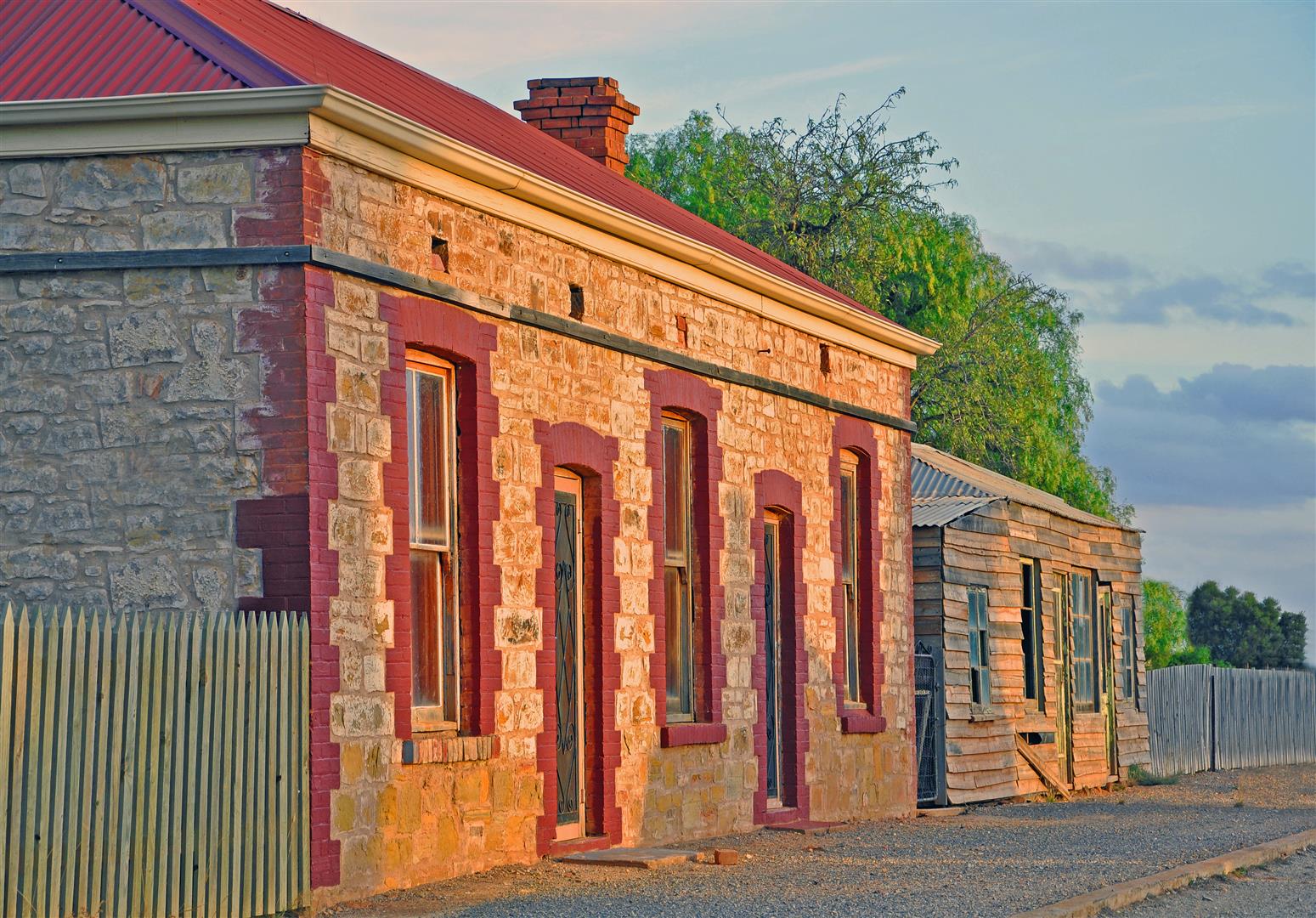 Terowie Historic Buidings
After a cuppa (and maybe lunch) at the super-friendly Hallett General Store, collect the key to the homestead of legendary local polar explorer, ornithologist, pilot, soldier, geographer and photographer Sir Hubert Wilkins before setting off on your grand adventure, picking up the "Historical Walk of Hallett" booklet on your way out.
Heading to Mount Bryan East, you'll find Wilkins' historic home, Netfield has been lovingly restored and very easily accessible just off the Dares Hill Circuit Drive. With a taste for history and dust in your wake, hit the Barrier Highway to Terowie, where time stands still enough for you to follow the 'Tour of Terowie' (map available from Murray's Corner Store in Terrowie).
At the end of the line, drop by Terowie's old rail platform to stand in the very same spot as US General Douglas MacArthur when he delivered one of the most famous quotes of WWII, "I came out of Bataan and I Shall Return". Just remember to drop your key back to Hallett General Store on your way back south, where hot meals and accommodation also await at the Wildongoleechie Hotel.
The Burra and Goyder Visitor Information Centre is your 'welcome hub' to the region. Showcasing the Living Cultural Landscapes. Natural Wonders and Edge of the Outback Experiences. Come…
Unlock the secrets of Burra's heritage with our unique Passport Key. The town of Burra is rich with mining heritage and most of its 1840s legacy is intact. The surest way to get the whole…
The caravan park is situated on the banks of the Burra Creek and is only a two minute walk to shops and cafes, hotels and restaurants. The park is a convenient base for exploring the town…