Top 10 Things to do in Winter around the Clare Valley region
Red wines, cosy winter fires, crisp winter air and more! Discover the top winter fun activities around the Clare Valley region.
Brrrrrr! It's chilly outside, and the allure of a crackling fireplace and a swirling glass of red never strays too far from our thoughts, right?
With snug cellar doors, winding back roads, crisp nature walks, eclectic artists, the legendary outback and endless fires and feasts around every bend, this is prime time to escape the rat race and breathe in that fresh country air! Now let's get you started…
1. Ride the Riesling and Rattler Trails.
All roads lead to Riesling around here, especially if you're rolling your way along our legendary Riesling Trail. There's nothing quite like getting the blood pumping to ward off that winter chill, and with 33-kilometres of flat track between Clare and Auburn, it's a great way to soak in the countryside and score direct access to over 30 cellar doors!
Naturally, if you're keen to see as much as you can from the saddle, you can also take a ride along the super-cruisy Rattler Trail from Auburn to Riverton for laid back country vibes and landscapes. Start your morning with a pre-workout caffeine hit at local favourite, Velvet and Willow before pedalling off on your 42km round-trip.
Plan your Riesling and Ratter Trail Ride>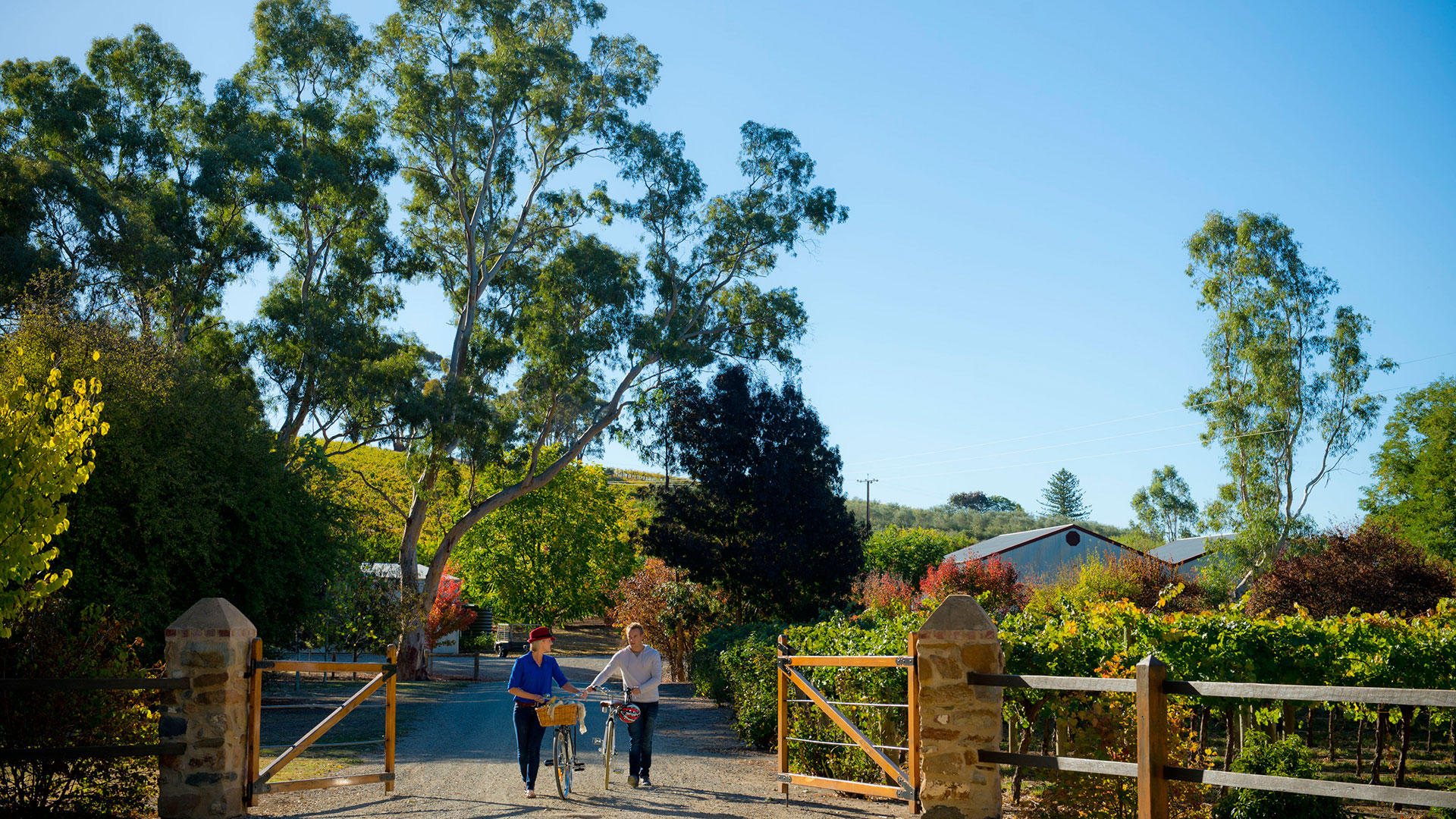 Cycling in Clare Valley (SATC/Adam Bruzzone)
2. Take a Short Walk
Is there any better way to get a nature fix than stretching your legs through rolling hills of naked vines, ancient outback landscapes or rich and rugged ranges? Here's a few spots to take your winter walk to the next level.
The Spring Gully Conservation Park is one of our must-walk destinations, being home to some of the region's greatest views and most stunning sunsets. Around here, kookaburras cackle, winds whistle through native Sheoaks and kangaroos rustle in the undergrowth. Take the Cascades Walking Trail after welcome winter rains to see their annual spectacular, with the trickling of water in the Cascades waterfall producing an little splash of magic.
On the outskirts of the National Heritage-Listed township of Burra, you'll find a land that time forgot. Blanketed by millions of stars, with its craggy peaks and rusty ramparts hiding thousands of years of history, the ancient landscapes of Red Banks Conservation Park are like something out of Jurassic Park. Take the two-hour 'Landscapes of Change' interpretive walking trail to weave your way past permanent waterholes and deep gorges as you follow in the footsteps of Diprotodons - largest known marsupial ever to have lived!
Explore more of our Short Walks around the Region >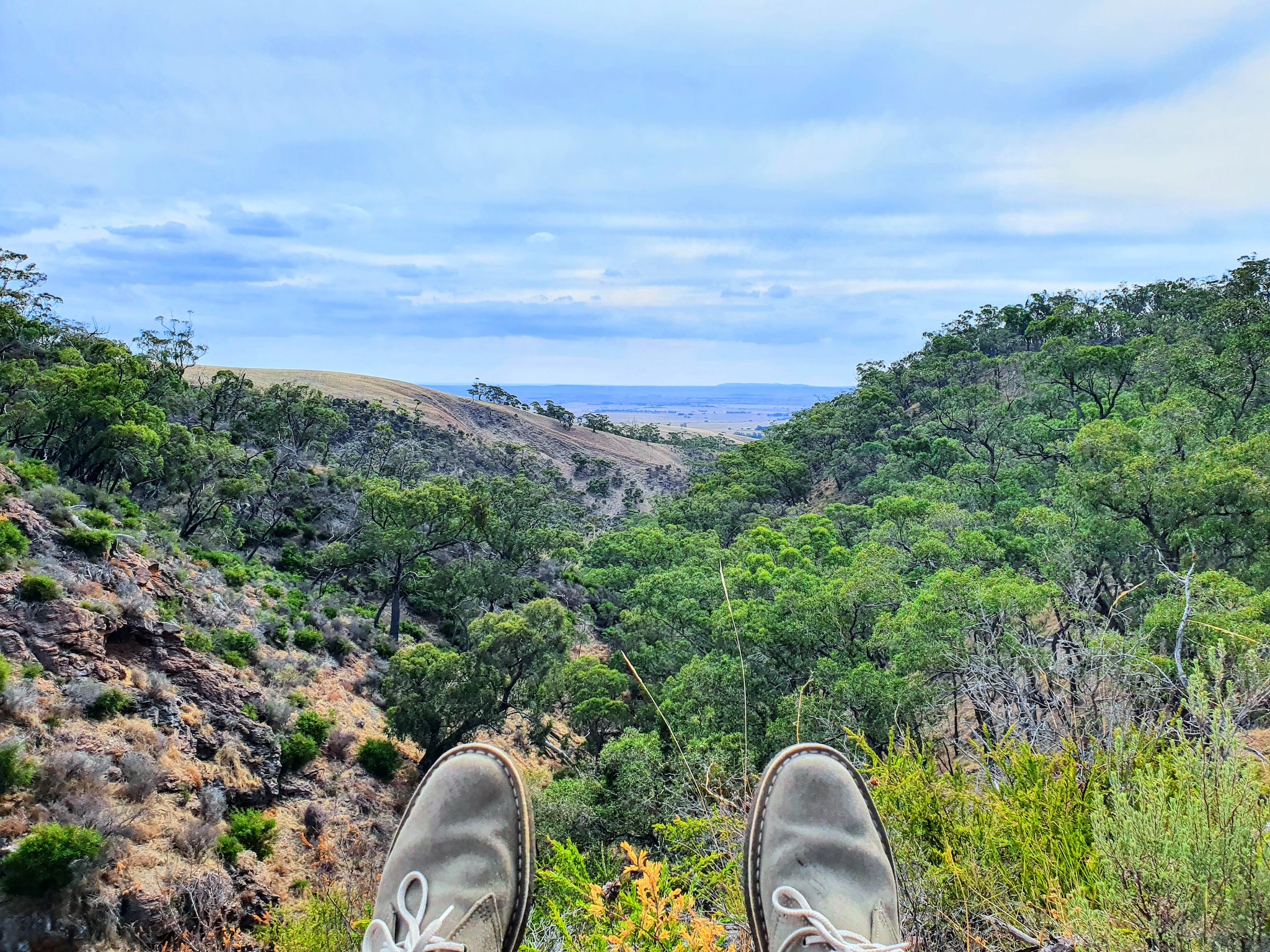 Spring Gully Conservation Park. (Credit @matt_cha_ via IG)
3. Follow the Art Trail
There's no doubt about it - our backyard is full of colourful characters, and befitting of their reputation, they've left a swathe of stunning art in their wake.
The Arts Collective Clare Valley houses pieces from up to 20 permanent local artists right in the heart of Clare, with works including anything from ceramics, pottery, sculpture, photography, paintings, prints, jewellery and textiles.
In Riverton, a stunning sculpture of an Aboriginal woman and child donated by famous local artist and resident, Robert Hannaford was unveiled in 2016, while his sculpture studio and gallery space sits in the Riverton Light Gallery just a short brushstroke away.
Blyth's Medika Gallery is known for its fine Australian glassware, pottery, crystal, prints and paintings, with the studio of resident wildlife artist, Ian Roberts also attached on-site.
In Goyder, the Burra Regional Art Gallery is housed in the same historic building that J McDouall Stuart messaged South Australian authorities to inform them his monumental North-South crossing of the continent back in 1862. Inside you'll find wide range of works with both solo and major touring exhibitions a regular occurrence.
Of course, it just wouldn't be rural Australia without a splash of silo art, and you'll find some amazing examples in our region, from Robert Hannaford and Cam Scale's 'Wheat bags to Sand bags' in Owen, to Jarrod Soden and Matthew Knights' 30-metre masterpiece at Farrell Flat, and Sam Brooks' The Storytime Silos' at Eudunda depicted local author Colin Thieles famous novels. If you're calling through Snowtown, you'll also be tough-pressed to miss Vans the Omega and Sam Brooks' tribute to local volunteers and sports stars.
Follow the Clare Valley Silo Art Trail here >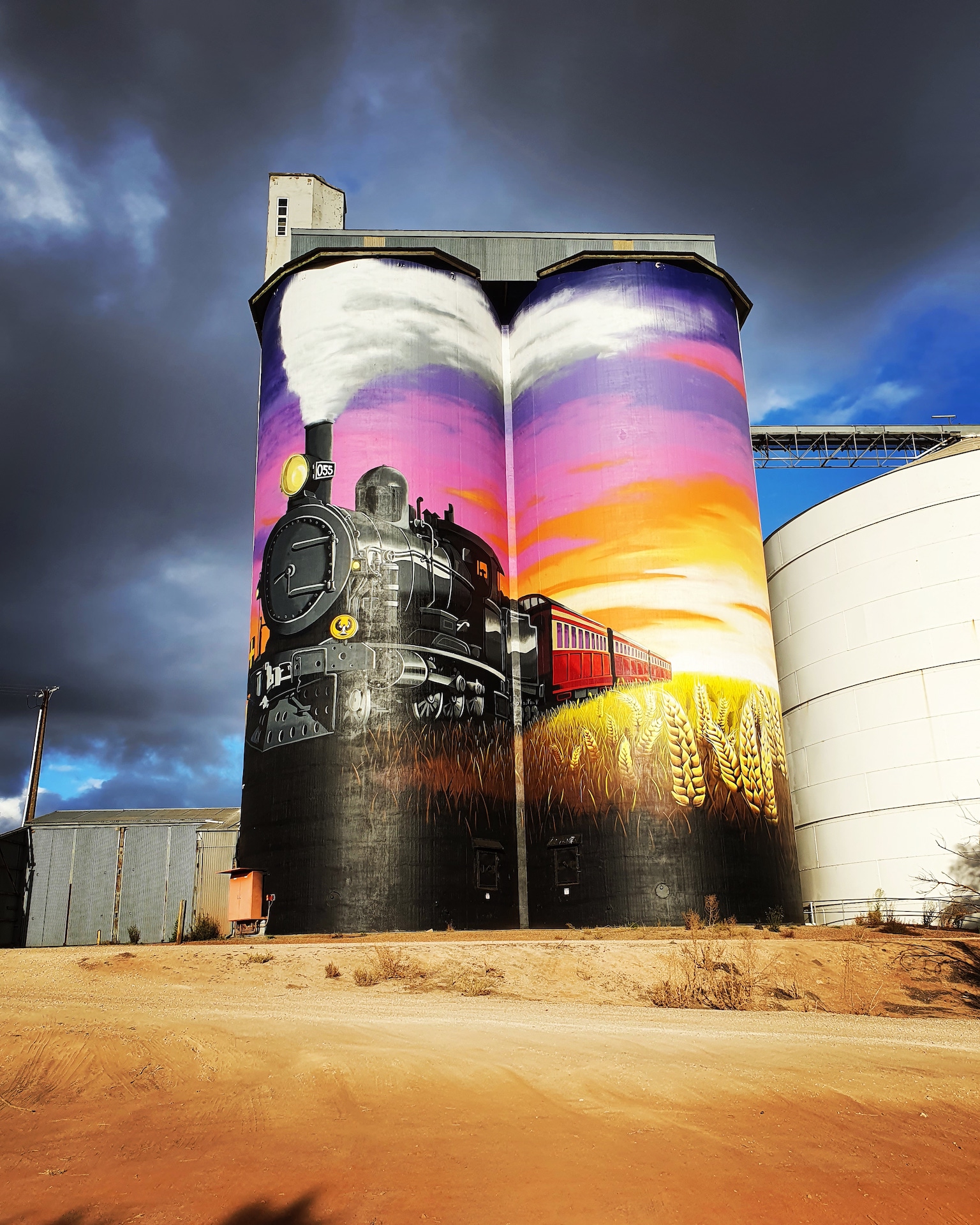 4. Explore the Burra Heritage Passport Trail
Drive your own time machine along the Burra Heritage Passport Trail to see, hear and touch it's well-preserved 1840s mining legacy. With 11 historic sites just waiting to be 'unlocked', ⁠ this unique self-drive will not only keep you (and the kids!) guessing what local legend Johnny Green got up to back in the 1840s, but fill the car with all the aura of the era as you trace the footsteps of the town's earliest pioneers.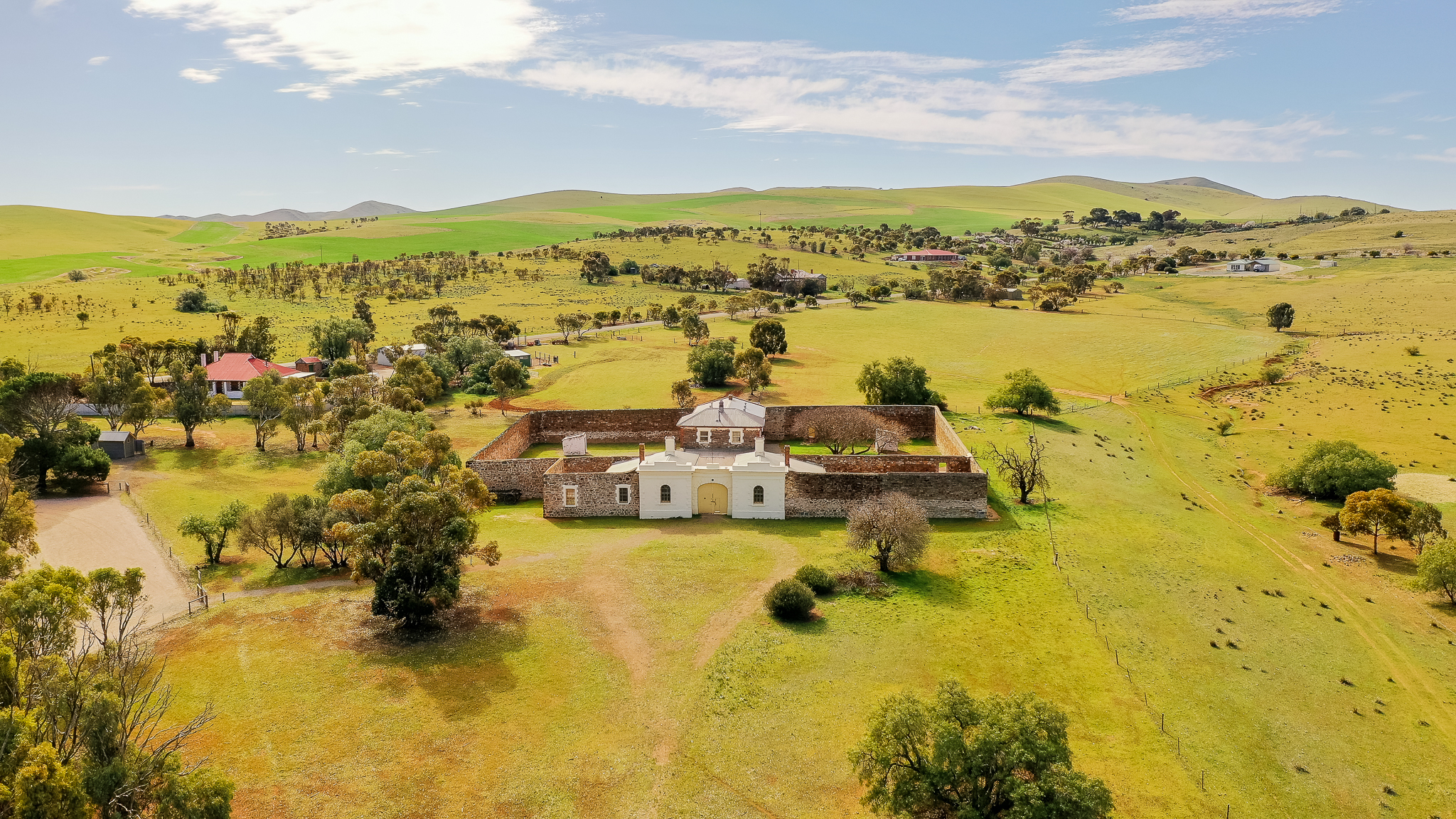 5. Dare's Hill Driving Circuit
If you dare for something different, the Dare's Hill Driving Circuit is about the perfect outback odyssey, and a great drive day out of Burra. Follow the trail to Terowie past age-old sheep stations that are at the heart of rural communities, having stood proudly for generations. Along the way, you'll see the stunning Razorback Range northeast of Mount Bryan towering over the birthplace of Sir Hubert Wilkins, one of Australia's most daring aviators and explorers.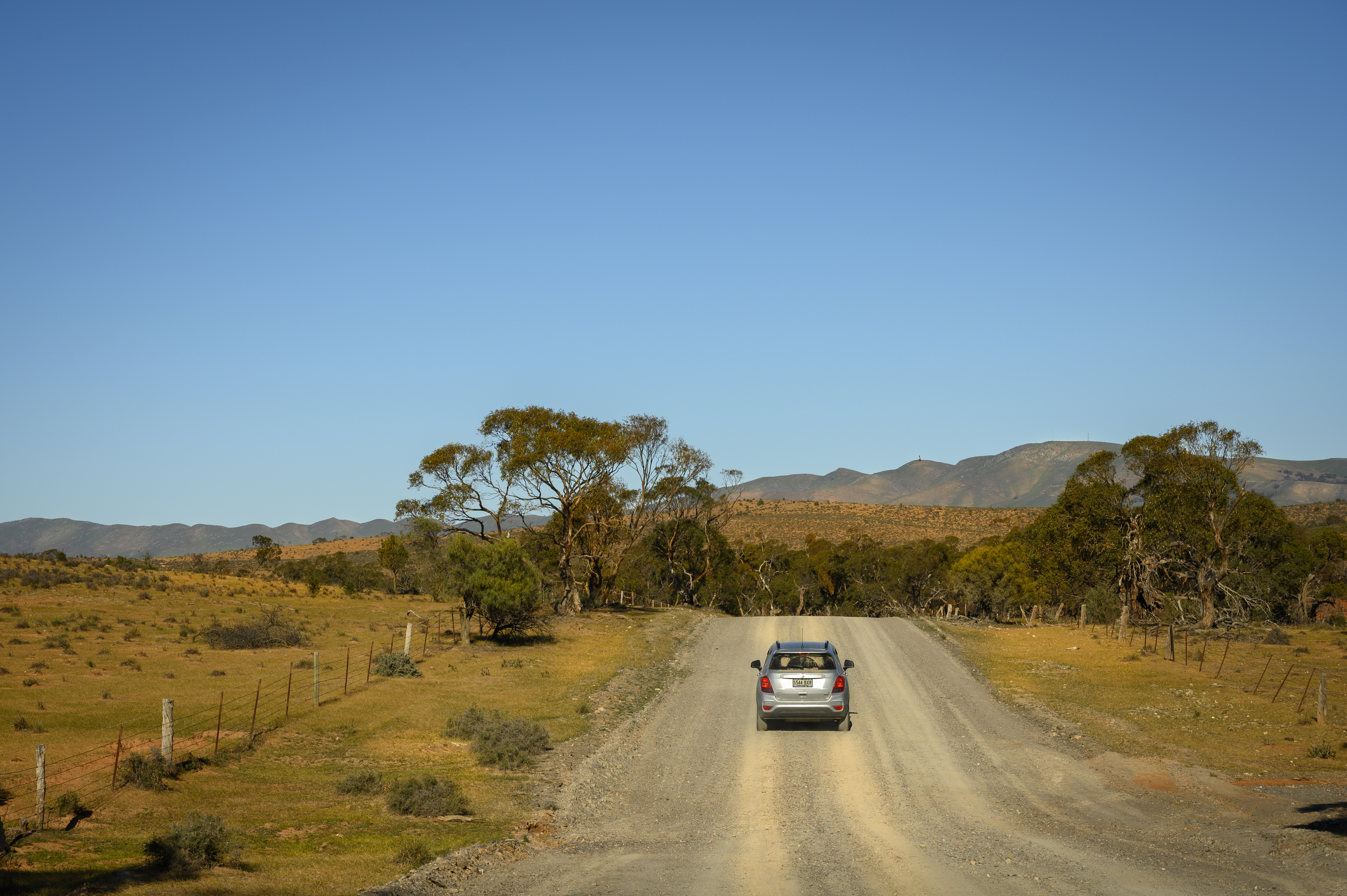 Dare's Hill Driving Circuit
6. Go outback camping
The rich red sands around Burra and the Goyder region are peppered with natural wonders, and with designated camping areas, you'll find the perfect outback escape.⁠
World's End Gorge (also known as Burra Creek Gorge Reserve) is a prime spot to ditch your day job and soak in a little 'me time'. A cosy camping stop for walkers along the Heysen Trail, you'll find this serene dream tucked between billabongs and towering gums that have guarded the place for centuries. If you're towing a caravan you're also in luck, with this place offering plenty of room for your rig, and a stunning Worlds End Drive trail that'll have you picking your jaw off the floor.
Hiking and exploring by day and kicking back by the campfire at night is almost a rite-of-passage around here, and if you've brought your marshmallows and red wine you'll find it's near impossible to leave!
Read our Guide to Caravan & Camping in the Clare Valley here >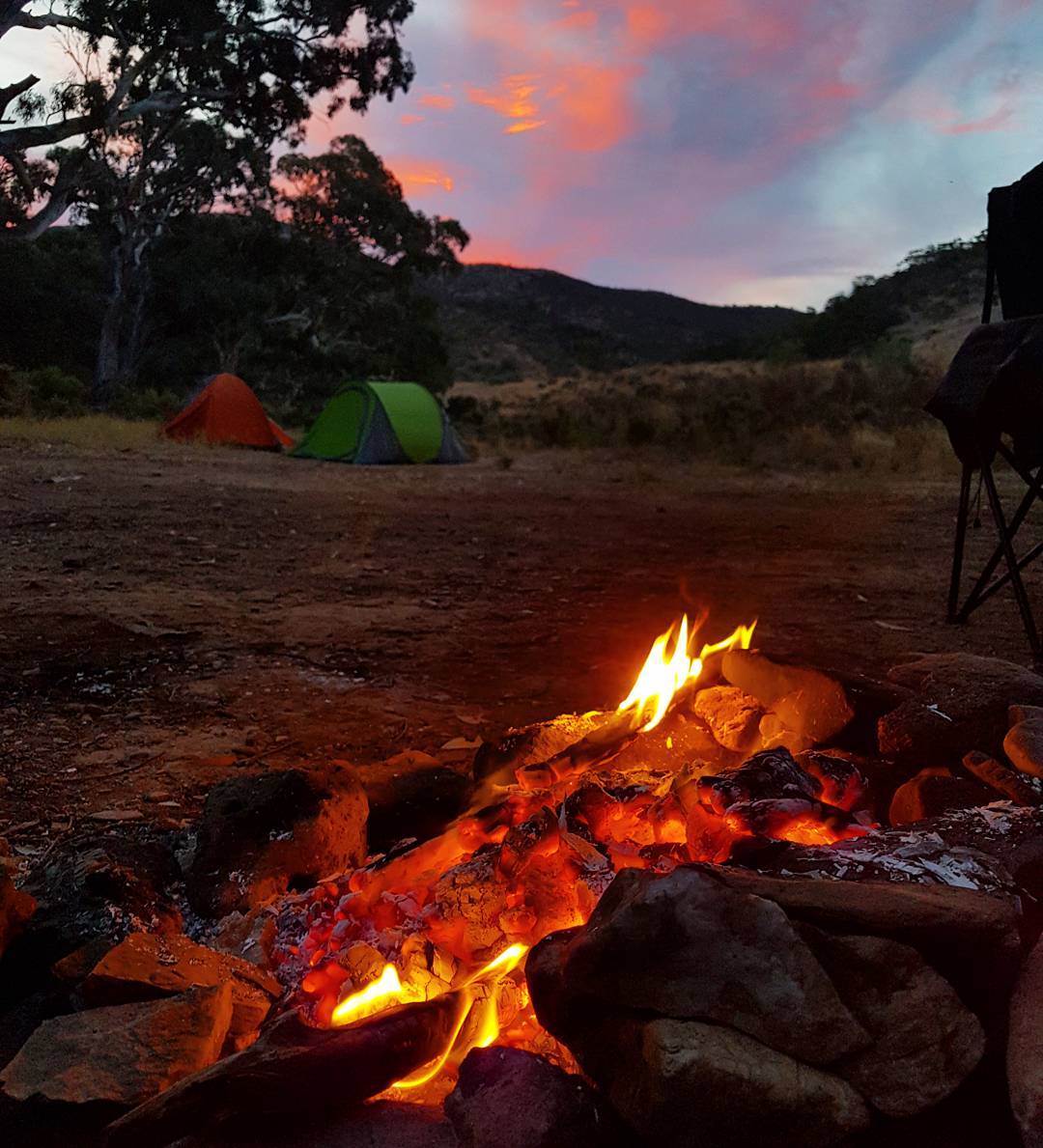 Camping at Worlds End near Burra (@dev_dhaw)
7. Eat and drink by a cosy fireplace
Frozen fingers, icy toes. You know the drill… As the mercury drops and the rains come down, our appetite for great food and wine only rises – just add a crackling fireplace! Cellar Door long lunches are a rite of passage in these parts, and it'd be sacrilege if you didn't pull up a pew at one of our family tables.
At Jeanneret Wines, perch yourself on the deck by the outdoor wood fire and wash down their stunning vinos with a generous local platter. You'll find feasting on the view here is pretty much winter in a glass, and if wine's not your bag, don't stress... they also have Clare Valley Brewing Company on tap.
At Pikes Wines, you'll find a roaring wood fireplace right inside the Tasting Room and a combustion fire in Pikes Beer Company just a few paces away. With the award-winning Slate Restaurant also conveniently on site, there's no chance you're walking away hungry from one of the culinary icons of the region.
At Paulett Wines, the Bush DeVine Restaurant is a perfect spot to soak in amazing views with exceptional wines and a long lunch of modern Australian cuisine. After a feast of native flavours, take your glass (and your food coma) straight to the flickering flame of the gas heater to sip and snooze away the day.
Inside the old slate walls of Reilly's Wines in Mintaro you'll find award-winning estate-grown wines that are best enjoyed by the roaring wood fire. Treating your taste buds comes all too easy here, with Reilly's Restaurant dishing up a Long Lunch you can linger over for hours.
At Sevenhill Hotel, those classic country pub vibes just ooze from every crevice and on a cold day, you'll find the log fireplace a welcome retreat before and after devouring their delicious seasonal menu. With warm smiles and amazing hospitality, this 151year-old icon also prides itself on being the friendliest pub in the region.
Find more Cellar Doors With Fires around the Region >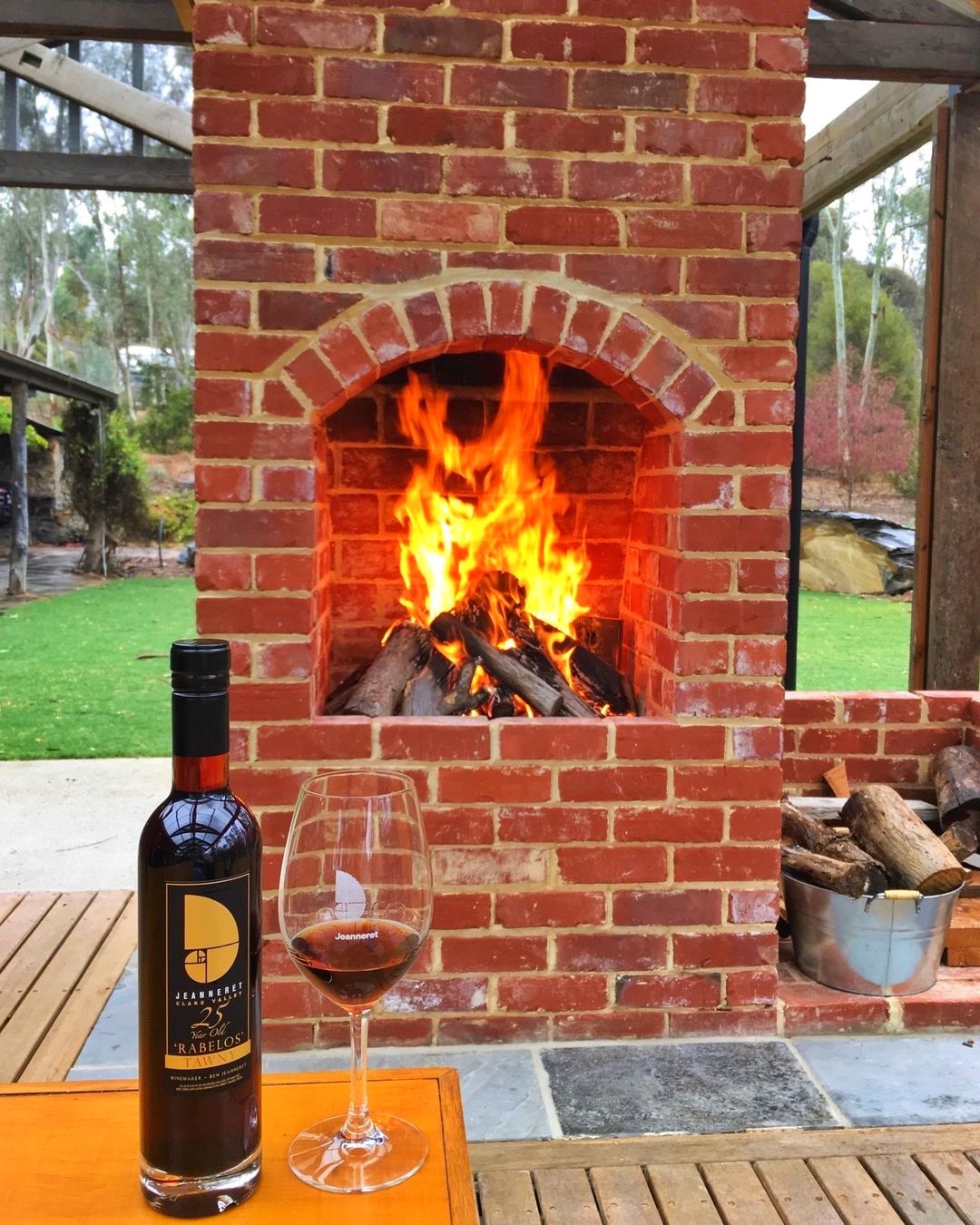 8. Degustation Winter Dining
Of course, it's winter and sometimes that heaving underbelly of hunger deserves an extra course (or five…). If you're ready to loosen that expanding belt buckle of yours, how about sitting down for a lengthy degustation with friends? Hit up Slate Restaurant at Pikes Wines for their Feed Me Menu and they'll happily help match local wines to your many chef-picked courses. At Ragu & Co, nobody leaves hungry from their authentic Italian fare, while Watervale Hotel's regular wine-matched degustation dinners can be tailored anytime for groups in cosy private rooms.
Find more Clare Valley Dining Inspiration >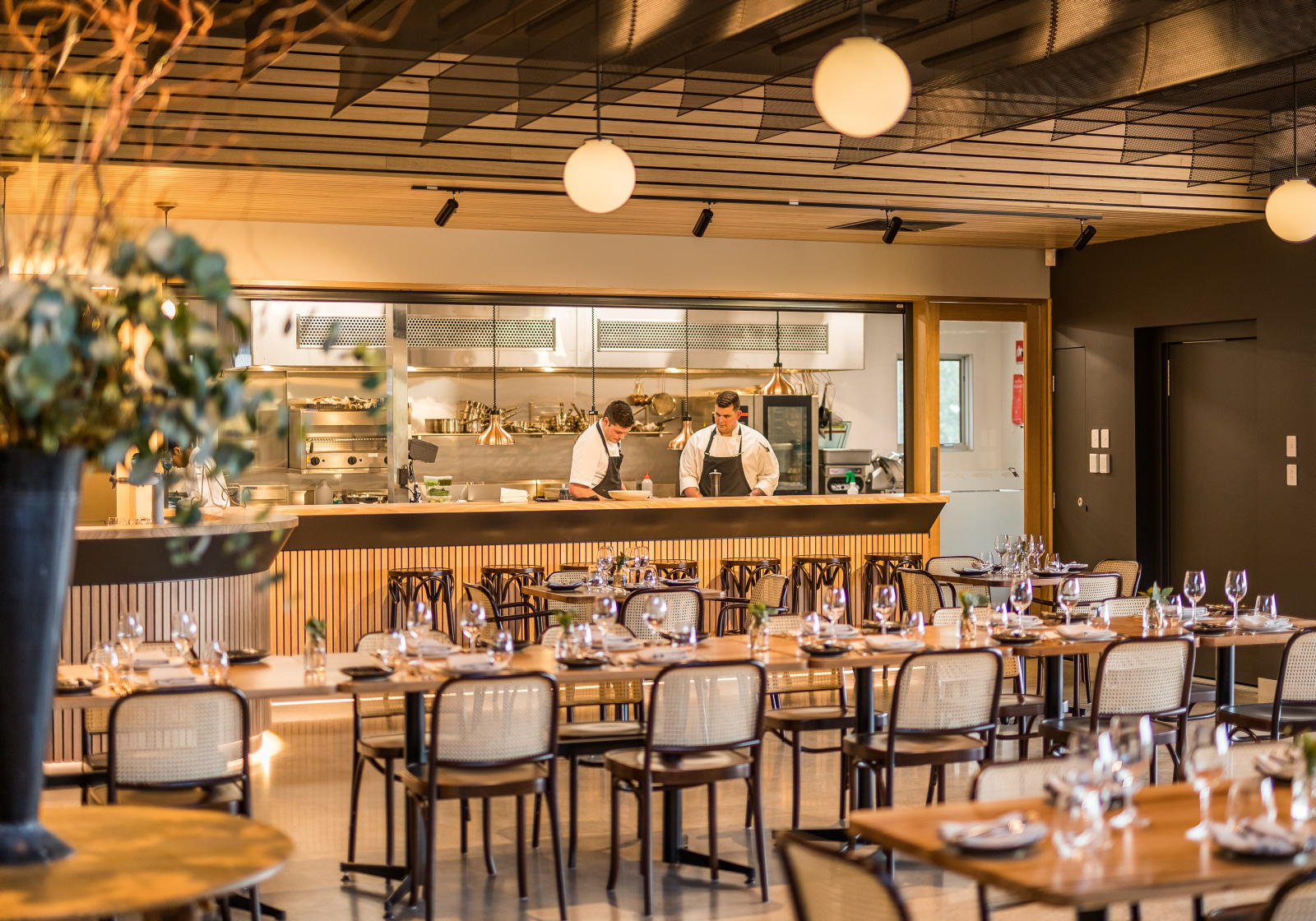 Slate Restaurant, Pikes Wines
9. Museums & History⁠
Head to Bungaree Station, just north of Clare and you'll find one of the most fabled sites in South Australia's agricultural history. Take a self-guided audio tour around the property or, stay in one of their cosy cottage bed and breakfasts - with names like the Men's Kitchen, Stallion Box and the Council Chambers, each paints a picture of those early years. Join a farm tour with 4th, 5th and 6th generation farmers, or feed deer, kangaroos and chickens with the kids. A visit the Station Store is a must before dinner, having barely changed since the 1840s. Wander back to your cottage with Bungaree lamb, hogget chops or free-range chicken to toast with vino by the fire.
Anyone who's dropped into Sevenhill Cellars will tell you this place is a little out of the ordinary! Founded by the Jesuits to produce sacramental wine back in 1851, it's now home to a stunning assortment of table wines that are laced with local history. In between cellar door tastings, it's well worth stretching your legs for a self-guided tour down of the underground cellar, old-vine vineyards, St Ignatius of Loyola Shrine and St Aloysius' Church, whose age-old crypt here is the final resting place of 41 Jesuit brothers. Parents will be excited to know that the team at Sevenhill have got the kids sorted too, with a large selection of games and sporting balls they can play with on the lawn outside.
The Georgian elegance of Martindale Hall has been pulling a crowd since the turn of the century, having served as the grandiose home of the Bowmans and Mortlocks from the late 1800's. Film buffs will also remember this Mintaro masterpiece as being the setting for the legendary Australian film, Picnic At Hanging Rock in 1975. A genuine living museum, take some time to wander through the many rooms of this heritage-listed beauty to slowly unravel the extravagance of old pastoral royalty.
Explore our region's History and Heritage >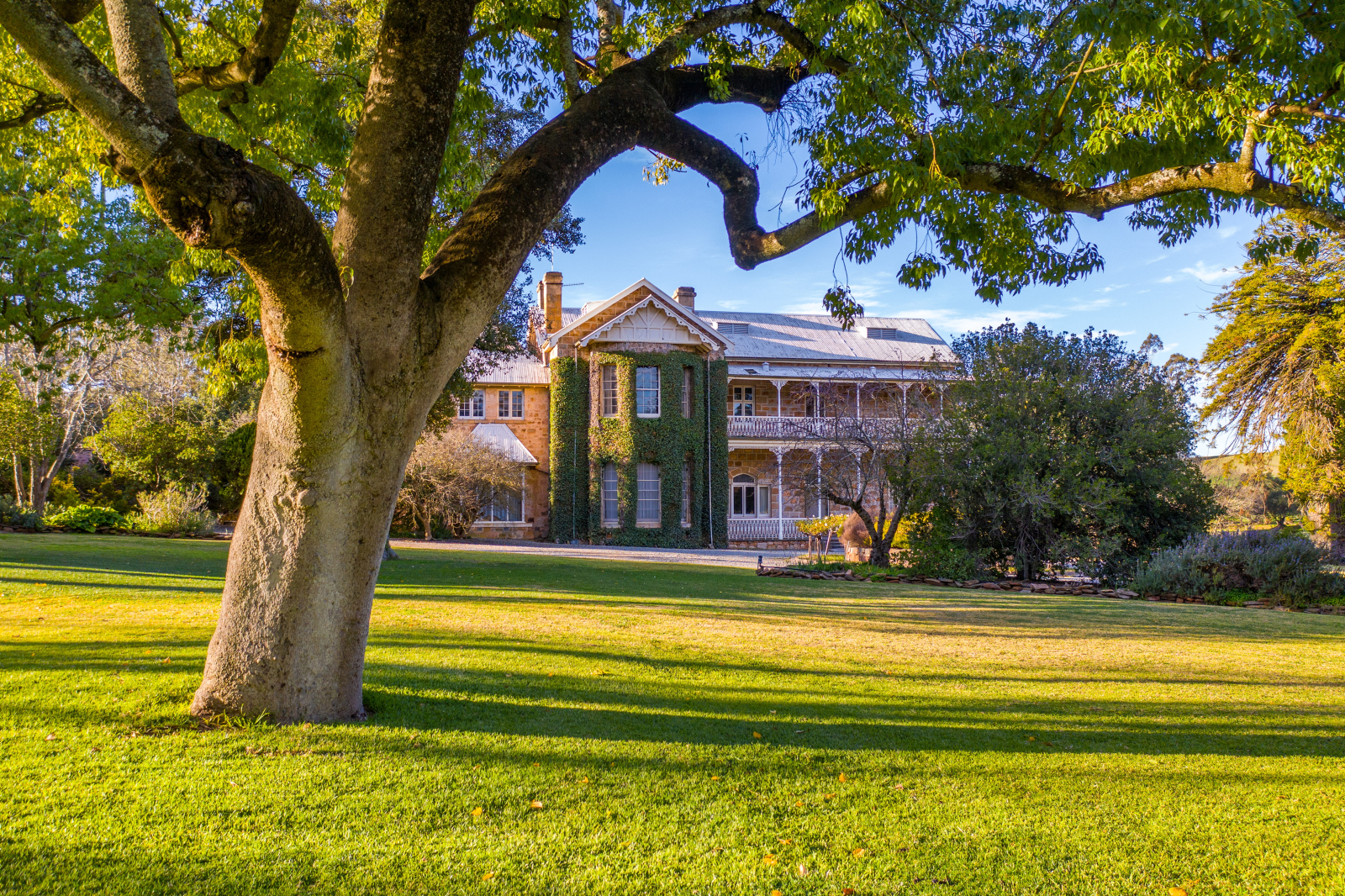 10. Cosy Winter Stays
What if we told you about a stone cottage only 5 minutes from Sevenhill surrounded by the privacy and serenity of 40 acres of bushland, complete with your own sauna, bathtub and outdoor fire pit? Sounds too good to be true, we know, but Trestrail Cottage really exists and ticks all the boxes of a romantic winter escape. Curl up on the couch with a book by the warmth of the fire, challenge your other half to a board game, take a stroll around on the property's walking trail then finish the day off by roasting marshmallows with a bottle of red, or a hot chocolate. If you've travelled far or had a big day out, make the most of your accommodations and order a hot or cold dinner pack delivered to your door, then sleep in knowing you're in no rush to leave (yep, checkout at noon!). Before you leave, you must use the sauna at least once. The perfect place to stay and disconnect from the outside world and reconnect.
We all know fighting over tent pegs and zippers can be a bit of a drag, so if camping isn't quite your thing, you'll find all your creature comforts at Bukirk Glamping. Perched on a patch of prime farmland just minutes from Clare's main street, choose from one of 5 luxury bell tents, each with its own heating, private en-suite and deck to snuggle up and soak in the stars by night and a fire communal fire pit to swap stories over flickering flames. With three tiny homes (read: Fancy Coops) also on site, including Cluckingham Palace specifically designed to be accessible, tucking under your bestie's wing with a little red wine and a cheeseboard is all too easy in your own little nesting box. Just remember to give Kevi (Bukirk's resident pig) a little love too, whenever you're in town.
Of course, as the mercury drops and the rains sweep over the plains, curling up with that special someone in one of our many Bed and Breakfasts is one of life's great pleasures – and luckily our region is full of cosy properties that ooze country character. Visit our Stay page to explore some of the amazing winter options.
Find more places to Stay around the region >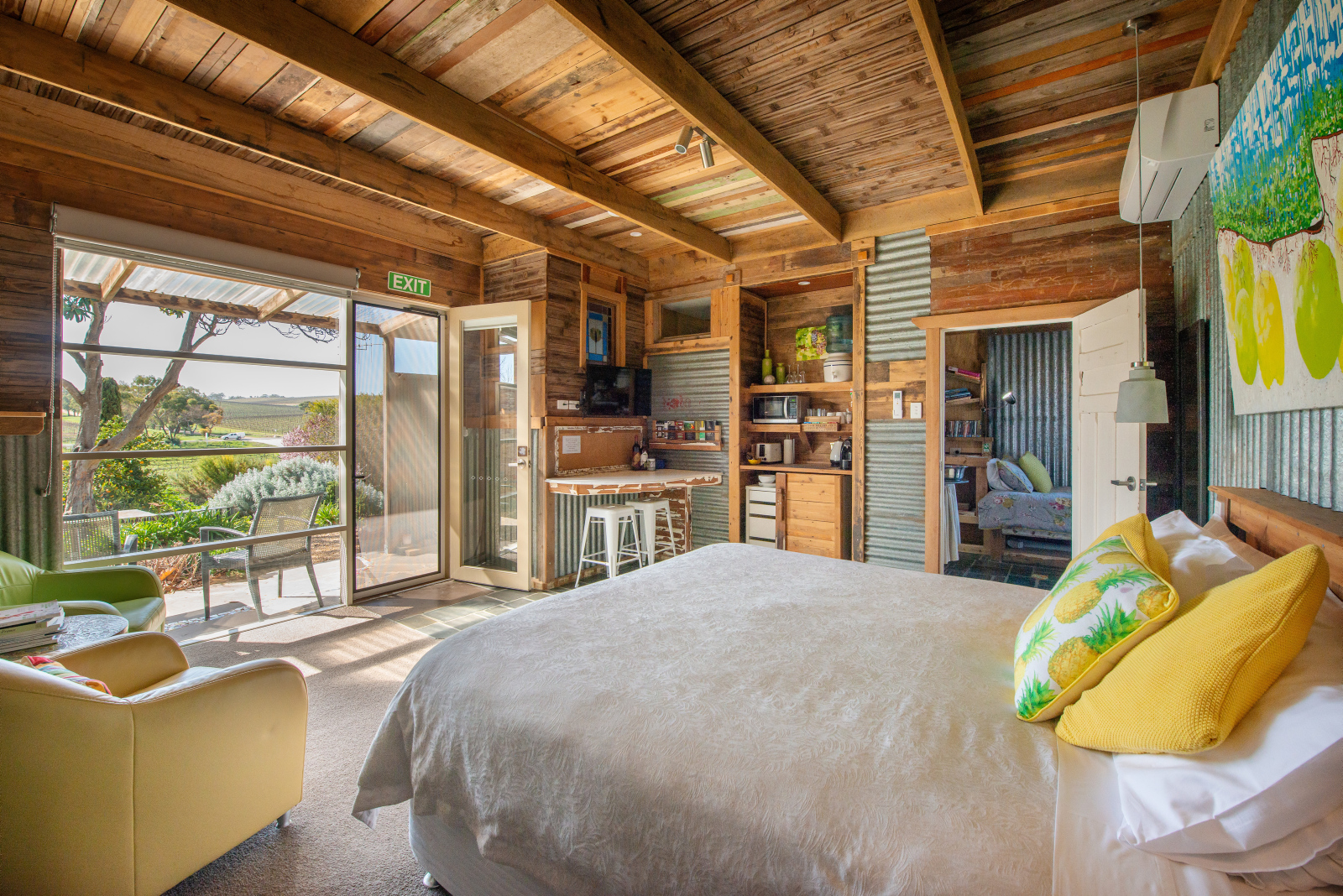 Bed in a Shed (heidi who photos)
The Clare Valley is home to a vast array of local artists, creators, galleries and exhibitions.