Caravan & Camping Clare Valley
Switch off your phones, disconnect from everyday reality and get ready for a weekend of reconnecting with nature.
There is nothing like hooking up the caravan or throwing in the swag and jumping in the car for a weekend away. No matter if you want full bush camping or to enjoy a few of life's little luxuries (like power and a flushing toilet), we are certain you will find accommodations to suit.
We know the budgets are getting a bit tighter, but why should that stop you from enjoying your weekends?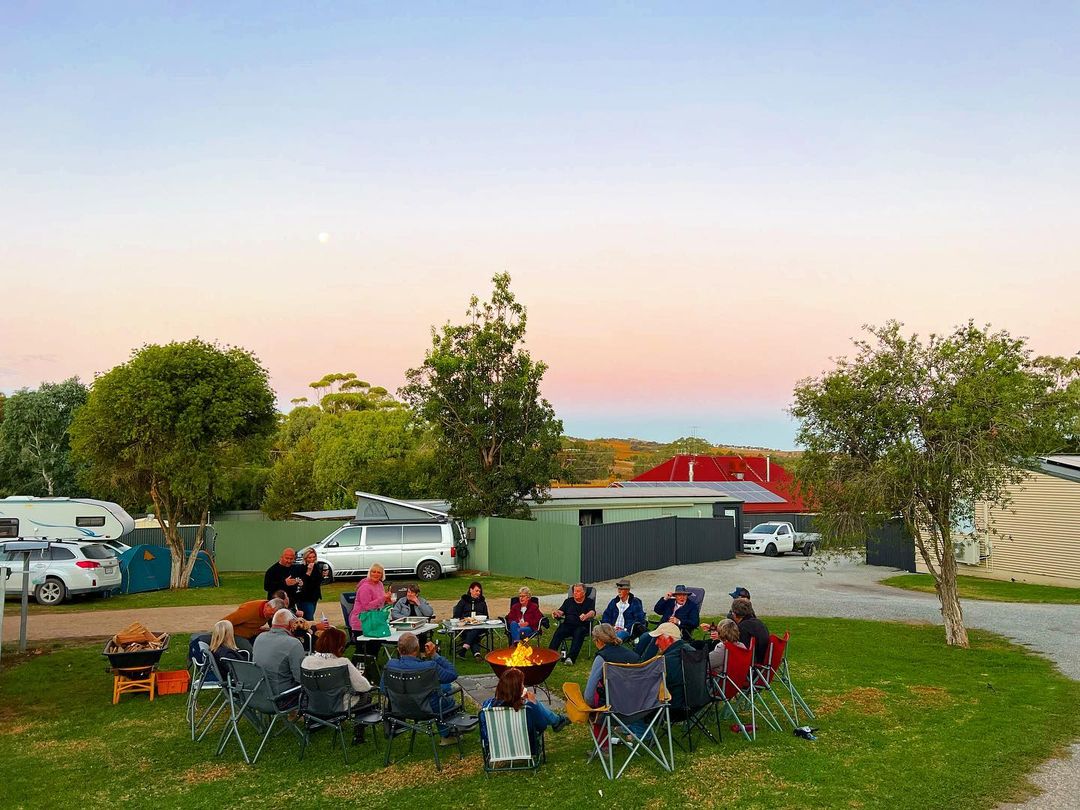 Clare Valley Caravan & Cabin Park, Leasingham
At the southern end of the Clare Valley wine region sits a small but mighty town called Auburn. It's home to seven cellar doors, Terroir Auburn Restaurant (which has been awarded a Chef Hat every year since it opened in September 2012), a classic country pub The Rising Sun Hotel, a couple of great cafes, a gift shop, a supermarket, pharmacy, and an impressive art culture. Absolutely everything you need is all within walking distance from the Auburn Community Caravan Park where they have showers, toilets, laundry, BBQ area, picnic tables and water. A little further up the highway is the Clare Valley Caravan & Cabin Park (previously Leasingham Cabins) where the new owners have been busy working on upgrades to the facilities. They always make time to greet guests and to host their weekly Saturday night communal campfire. Facilities include amenities blocks, laundry, a camp kitchen, and – that always needed - dump point. This park is right up the road from the Little Red Grape Leasingham (open for dinner some nights) and Claymore Wines, with O'Leary Walker Wines & Restaurant just up the hill; Leasingham is a great base. The biggest park in the region is Clare Discovery Park, 3kms south of Clare and next door to the Clare Valley Wine, Food and Tourism Centre where you can plan your stay with a coffee or join the locals for weekly Friday Night Drinks from 5pm to 7pm. At the Discovery Park the kids will have fun on the jumping pillow, playgrounds, and pump track, and there's a pool during the warmer months. An onsite laundry, camp kitchen, amenities blocks, a dump point (accessible by the public for a small fee or free for guests) plus electric bikes for hire, mean this place really does have it all. Did we mention the Riesling Trail passes by all three parks?
Heading east towards the Goyder region is the heritage mining town of Burra. The Burra Caravan Park is situated on the banks of the Burra Creek on the other side of the main street. Here you'll find a camp kitchen, BBQ area, laundry, dump point, toilets, and showers. Pop across to the Burra & Goyder Visitor Information Centre for your key to unlock the town's past with the Burra Heritage Passport or go for a wander to check out the shops or grab your caffeine hit from one of the delicious cafes. To the south of Burra you will discover the hometown of famous author Colin Thiele, Eudunda, where the late author has been memorialised with the latest silo art installation. We also highly recommend taking the time to explore the scenic drive, particularly admiring the views from Inspiration Point. The Eudunda Caravan Park has showers, toilets, water and a dump point for guests.
To the west of the Clare Valley is the agricultural township of Balaklava, where you simply must stop in at Wendy's Café n Cakes. The Balaklava Caravan Park has cabins as well as sites, with amenities block and an electric BBQ area. Further south (again from the valley) you'll find Riverton, a hidden gem. Ladies, you absolutely must pop into Sassy Lass Boutique, and we'd recommend finishing your shopping spree with lunch or coffee at the Emporium Bakehouse. Two excellent hotels to choose from for dinner, or if you'd prefer to eat at your campsite, order takeaway or stock up at the IGA. The Riverton Caravan Park is right next door to the community pool and the oval which hosts local football and netball games every second Saturday of the season. The amenities here include laundry, toilets, and showers. Saddleworth is a little further north, between Riverton and Auburn, and is home to the Saddleworth Country Market, which happens to be the biggest regional market in South Australia, and a hotel or café option if you need a bite to eat. The Saddleworth Caravan Park houses a laundry, camp kitchen, fire pit area and a dump point.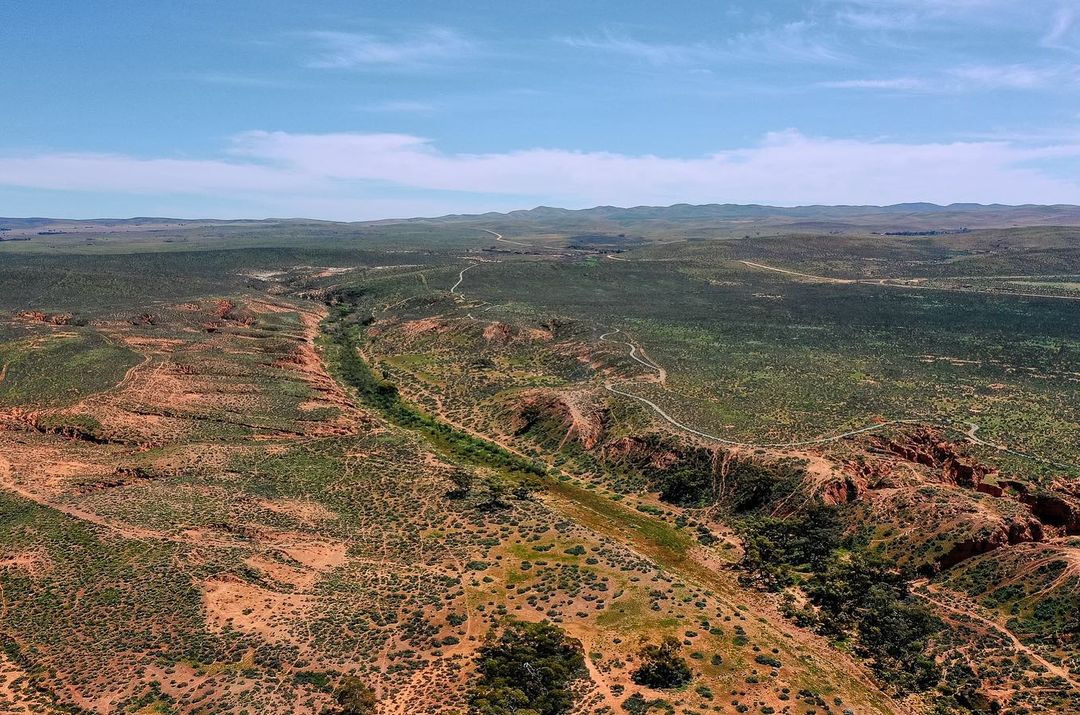 Conservation Parks are popular spots for camping, there are fewer people and therefore, more room. There are three parks you can choose to camp in, all located near Burra. Burra Creek Gorge (or World's End Reserve) is a free camp suitable for anything from swags to motorhomes, you can even bring your furry friends. Facilities include toilets and water (not for drinking), with fires are permitted (BYO wood). Make the most of the gorgeous surroundings and explore the walking trails, or try some birdwatching around the area next to the permanent waterhole. Caroona Creek Conservation Park is found along the Dare's Hill Scenic Drive. This area, just past Goyder's Line is reminiscent of the Flinders Ranges and is covered in shrubland and woodland. Be prepared at this site as facilities are minimal and include a shelter and water (not suitable for drinking). Camp beside the Mallee Trees at Red Banks Conservation Park east of Burra. There are 10 unpowered sites available (no bookings required) for camping, with toilets nearby. Explore the park's creeks and waterholes, and don't leave without heading out on the Landscapes of Change interpretive loop hike, uncovering the 65,000 year old landscape where the megafauna roamed. Did we mention that your chances of wildlife encounters are boosted as you're closer to their natural habitat? Use the bins provided for your rubbish, the food we eat is not good for the animals, nor is any packaging/plastic.
Town Ovals, Showgrounds and Parks
There are plenty of town ovals to park up the van for a few days whilst you go off exploring. Blyth is only 10 minutes' drive from Clare and has an art gallery, pub, café and even a cinema screening the latest releases (and a full-sized candy bar). Park at the Blyth Town Oval for a maximum of 96 hours with water, toilets and a dump point, but be sure to check the local football and netball schedule if you want to avoid or join in on the fun. Brinkworth is only another 10 minutes on from Blyth and camping is available on the old tennis courts with power, hot showers and toilets. The town has a great pub and street library in close proximity to the camping area. Burra Showgrounds allows for you to camp up to 72 hours, offering power, showers and toilets. Farrell Flat, between Clare and Burra, has a sky-high art installation on the silos depicting its railway history. You can camp at the oval for up to 72 hours and facilities include toilets, a dump point, a dog park and a BBQ area. Hallett is the start of the Dare's Hill Driving Trail. Be sure to call into the Hallett General Store to collect the key to visit Sir Hubert Wilkins Cottage before you start the drive. Then call into the Hallett Recreation Grounds where there is power and toilets for guests to use. The gateway to the Clare Valley, Tarlee is only 20 minutes north of Gawler and has a great hotel and bakery open daily. Power and toilets are available at the oval. Camping is available at the Eudunda Oval, where guests can use the caravan park facilities for a small fee.
Purchase a meal to camp for free at the Bon Accord Hotel in Burra or the Farrell Flat Hotel, now that's a good deal.
Ryeland's Farmstay just out of Tarlee is a fantastic place to stay for those looking to experience the country lifestyle without branching too far from the big smoke. It's only 30mintues from Gawler, and has a kitchen, bathroom and toilet built onto the Shearing Shed plus a camp kitchen onsite with bonfire wood included.
Dump points:
Balaklava (Council Caravan Park)
Burra Showground
Blyth
Dublin – not listed
Eudunda (Caravan Park)
Farrell Flat Oval
Hamley Bridge – not listed
Robertstown – not listed
Saddleworth
Snowtown Sports Ground – not listed
Clare Discovery Parks (small fee if you're not a guests)
Please come prepared with enough water for your stay. Many of these parks have limited facilities. If the bins are full, please take your rubbish with you. Please don't collect firewood without explicit permission.