Summer Lovin had us a blast in the Goyder Region! Move over Olivia Newton-John and John Travolta, these 6 iconic activities are sure to make your trip one to remember.
Unlock the secrets of Burra's Cornish Mining Heritage with their unique passport key.
The town of Burra is rich with mining heritage and most of its 1800s legacy is still intact. Burra is recognised as a place of National Heritage Significance.
The best way to get the whole picture & to immerse yourself in this heritage is to purchase a Burra Heritage Passport which gives you instant access to touch & experience the living cultural landscapes.
The Passport allows you access via a key to 11 locked sites across the Burra township. Including the Monster Mine Area, Morphett's Engine House, The Powder Magazine, Bon Accord Museum, Police Lockup, Redruth Gaol, Hampton Village, Miners Dugouts, Malowen Lowarth Cottage & The Unicorn Brewery Cellars.
The 'Discover Historic Burra' booklet details 46 historic sites over an 11 km driving trail on Tourist Route 16.
You can purchase the Key from the Burra Goyder Visitor Information Centre during opening hours. Discounted entry to the Bon Accord Mine Museum is also available during their opening hours with the Passport.

Table Top and Neales Flat Drive - Eudunda
A very warm welcome to a wonderful 34km drive across our Living Cultural Landscapes. Winding country roads, incredible 360-degree vistas, ruins and sheds set on pastoral landscapes and original spring complexes dotted along the drive.

Porters Lagoon and Adelaide Road Drive
Take a drive along the original Old Adelaide Road South of Burra where you can still see the Cobb & Co Markers still along the route. You will pass our lovely ephemeral salt lake Porter's Lagoon well worth a stop and some photos of reflections in its glassy waters. Visit Black Springs, Tothill Gap and take on some of our wonderful sweeping country roads, incredible vistas, pastoral landscapes and the Sod Hut Hotel ruins set amongst the Northern Mount Lofty Ranges.
Tourilie Gorge - Caroona Creek Reserve
A wonderful adventure experiencing one of our Natural Wonders. Tourilie Gorge is set inside Caroona Creek Conservation Park & is an easy 30km drive from Burra. Take a picnic and your sturdy shoes and enjoy an easy walk into the Gorge on the Heysen Trail. Where you will experience awe-inspiring vistas, & ancient geology set in gorgeous landscapes of dry creek beds and Mallee country. The Road is suited to 4wd or SUVs take care in creek beds & on corners at it is dirt.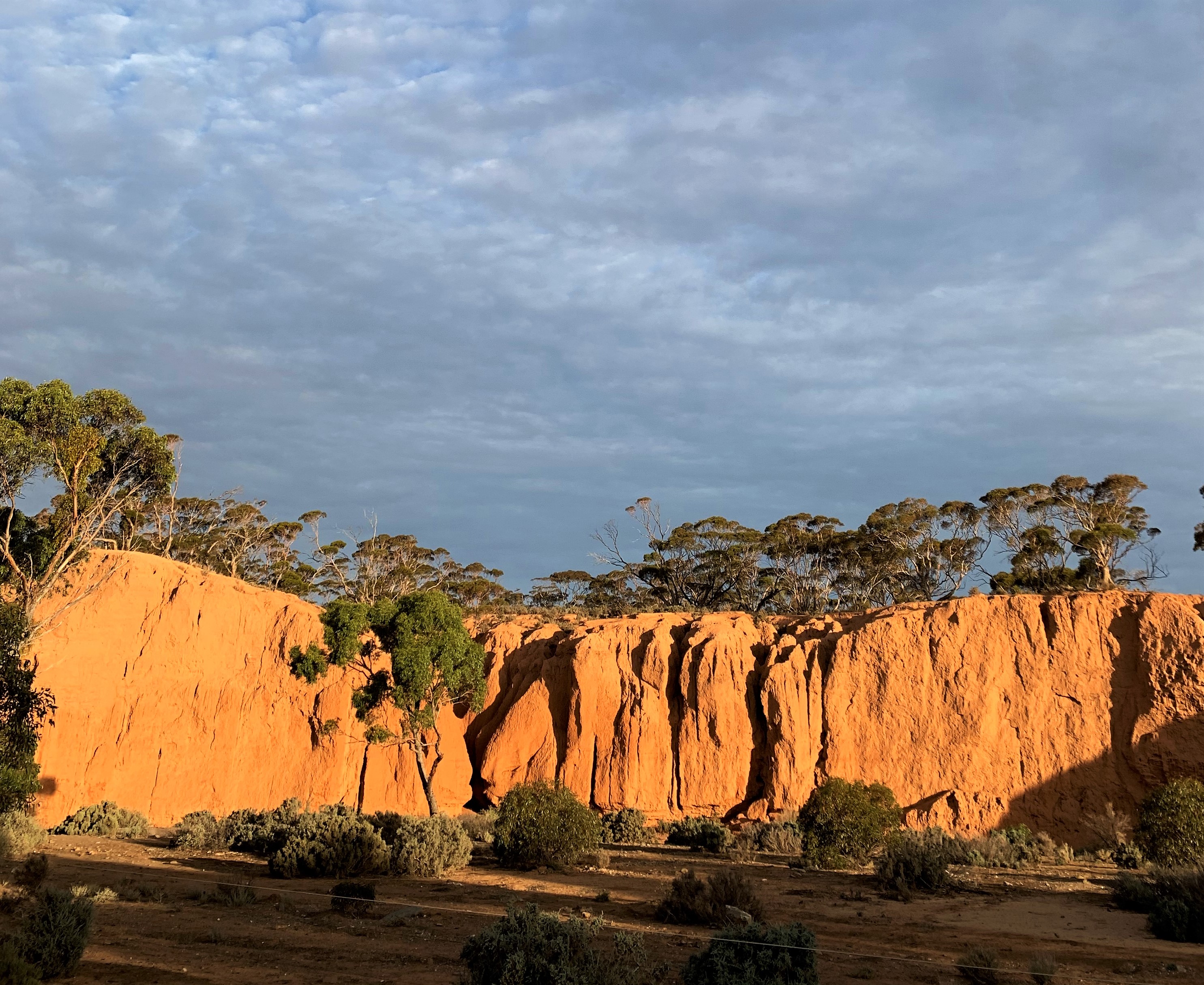 Where Diprotodon once roamed and fossilised remains have been found, Red Banks Conservation Park is set in the sandy plains east of Goyder's Line just 15km from Burra Township. Where you can walk through saltbush plains, Mallee woodlands & past beautiful spring complexes regularly used & occupied by the Ngadjuri & alluvial creek beds used by the megafauna of Australia. Here the erosion processes in creek lines have exposed a diverse assemblage of significant fossilised remains of extinct megafauna including the DI-PROTODON (Giant Wombat) THYALACINE, (Tasmanian Tiger) THYLACALEO (Marsupial Lion) & PRO-COPTADON (Giant Kangaroo). The park also conserves numerous threatened ecological communities including Scented Mat-rush Tussock Grassland & Mallee Box Woodland & fauna species including the state rate Rohrlacks' bluebush & the vulnerable Blue—winged Parrot.