Cellar Door
You'll find Stone Bridge Wines just two minutes' drive from the Visitor Centre. Pop into their rammed-earth cellar door and prepare to be entertained by one of the characters of Clare's wine industry. Thommo (Craig Thomson) is always happy to have a chat and share Stone Bridge's tasty and diverse range of wines. And if you're looking for a bite to eat on weekends during the warmer months, treat yourself to the winery's gourmet wood oven pizzas…both savoury and sweet. Craig and his wife Lisa have created an idyllic spot that gets the thumbs up from tourists and locals alike.
20 Gillentown Road, Sevenhill SA 5453
Ph: (08) 88434143
Website: stonebridgewines.com.au
Email: stonebridgewines@bigpond.com
Facilities
Opening Hours:
Open 7 days 11am - 4pm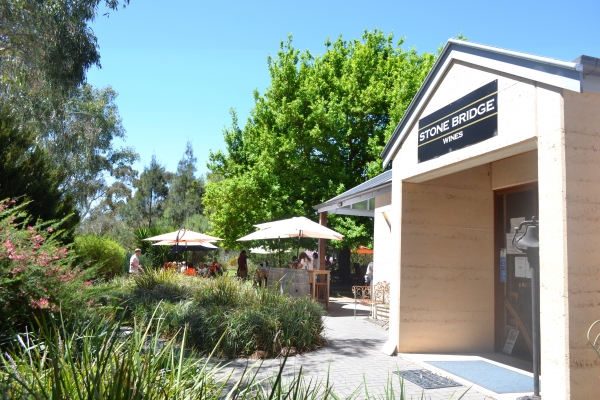 Further Information
One of the perks of touring cellar doors in the Clare Valley is that you often encounter the passionate people who founded the wineries. That's the case at Stone Bridge Wines, where you'll find Craig and Lisa Thomson ready to share their diverse range of true-to-style, hand-crafted wines.
Their rammed-earth cellar door with combustion fire blazing during winter is a welcoming spot to taste the results from the Thomson's 45-year-old dry-grown Riesling patch or 60-year-old Grenache bush vines. There's something to please all tastes in their line-up, from sparkling wines through to shiraz and even fortified wines.
During the warmer months, the couple's hospitality extends outdoors on weekends with Craig firing up the wood oven to cook delicious gourmet pizzas. It's an idyllic spot, with many visitors happy to spend an afternoon under the old oak tree, while the kids roam the surrounding grounds.