Wine
Perched high on the hills surrounding the township of Clare sits Ruddenklau Wines, the vineyard of 'The Lone Kiwi'. Our small, family owned, single vineyard enjoys one of the highest altitudes in the Clare Valley and is tended to by our Lone Kiwi, Tim Ruddenklau. Cool nights coupled with warm sunny days create the perfect microclimate to grow our Riesling and Cabernet Sauvignon.
Ph: 0428 666 010
Website: www.ruddenklauwines.com.au
Email: orders@ruddenklauwines.com.au
Facilities
Opening Hours:
We currently produce a small range of wines – a Sparkling Riesling, Riesling and a Cabernet Sauvignon. At present Ruddenklau Wines do not have a Cellar Door, however the wines are available for purchase at the Clare Valley Wine, Food & Tourism Centre and many of the hotels and restaurants in the Clare Valley. Or call us for a private appointment at any time to taste our wines.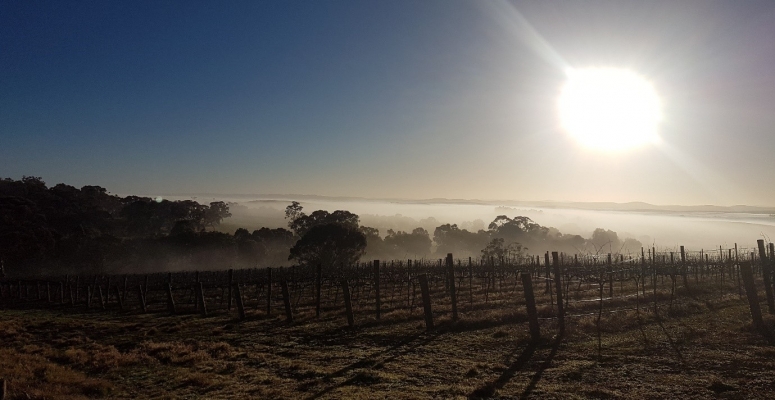 Further Information
Tim Ruddenklau and his now wife, Angela, had a chance meeting in a small town called Methven on New Zealand's South Island in the late 90's. Angela was on a skiing holiday and Tim was a local.
Angela was an Eyre Peninsula girl living in Sydney at the time, and convinced Tim she could obtain tickets to the forthcoming Bledisloe Cup. This encouraged Tim to fly over and visit her. Of course she couldn't get tickets to the well and truly sold out game, so Tim needed to be content with watching the game on a TV, in a pub full of Aussies!
The rest as they say is history. When given the opportunity to work in the Clare Valley South Australia they took up the challenge and bought a 25 acre block of land just east of the Clare township.
After purchasing the property in 1999, the vines were planted in 2000 and was originally mapped out with the help of well known and respected local viticulturalist George Finn. Over the years, the area George allocated for each of the different varieties, Riesling and Cabernet Sauvignon, has proved to be extremely accurate with the different soil conditions perfect for each variety.
The vineyard sits at a high altitude of approximately 600 metres above sea level, therefore even during the heat of Summer, the high altitude ensures relatively cool nights, allowing the fruit to ripen slowly and evenly.