Winery | Cellar Door
Grosset Wines is an independently owned winery producing eight highly regarded premium wines each vintage. Established in 1981, the winery is situated in the historic township of Auburn in South Australia's Clare Valley. There are four estate-owned vineyards; each is located in higher altitude country just north of the winery; each is certified organic and all fruit is hand-picked and processed through the organically certified winery at Auburn.
1 Manoora Road Auburn SA 5451
Ph: 1800 088 223
Website: www.grosset.com.au
Email: info@grosset.com.au
Facilities
Opening Hours:
Office Open - Monday - Friday 9am-5pm
Cellar Door Open SPRING (From 1st September 2018) Wednesday-Sunday 10am-5pm until sold out.
Please note you are able to purchase wines that haven't sold out after Spring from the office.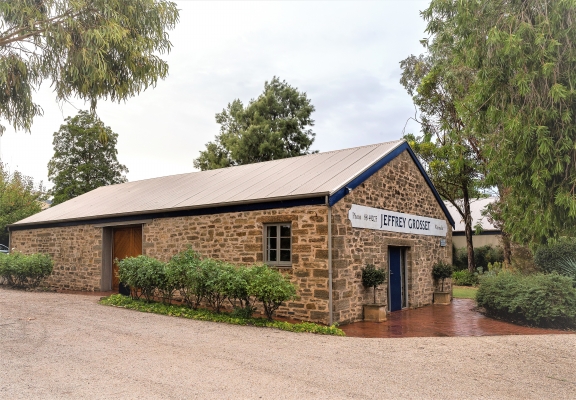 Further Information
While in its fourth decade, annual production is capped at 11,000 cases (dozens), predominantly produced from twenty-two hectares of estate vineyards. Just 25% is exported, yet Grosset Wines has developed a significant international profile by producing wines deemed consistently outstanding; benchmarks in their class.
Grosset Wines' philosophy has remained steadfast over thirty-eight years. The emphasis is on purity of fruit. The estate vineyards are hand tended (100% hand pruned, hand-picked) and each bunch of grapes is harvested at optimum ripeness. The winemaking process is gentle and uncomplicated. The result is the finest expression of variety and place.
Grosset Wines was named in June 2018 'Winery of the Year' by wine expert Matthew Jukes at the launch of Jukes 'Best 100 Australian Wines Report 2018/19'.
In October 2018, Grosset Wines was again named in the world's '2018 Top 100 Wineries' by Wine & Spirits (USA). In August 2017, James Halliday awarded Grosset Wines Australia's 2018 "Best Value Winery'.
Jeffrey Grosset, owner and founder, has always been an innovator, challenging tradition and questioning accepted practices. He campaigned to institute the legal integrity of the riesling grape in Australia, was a leading proponent for the introduction of screwcap closures and continues to privately fund research into the subject.
Jeffrey Grosset was voted the inaugural Australian Winemaker of the Year by Gourmet Traveller WINE in 1998, and is internationally recognised as one of the 'Top 10 White Winemakers' (Decanter, UK) and one of the '50 Most Influential Winemakers' (Wine & Spirits, USA) in the world today.